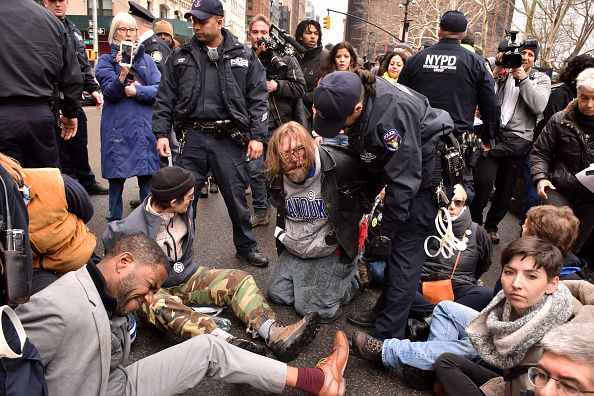 Mayor Bill de Blasio says President Donald Trump's immigration authorities engaged in a "provocative action" when they detained a prominent Trinidadian-American immigrant activist last week and appeared to defend the NYPD amid criticisms over its treatment of protestors and elected officials rallying in support of the activist.
Last week, while reporting to U.S. Immigration and Customs Enforcement (ICE) for a routine check-in at 26 Federal Plaza, Ravi Ragbir, executive director of the New Sanctuary Coalition of NYC—an interfaith organization that helps undocumented immigrants ward off detention and deportation–was detained.
The NYPD arrested 18 people outside of the building, including Brooklyn Councilman Jumaane Williams and Upper Manhattan Councilman Ydanis Rodriguez. Officers were seen pushing Williams onto the front of a car and placing Rodriguez in a headlock. City Council Speaker Corey Johnson was shoved by a cop and witnessed ICE shoving people to the ground.
De Blasio said he has looked at the video extensively and has spoken with Police Commissioner James O'Neill. An investigation is underway, he explained.
"This was a provocative action by ICE," he told NY1's Errol Louis on Tuesday night. "As I understand it, the individual in question was a well-known activist who was told he was coming in for a routine interview, and they suddenly turned it into a deportation. As cynical a move as you can imagine, not shocking from the Trump administration. But that set off a series of events, none of which was expected."
He insisted there is "a lot of confusion all around."
"We're gonna look at all the actions, including of our officers and determine what needs to happen as a result," de Blasio continued. "I didn't love what I saw, but I also understood it was happening in an atmosphere of a very chaotic and unpredictable moment. But we have to look at this very carefully and clinically before passing judgment."
De Blasio also took issue with the characterization of the situation as government demonstrating against itself given that elected officials were challenging the NYPD. He noted the city will only cooperate with ICE over 170 serious or violent crimes as delineated in a bill passed in 2014.
"It was not a challenge to our police department or our fire department which had the ambulance in question," he added. "Again, this was an action of the federal government that set all this off. The city of New York—I have to be very, very clear—the city of New York, [will] not participate, the fire department will not participate in deportations."
He said the conditions of Ragbir's situation did not meet the criteria for cooperation with ICE. And the mayor pointed to a misunderstanding in which individuals thought an ambulance was involved in deporting Ragbir, noting the city will not take an ambulance "which is there to protect human life and use it in a deportation."
Ragbir fainted and was taken in an ambulance after he was told he would be detained.
Still, the mayor acknowledged that elected officials protesting against the government is "not unheard of."
"I as a City Council member got arrested to try to stop the [former Mayor Michael] Bloomberg administration from closing one of our local firehouses," he said. "I don't think that's discordant, per se. I think the difference in this case was the federal government, instead of being respectful or collegial or honest about their intention or working with us to somehow figure out how to deal with this complex situation, they did it abruptly and I think bluntly on purpose to provoke a crisis."
Rachael Long Yow, a spokeswoman for ICE, declined to comment on the mayor's remarks. But she previously told Observer that only Federal Protective Service and the NYPD were there.
Some activists were not convinced.
Murad Awawdeh, director of political engagement for the New York Immigration Coalition, which was at the rally, blasted the NYPD's actions.
Ragbir came to the country on a visitor's visa in 1991 and got a green card in 1994—but was convicted of wire fraud in 2001, spent five years in prison and was ordered to be deported in 2006.
In 2011, he got a stay-of-removal and has since been subject to prosecutorial discretion, which lets an agency or officer determine how to deal with individual cases on an annual basis—and which staved off his deportation in March. Yow said Ragbir "exhausted his petitions and appeals."
New Sanctuary Coalition of NYC announced on Wednesday afternoon that federal immigration authorities agreed to let Ragbir return to the New York area after he was taken to the Krome Detention Facility in Miami, Florida. He will remain detained in New York pending the outcome of his legal case.
"When we learned he was taken to an immigration prison over a thousand miles away, I was both heartbroken and outraged," Amy Gottlieb, his wife, said in a statement. "They never should have taken him away from his community in the first place, and I will not rest until he is free."
Johnson met with O'Neill on Thursday, and the NYPD's Internal Affairs Bureau has reportedly started a probe.
"There was so much… video footage by citizens, the media, that they were taking time to look at all that footage and he was going to get back to me when he had some answers," Johnson said. "I have not heard from him yet, but I look forward to continuing that conversation with him."
Queens Councilman Donovan Richards, who was recently named chairman of the Council's Committee on Public Safety, is scheduling a hearing on the policing of protests after meeting with O'Neill after a request to do so by groups like Communities United for Police Reform and the NAACP Legal Defense Fund.
Immigrant advocates have noted a growing trend of ICE targeting immigrant activists who criticize the immigration system.
Jean Montrevil, a Haitian immigrant rights leader in the city, was deported to Haiti after living in the United States for more than 30 years, according to Democracy Now. He moved to the country with a green card in 1986 and served 11 years in prison for cocaine possession. Montrevil, a founding member of New Sanctuary Coalition of NYC, married a U.S. citizen and has four children.
This story was updated to include a comment from an ICE spokeswoman.