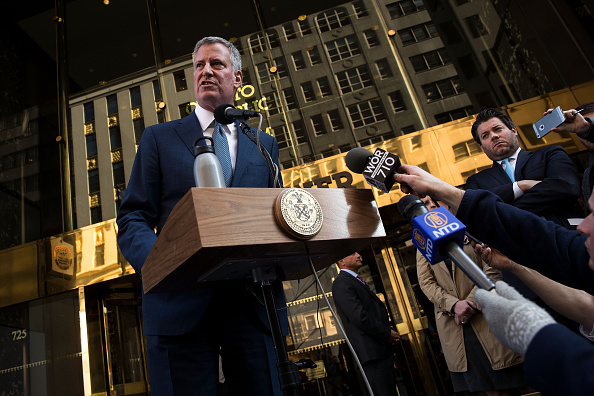 Mayor Bill de Blasio skipped a meeting with President Donald Trump in Washington, D.C. on Wednesday over what he called a "racist assault" on immigrants after the U.S. Department of Justice threatened to subpoena "sanctuary cities" for undocumented immigrants.
De Blasio was scheduled to travel to Washington, D.C. for the U.S. Conference of Mayors' Winter Meeting on Wednesday afternoon and subsequently meet with Trump and other mayors to discuss infrastructure funding.
The Justice Department sent letters to 23 "sanctuary cities" for undocumented immigrants—including New York City—demanding documents showing whether the cities are unlawfully keeping local law enforcement from sharing information with federal immigration authorities. The letter states that if jurisdictions do not respond or fail to respond completely or in a timely manner, the Justice Department will subpoena them.
The mayor reportedly opted to pull out of the meeting minutes after the Justice Department made the request, according to NY1. The mayor's office did not immediately respond to a request for comment on Wednesday.
De Blasio is not the only mayor who backed out of the meeting. New Orleans Mayor Mitch Landrieu, also a Democrat, said he does not want to participate in a meeting "under false pretenses."
The mayor's meeting with Trump was set to be de Blasio's first meeting with Trump since he became president.
In November—a week after the presidential election—de Blasio met with Trump at Trump Tower on Fifth Avenue in Manhattan. He told reporters he relayed what he saw as New Yorkers' "fears" about the president's immigration and policing proposals.
Trump also called de Blasio and Gov. Andrew Cuomo in the aftermath of a terrorist attack in Lower Manhattan at the end of October, which claimed eight lives, to offer support from the federal government.
The mayor has been a vocal critic of the Trump administration's policies, speaking out against executive orders barring entry to people from Muslim-majority countries, as well as withholding funds for "sanctuary cities."
Trump has called de Blasio the "worst mayor" in the history of New York and in the United States. He also referred to the mayor as a "maniac" for not thanking him for building the Trump Golf Links at Ferry Point in the Bronx.
The U.S. Conference of Mayors is a nonpartisan organization that represents more than 1,400 cities nationwide. Trump is expected to unveil his long-awaited infrastructure plan in two weeks.