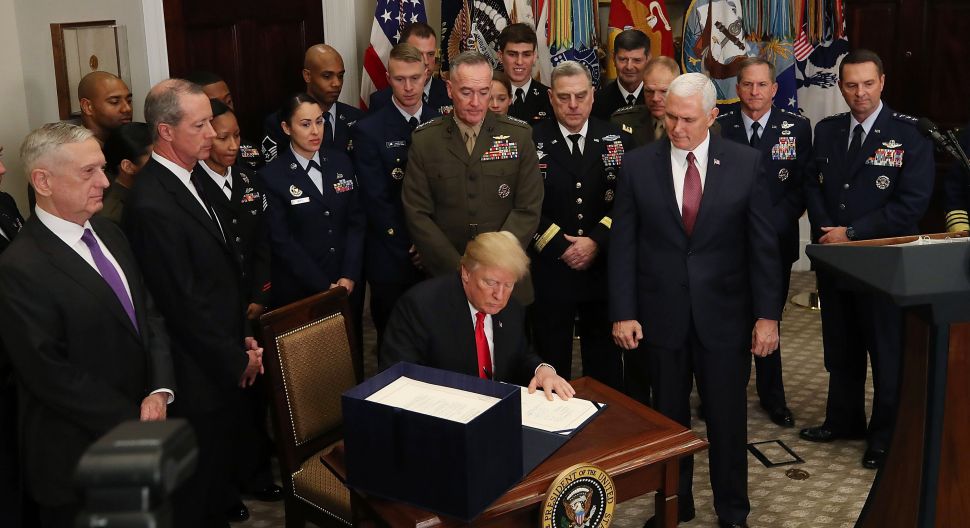 A human rights group, two Harvard professors and a former presidential speechwriter warn that President Donald Trump's first year in office was democracy's "most serious crisis in decades."
According to Freedom House's annual report, the past year "marked the 12th consecutive year of decline in global freedom."
Though the New York-based nonprofit reported similar findings for previous years, 2017 brought faster erosion of United States democratic standards "than at any other time in memory."
Citing Trump's lack of government transparency, interwoven business interests and attacks on democratic institutions—including independent courts, the legislative body and the press—the report concludes that the president battered democracy as it lay weakened from subsequent administrations.
"The president's behavior stems in part from a frustration with the country's democratic checks and balances, including the independent courts, a coequal legislative branch, the free press and an active civil society," writes Freedom House. "These institutions remained fairly resilient in 2017, but the administration's statements and actions could ultimately leave them weakened, with serious consequences for the health of U.S. democracy and America's role in the world."
Two recently published books support Freedom House's findings.
In How Democracies Die, Harvard professors Steven Levitsky and Daniel Ziblatt argue that democratic norms have been weakening since the 1990s—sparked by the Gingrich Revolution of '94.
"There are two norms in particular. One is the norm of mutual toleration, which means that each party accepts the other one as a legitimate," Levitsky told Observer. "The other one is a little trickier. It's what we call 'forbearance,' or the self-restraint in the exercise of power. Forbearance means not taking advantage of legal rights available to us, it means underutilizing power. And that is absolutely critical to any constitutional democracy."
While previous presidents exercised restraint in preserving America's system of checks and balances, How Democracies Die warns that Trump damages democratic institutions by eroding public trust in elections and the media.
"Surveys show that an increasing number of Americans believe our elections are fraudulent. That's really dangerous," Levitsky added. "Even worse, they're willing to tolerate government action to punish media that do not publish 'the truth.'"
David Frum's Trumpocracy takes this argument further and argues the Trump administration is subverting American democracy into an authoritarian regime.
Frum's book closely analyzes three overarching trends of Trump's administration: 1) how the president exploited electoral vulnerabilities to achieve power; 2) how the president dismantles the federal government's inhibitions against corruption; and 3) how the president's enablers have forever altered the nature of the executive branch.
"Trumpocracy as a system of power rests not on deregulation but on nonregulation, not on deconstructing the state but on breaking the state in order to plunder the state," writes Frum.
As a former speechwriter to President George W. Bush—and fierce supporter of the Iraq War—Frum understands how the powers of the executive branch establish new precedents for abuse, especially among military agencies.
"Bureaucracies always yearn to escape political control, and the national security agencies are the most powerful, autonomous and well-funded bureaucracies within the American state," Frum warns. "Trump has given them powerful motives to emancipate themselves."