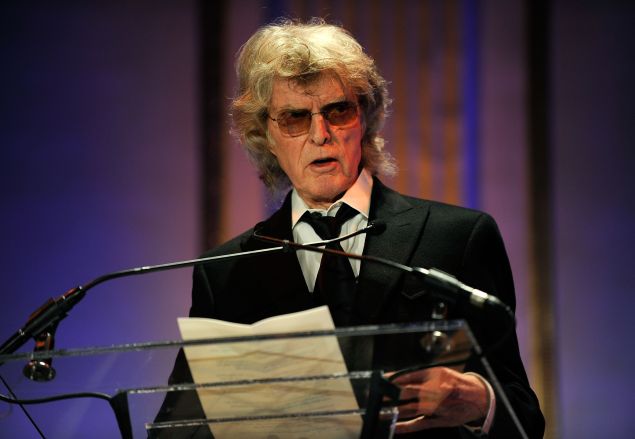 One of the most controversial voices in radio is shutting off his mic.
Shock jock Don Imus announced this morning that he is retiring from his eponymous Imus in the Morning radio show. The "I-Man" will broadcast for the final time on March 29.
While Imus' contract originally went through the end of 2018, the 77-year-old said on air that the bankruptcy of Cumulus Media, which syndicates Imus in the Morning, had required a change of plans.
The move will also affect the show's six-member staff, who the host paid out of his own multi-million dollar contract. Imus said he was announcing his retirement early to give them a chance to find work.
He added that Cumulus initially offered to pay show staff through March 31, and then offered him $1 million to be part of a new WABC morning show until December. Imus declined the extension.
It's unclear whether one of Imus' cohorts will take over for him, though producer Bernard McGuirk and sportscaster Sid Rosenberg have taken on increased on-air roles in recent years. Imus broadcasts the show from his Texas ranch, while the rest of his crew works from WABC in New York.
Imus began his radio career in California before coming to New York City in 1971. His first Big Apple job was at WNBC, where he often tangled with fellow station personality Howard Stern.
After WNBC was sold in 1988, Imus moved to sports station WFAN, where he remained for almost 20 years—his show was also simulcasted on MSNBC.
Imus' time at WFAN came to an end in 2007, when he was fired after jokingly referring to the Rutgers University women's basketball team as "nappy-headed hoes."
This wasn't Imus' first controversial comment: he allegedly referred to black New York Times sports columnist Bill Rhoden as a "quota hire." Fox News personality Janice Dean also accused Imus of fat shaming her.
But the Rutgers remark was the straw that broke the camel's back. Guests and advertisers bolted, and it looked like Imus' career had met an ignominious end.
Imus was back on the air, however, less than eight months after his firing. The new version of the Imus in the Morning program on WABC was also simulcast on the Fox Business network until 2015.
Even after his suspension, Imus continued to attract politicians like John Kerry, Rudy Giuliani and John McCain to his show. President Donald Trump (who Imus often calls "Blubber Titties") even appeared on the program during the 2016 presidential campaign.
Outside of his radio work, Imus is a Marine Corps veteran, cancer survivor and recovering alcoholic. For 15 years, he and his wife Deirdre also owned a cattle ranch in New Mexico where they ran free camps for children with cancer.