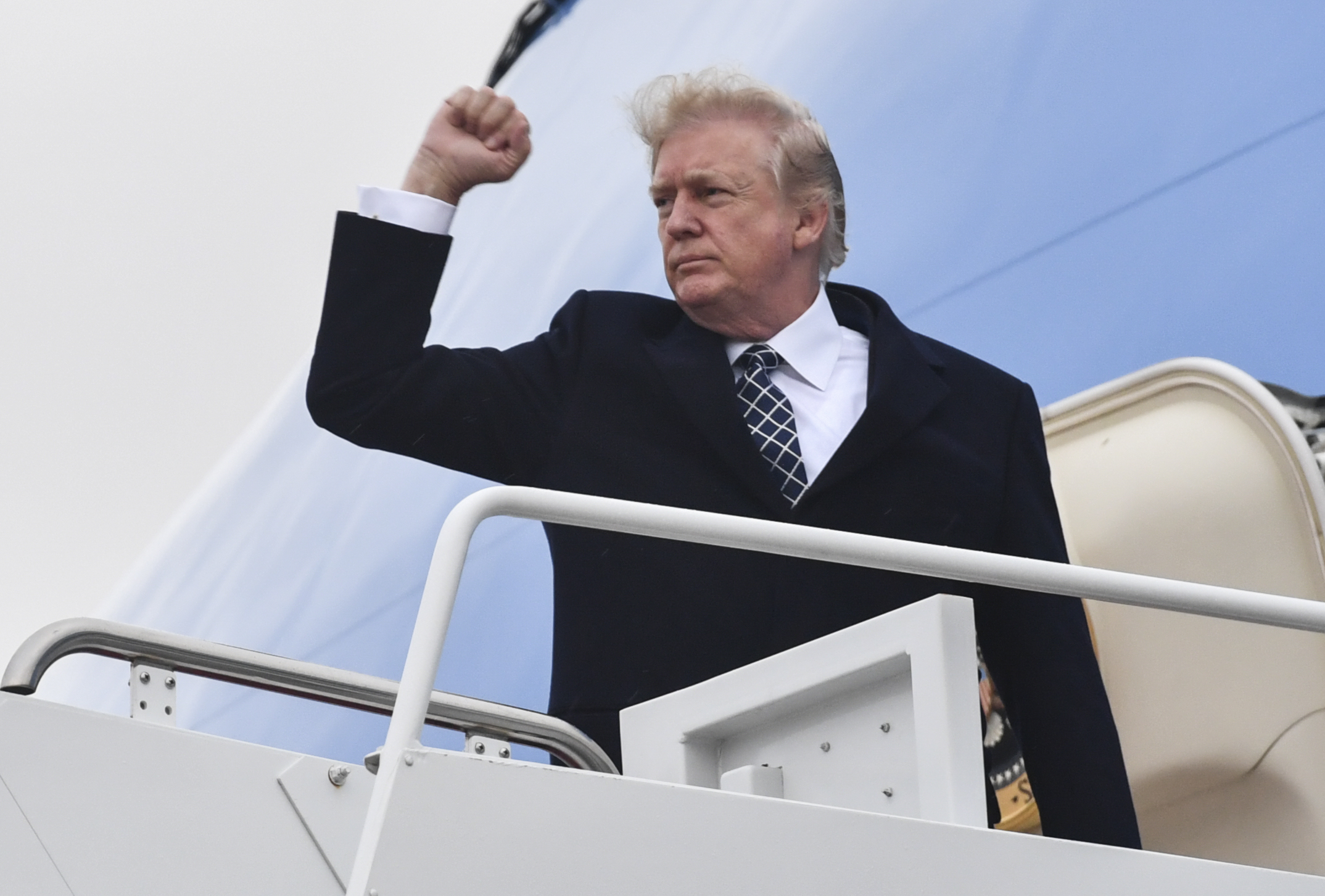 One of the reasons the immigration debate stalls in America is the failure to agree on basic terms. To one side, a 35-year-old Mexican citizen working in the United States because his parents dragged him here when he was fifteen is a Dreamer. To the other side, he is an illegal.
Something everyone should be able to agree upon, though, is that Haiti is a wildly dysfunctional nation. Its economy does not use its natural resources to produce wealth and jobs. Its government is corrupt and does not provide services necessary for the common good.
If our Immigration and Naturalization Service changed the application for admission to the United States to include as a "Reason for leaving nation of origin" a box that said, "Because nothing here works right," a lot of the good men and women among Haiti's huddled masses would check it.
President Donald Trump took the unprecedented step of inviting the press to his opening negotiations with Congress on immigration reform. Especially following as it did in the wake of widespread reports that the president is clinically senile, his performance was brilliant.
He defined the terms, controlled the room, counseled compromise, and made a public commitment to do the same—so much so that it threw his own supporters into a tizzy.
The press was then dismissed from the discussions because real negotiation tends to get messy. As Otto von Bismarck once said, "If you like laws and sausages, you should never watch either one being made."
It was then, in the smoke filled, sleeves rolled up, Lee Cobb attacking Henry Fonda in 12 Angry Men part of the negotiations, that Trump noted Haiti's dysfunction and similar problems in a few other countries.
Nobody is saying President Trump said anything different than candidate Trump. He believes that permitting immigration from nations where the newly arrived immediately become dependent on the state imposes too heavy a burden on those already here and does not place America first.
As the election results show, the American people apparently agree.
Take away whatever words President Trump used and replace them with something that could be said over afternoon tea at the Harvard Kennedy School for Public Policy—I don't know, let's choose "failed state"—and one would be permitted to wonder out loud whether an immigration policy that gives preference to applicants from such places creates perverse outcomes.
The more serious controversy here is not what he said, because everyone already knew that was his position. The controversy is that his opponents presented his position in caricature to bring public pressure to the private conclave. That's a problem. Because, under the rules of negotiation and compromise, it is an act of bad faith.
In the legal profession (my business), before any mediation a confidentiality agreement is distributed that everyone in the room signs. Rules exist in each state and in federal courts that keep confidential anything said in negotiations. It would violate rules of professional conduct to publicly disclose what was said in negotiations to leverage an outcome, as Democrats have attempted here.
Those who do not trade in the business of negotiation can see the importance of confidentiality, for instance, in sports arbitrations. When the Miami Marlins' shortstop learns in the team's mediation statement that the scouting department regards him as a weak hitter and mediocre fielder, he gets upset, and it sometimes ruins the relationship.
Trump obviously expected confidentiality. That may have been naïve, but it was rational. His magnum opus as a private citizen was a book titled, The Art of the Deal. In it, he explains how to use strategic provocation to get what you want in negotiations.
The president's tough words are the sort of provocation that is part of arriving at middle ground. That the media is considering whatever he said out of its protected and confidential context is disingenuous, but they are always that way about Trump.
There are two important things to keep in mind about what Trump is alleged to have said.
First, while an ESPN host would never work again for saying something similar, that's not going to happen to Trump. He has found a narrow shelf on the sheer face of American political correctness that permits him to say what he wants. That his shelf is the presidency ticks some people off, sure, but give credit to his alpine skills for pitching camp there to attempt the summit when the blizzard passes.
Second, whatever happens in this immigration discussion, the end-product will not be one of those "Graham-Durbin Love For Dreamers Act" bills that Congress specializes in. The words will meet the reality or Trump will blow it up by coarsely stating the reality. He has already had his transition surveilled by wiretap under something called the Patriot Act. He knows b.s. when he sees it, with an emphasis on the "s."
Nobody can predict where this goes from here. More than likely Trump gets a bump among his base for being characteristically direct. His opponents will hyperventilate for a few days until he says the next thing.
If Democrats have managed to scuttle this by negotiating in bad faith, though, it is a lost opportunity for their constituents. Trump probably sees it this way: Illegal immigration is down significantly just because of his emphasis on the matter. In his world, that is already a win, and he likely would have compromised in a way that pleased Democrats and offended his own base, which is less likely now.
Thomas J. Farnan is an attorney from Pittsburgh, Pennsylvania. He can be contacted at farnanlawoffice.com and at tfarnanlaw@gmail.com.