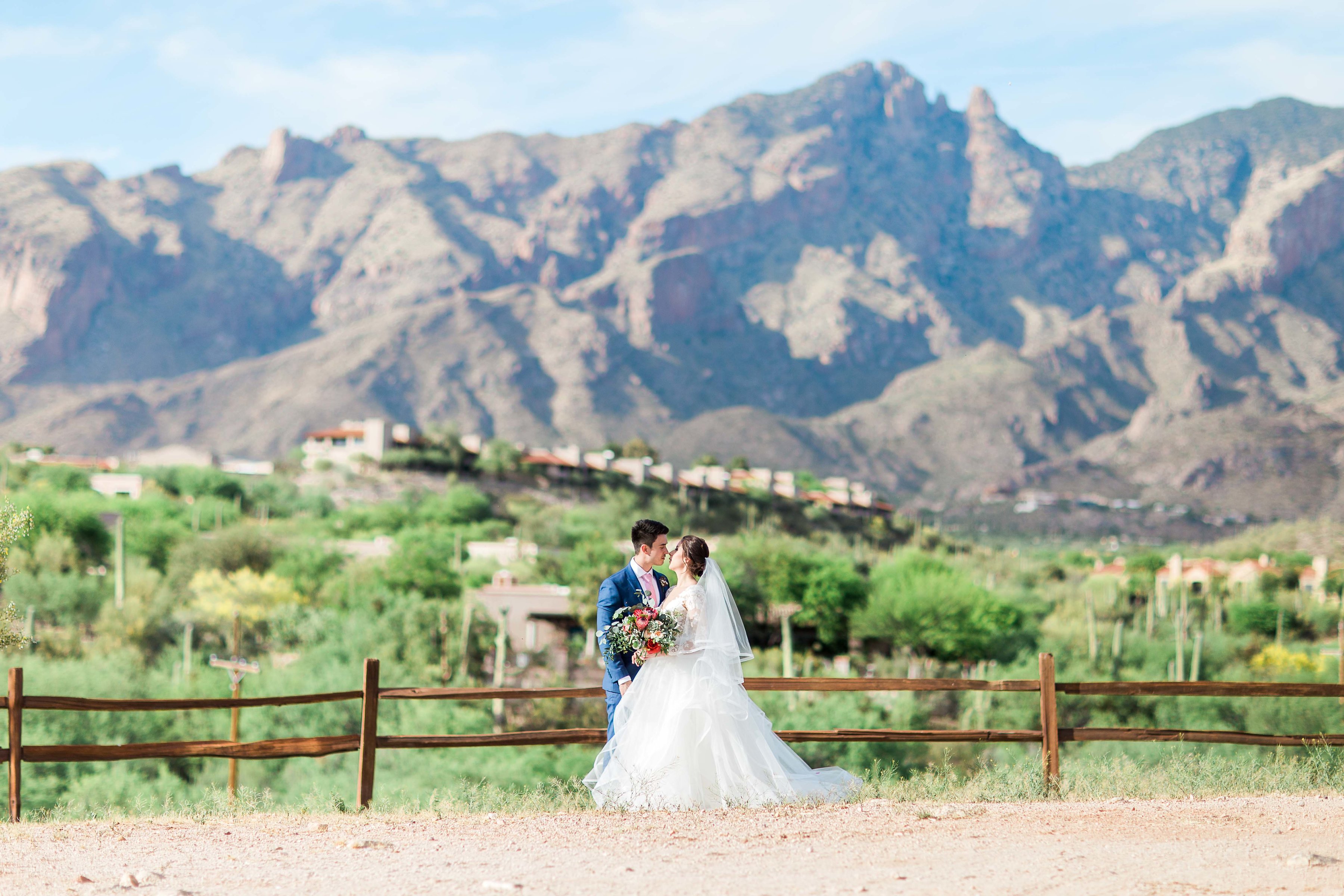 The Wild West was a major presence on the fall runways, as designers let loose with fringe, cowboy boots, and dark denim. For couples who want to ride that fantasy all the way to the altar, Tucson, Arizona lures with luxe dude ranches and resorts made for destination weddings. These self-contained compounds will keep wedding parties busy for days, whether you're a group of serious wranglers or just want to bask in the sun with a pitcher of prickly pear margaritas. Complete with rugged landscapes, towering cacti, and blood-red sunsets, they're like a John Wayne movie come to life—but with much better food.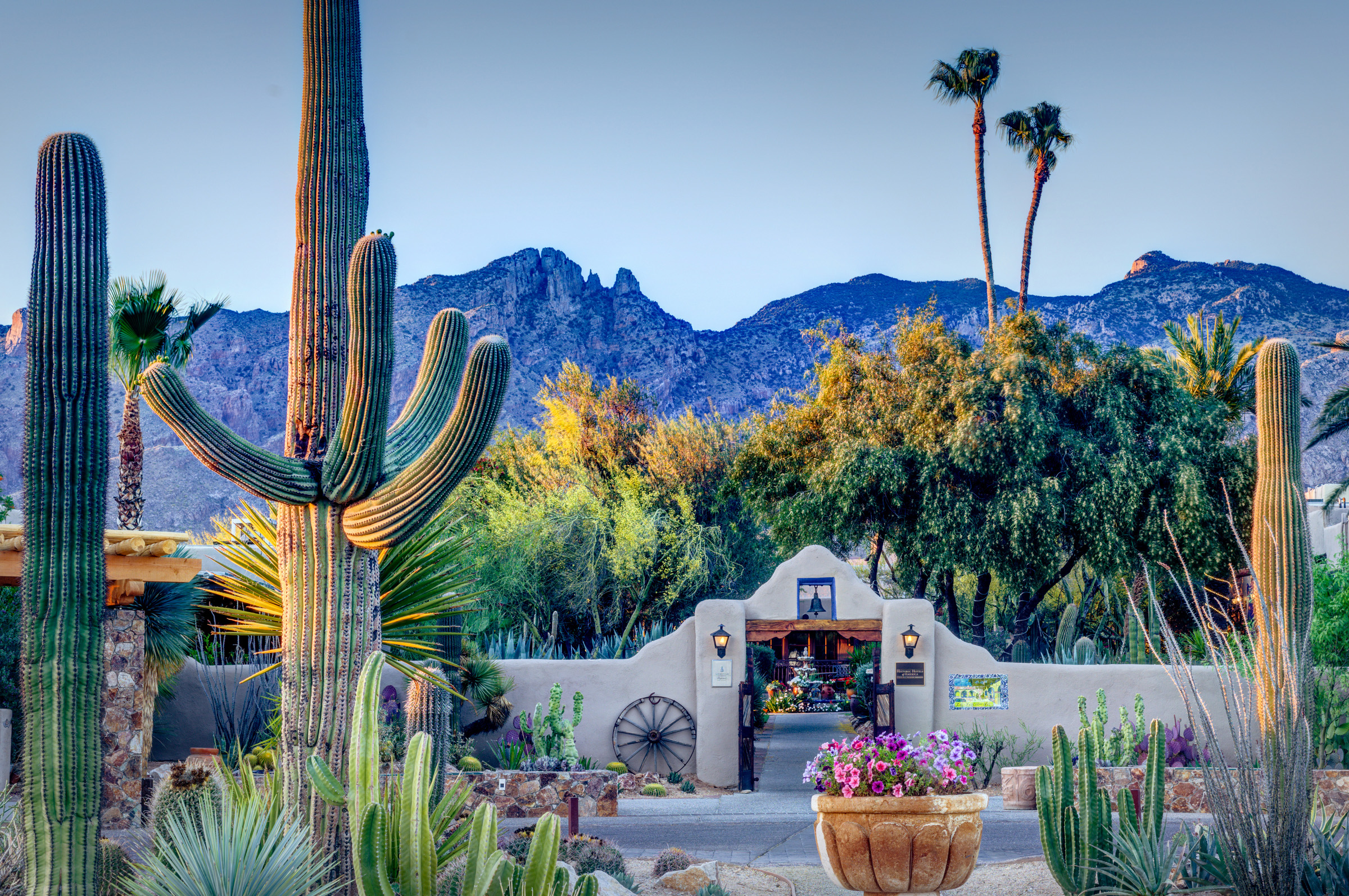 This boutique hotel started life as a boarding school for America's privileged daughters because in the 1930s, this remote location in the Santa Catalina foothills was considered a safe haven for kidnap-prone Westinghouses and Vanderbilts.
Next came a stint as a Hollywood-friendly guest ranch (one casita is named for frequent visitors Katharine Hepburn and Spencer Tracy), followed by a decade or so of gathering tumbleweed. Today, Hacienda Del Sol is a jewel of a wedding venue. Host a rehearsal dinner outside at the Argentinian Parrilla (they'll do a whole roasted pig, if you'd like) and exchange vows in front of the Cowboy Pool, backdropped by ragged peaks that turn pink at sunset. For a memorable cocktail hour, opt for prickly pear margaritas and barrel-aged Manhattans, in addition to hiring the flower-festooned donkey to serve beer and tequila.
Most wedding parties take advantage of guided day hikes and trail rides in the surrounding Sonoran Desert; they also book the stargazing tours, for a fine nightcap. For a fully packed weekend, don't forget about the spa services on site and the golf course next door.
5501 N. Hacienda del Sol Road, Tucson, Arizona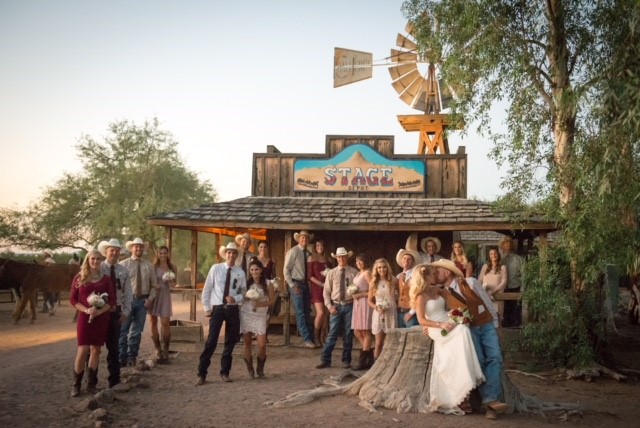 Nobody will bat an eye if you check in wearing a cowboy hat at White Stallion Ranch because this is a working cattle ranch, home to one of the largest private herds in the state; visitors return every year for trails rides, cattle penning and roping lessons. Saddles top the lounge's bar stools, and there's a "Horse of the Month" ballot box by the front desk. A section of the nearby mountain range dubbed Movie Pass signifies the ranch's place in the film industry; actors including Jimmy Stewart and George Clooney have even slept here.
Weddings—starting up again in 2018—embrace the wide-open spirit of the place, as brides venture to the ceremony by horse-drawn buggy, wagon, or on horseback. Since the site is half a mile from the main lodge and bordered by the Saguaro National park, there's privacy to spare. Lights illuminate the cacti, a bonfire crackles in a fire pit, and the line-dancing can go loud and late.
In addition to horseback riding—which is included in the room rate—the resident rock climbing instructor offers climbs several days a week. Soothe saddle sores in the spa or pool; there's even a petting zoo for young guests.
9251 W. Twin Peaks Rd., Tucson, Arizona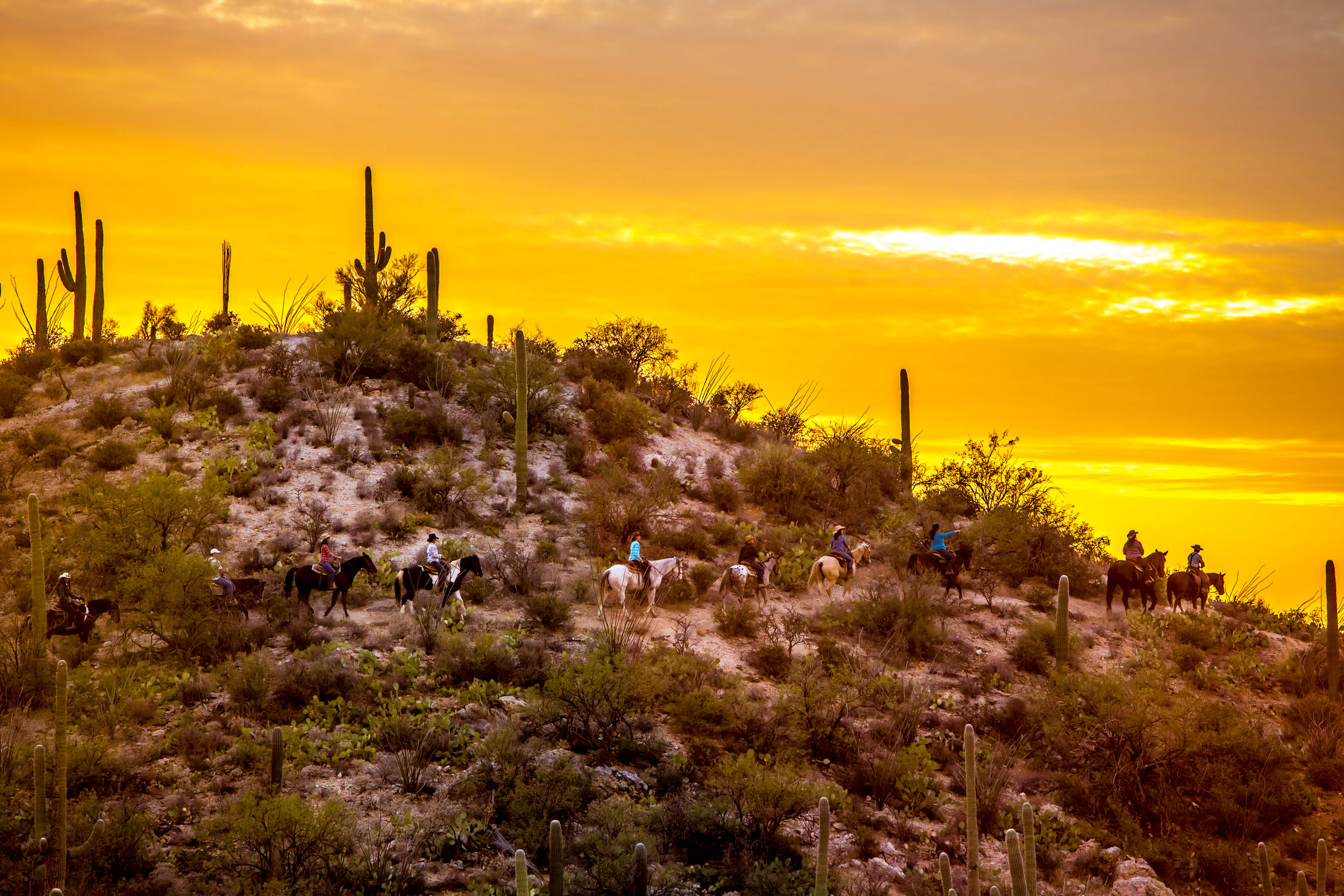 To say Tanque Verde has a colorful past is putting it mildly: Bandits once hung a previous owner by his neck over the present-day card room. After a few drinks, another owner shot a cowboy dead in a local saloon. And it's not hard to picture Apache chiefs riding among the saguaros.
Today, weddings are big business at this fine-tooled resort east of Tucson. Terraces and lawns with desert vistas are popular wedding spots, but if you're looking for an authentic Western experience head to Cottonwood Grove, where a chuck wagon bar, mesquite grill and picnic tables add up to one of the area's more charming venues. Couples can even embrace local history by staging their photos at the Old Homestead, a rustic stone structure built on a hilltop in the 1930s for the ranch's owner and wife.
While it would be tough to fit everything into a long-weekend, offerings at Tanque Verde include breakfast mountain bike treks, sunset trail rides and cowboy poetry nights. Point tenderfoots to the spa for an End of the Trail massage, while the Rattlesnake presentations will give the kids something to brag about.
14301 East Speedway, Tucson, Arizona
A writer, editor and marketing consultant based in Arizona, Sally Kilbridge spent more than 20 years as an editor at Brides Magazine. She indulges her love of travel and romance on her website, destinationw.com, a definitive guide to destination weddings.