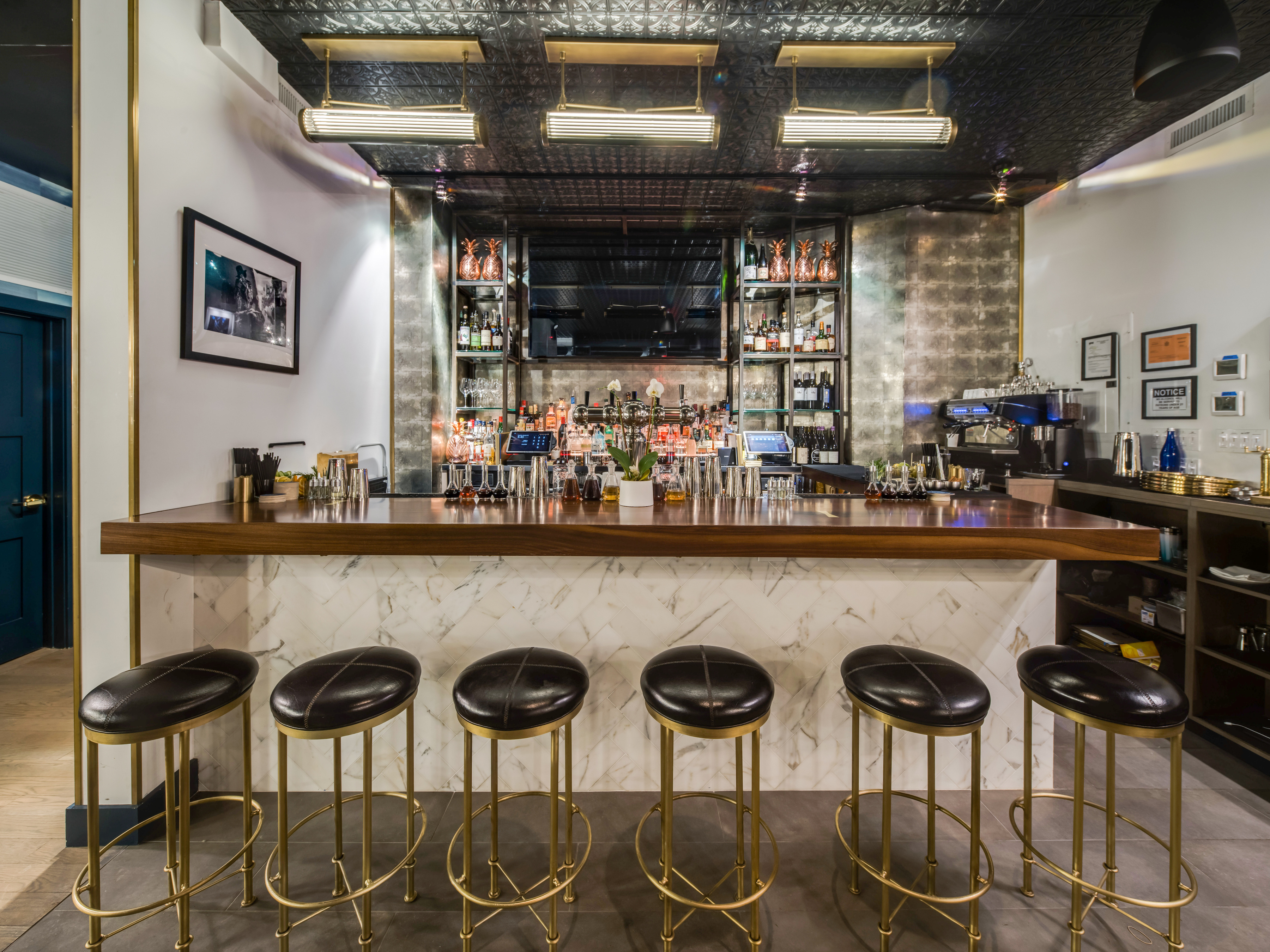 According to our expert sources, the cocktail scene in 2018 will venture away from overblown mixology trends and will instead focus on the classics. According to these predictions, tried-and-true drinks and matching comfort-food dishes will appear on menus throughout NYC, providing guests with the opportunity to re-discover favorites from generations past. Due West, a new West Village bar, is fully embracing this philosophy with delightful results.
Located on a charming stretch of West 10th Street, Due West is the latest project from cocktail director Jess Goldfarb and wine director Camilo Viafara, both veterans of Locanda Verde. The Due West team creates seasonal cocktails with ingredients like saffron, rosemary and Concord grapes, but they also get whimsical with traditional beverages, offering options like a Build Your Own Old-Fashioned program for $15. This DIY cocktail project allows guests to select their liquor of choice (rye whiskey, mezcal, or American brandy), a sugar to match (cane, smoked, or maple) and a type of bitters (aromatic, orchard, or chai), to round out the flavors. Due West also features upcycled takes on college-bar standards like rum and Coke; their version, the Agri-Cola, includes house-made cola and rhum agricole that has been bottled in-house for maximum freshness. Another Due West invention inspired by a classic is the Old Diablo, which is a spin on the michelada concocted from lager, tequila, house-spiced grenadine, lime and a rim of charred-citrus sea salt.
Due West's wine and beer program specializes in libations from small domestic producers; it was curated by Viafara, who formerly served as Locanda Verde's sommelier. Wines from Napa, Sonoma, Oregon and the Finger Lakes are all well-represented and Due West boasts a sizable by-the-glass list, allowing guests to try numerous varietals without committing to a whole bottle. The sparkling-wine options, however, lean towards old world choices, with an emphasis on Champagnes.
Due West's food menu is the handiwork of executive chef Adabis Castro, whose resume includes stints at Atrium Dumbo and Le Bilboquet. Meant to complement Due West's beverage list, the dining options include bar snacks and entrées that harken back to a bygone era of hospitality. That includes '70s-era potluck standbys like hot crab dip updated with cheddar cheese and smoked trout roe. For those in search of more sustenance, Due West's Dry-Aged Burger should do the trick. Topped with cheese, bacon and caramelized onions, the burger arrives on a brioche bun alongside a tangle of herbed shoestring fries.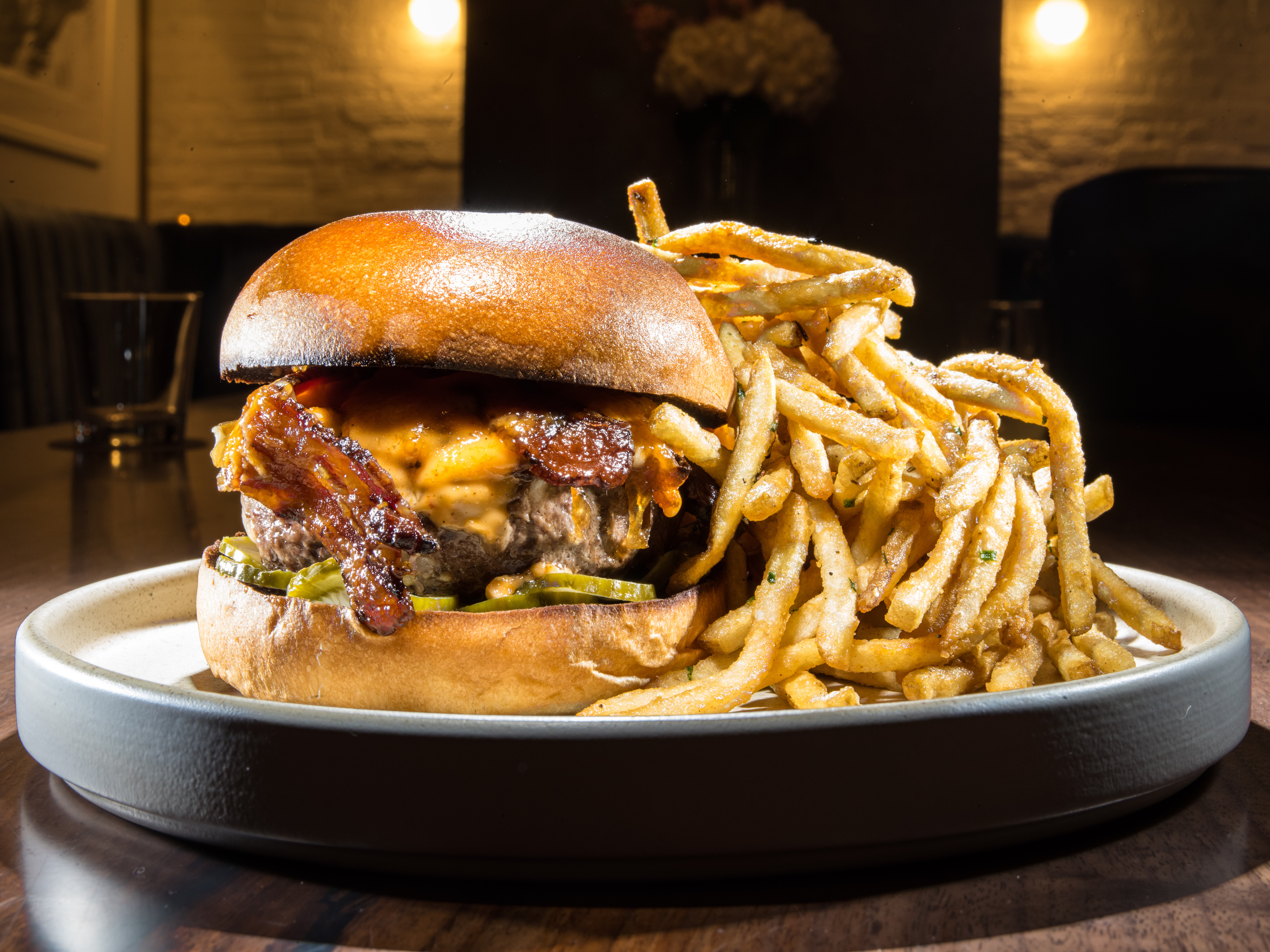 Elegant but unassuming, Due West's decor scheme feels homey, but with a thoughtful and elevated touch. It's akin to stepping into the apartment of a friend who just so happens to be an interior designer. You'll find plush velvet banquettes perfect for date night, a polished-walnut communal table and contemporary art hanging on the walls, all provided through a partnership with ACA Galleries.
If you're looking for a Valentine's Day date venue with warm neighborhood vibes, an irreverent twist on the classics, hearty comfort bites and top-notch cocktails, definitely don't sleep on Due West.