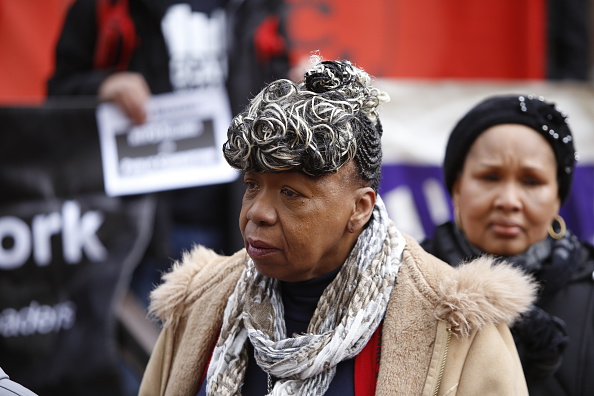 The mother of Eric Garner, a Staten Island man killed in a police chokehold, says Mayor Bill de Blasio and Police Commissioner James O'Neill do not need to wait for the U.S. Department of Justice to take action against the officer who killed her son—and blasted them for preventing the city's independent oversight entity from prosecuting him.
The officer, Daniel Pantaleo, who is white, wrapped his forearm around Garner's neck and wrestled him to the ground to arrest him for allegedly selling cigarettes on a street corner on July 17, 2014. The video—taken by Ramsey Orta, a Staten Island man—showed Garner, 43, shouting, "I can't breathe," 11 times as Pantaleo was on top of him.
His death was ruled a homicide by the city's medical examiner.
On Dec. 3, 2014, a grand jury impaneled by then-Staten Island District Attorney Daniel Donovan, now the city's sole Republican congressman, declined to indict him. Pantaleo is still employed by the NYPD and has received several pay raises since the incident.
In September, the Civilian Complaint Review Board (CCRB) confirmed a misconduct case against Pantaleo over the chokehold.
Gwen Carr, Garner's mother, told reporters at a rally outside City Hall on Thursday afternoon that she met with the CCRB, and they informed her they cannot prosecute or file administrative charges against him because the NYPD has refused to give the necessary case number.
"What they told us, that they need a case number, they will move swiftly as soon as they receive the case number from NYPD," Carr said.
The Police Department said it will not take action until the Justice Department determines whether the officers involved in Garner's death flouted his civil rights.
"Stop procrastinating," Carr continued. "They're saying they have to wait on the DOJ. That's not true. We've heard from other cases where the DOJ didn't even get involved until after the officers were fired. Do that in our case. We're tired of waiting."
And she called on de Blasio to stop paying Pantaleo and the other officers involved in her son's death.
"As soon as we can get these officers off the payroll, our tax dollars could go to a more worthy cause, and I am just so, so appalled at him doing almost nothing in the light of my son's case," Carr added.
Austin Finan, a spokesman for de Blasio, said City Hall understands the family's anger but does not want to adversely impact the process.
"We share the family's frustration," Finan said in a statement. "The process has taken took long, and we once again urge DOJ to reach a conclusion. Until then, it would be irresponsible for the city to take any preemptive action that could hurt any future prosecution."
The NYPD told Observer it is complying with the Justice Department.
"As we have said many times before, the NYPD's internal disciplinary process has been placed on hold at the request of the Department of Justice," Kellyann Ort, an NYPD spokeswoman, said in a statement.
A spokesman for the CCRB declined to comment on Thursday.
Yul-san Liem, co-director of the Justice Committee—which is part of Communities United for Police Reform—said there is no precedent for the city waiting for the Justice Department to make a decision.
She noted the last NYPD officer to be indicted for killing a civilian was Francis Livoti for his 1994 chokehold killing of Anthony Baez, a Bronx man. He was fired from the NYPD almost a year ahead of the indictment in 1997.
Liem also pointed to Michael Slager, the South Carolina cop who fatally shot Walter Scott in 2015 and was fired before the Justice Department filed federal charges. And she added the de Blasio administration claimed they could not take action against officers involved in killing Ramarley Graham in the Bronx in 2012, but his mother discovered "that was a lie."
"We've been marching, the family has been out," Liem said. "We've been doing press conferences. The family has been speaking out. We're doing what we can, but we need you, the media, to do what you can, too."
Kirsten John Foy, the northeast regional vice president of Rev. Al Sharpton's National Action Network—who previously served as director of intergovernmental affairs for then public advocate Bill de Blasio—contended de Blasio is preventing Pantaleo from being held accountable.
"This is the height of hypocrisy," Foy said. "For Bill de Blasio and Jeff Sessions to be walking in lockstep on the Eric Garner case flies in the face of all our sensibilities. You cannot, Mr. Mayor, on one side of your mouth criticize the Justice Department for denying the civil rights of millions of undocumented Dreamers and the other hand, the other side of your mouth, remains silent in the face of the murder of Eric Garner, which was seen by the entire world."
Foy urged de Blasio to "stop hiding behind" former Police Commissioner Bill Bratton's "lies" and stand up for the platform he was elected on—police accountability, transparency and reform.
"The Justice Department has nothing to do with administrative justice in the NYPD, and it has nothing to do with murder in the first, second or third degree," Foy continued. "Those are state charges and those are administrative charges."
Staten Island Councilwoman Debi Rose, whose district includes the sidewalk on which Garner was killed, blasted the "strange agreement" with the Justice Department.
"Loretta Lynch is gone," Rose said, referring to the previous U.S. Attorney General. "Bill Bratton is gone. So that agreement is nullified and so we find ourselves still standing here with Officer Pantaleo sitting at a desk collecting his city paycheck and even getting overtime while he has not been brought to justice."
She argued the administration needs to "right this wrong."
"Theodore Roosevelt, who was a police commissioner in New York City, said, 'Justice consists not in being neutral between right and wrong but in finding out the right and upholding it wherever found against the wrong,'" Rose added.