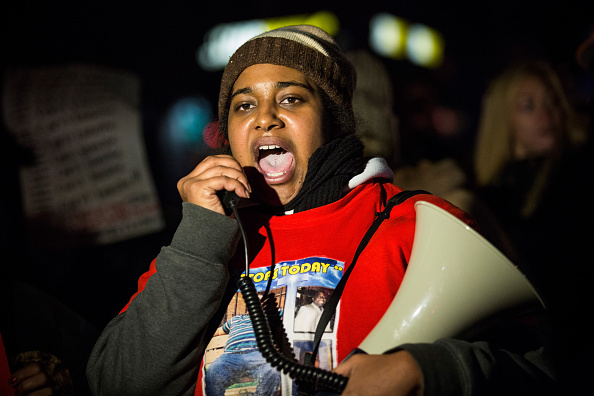 Erica Garner, police reform activist, writer and daughter of Eric Garner, who was killed by a police officer in an illegal chokehold on Staten Island in 2014, was remembered by activists who worked closely with her as someone who "never stopped fighting" for her father and her children.
Garner, 27, died in Brooklyn—where she was born and raised like her father—on Dec. 30 after suffering a heart attack following an asthma attack. She is survived by her mother, Esaw Snipes-Garner, an 8-year-old daughter and a 4-month-old son.
She became a key police reform activist in the city and the country in the wake of her father's death at the hands of the police, vocally assailing Mayor Bill de Blasio's record on police reform.
NYC Shut It Down, a group of activists who came together after no indictments were made against officers who killed Eric Garner and Michael Brown, an unarmed African-American teenager, in August 2014, led a "People's Monday for #EricaGarner" rally. It started in front of the First Corinthian Baptist Church in Harlem where a memorial service was held for her and concluded at a memorial for Erica Garner on Bay Street in the Tompkinsville section of Staten Island.
Domraf, a member of NYC Shut It Down, who asked only to be identified by his first name, told Observer they provided Erica whatever support she needed.
"A lot of us were very close to Erica," he said. "We were the only group out there that, two days a week [protested]… nobody was around. We were in the streets protesting in Staten Island, and we thought that as People's Monday, we need to come out on the streets just like Erica would want us to do."
In the months following her father's death, Erica organized twice-weekly rallies on Staten Island in the spot on Bay Street where her father was killed. Activists noted this was the longest continuous Black Lives Matter action in New York City at the time. In December 2014, she held a "die-in" at the site.
An Activist Is Born 
The officer, Daniel Pantaleo, who is white, wrapped his forearm around Garner's neck and wrestled him to the ground to arrest him for allegedly selling cigarettes on a street corner on July 17, 2014. The video—taken by Ramsey Orta, a Staten Island man—showed Garner, 43, shouting, "I can't breathe," 11 times while Pantaleo was on top of him.
His death was ruled a homicide by the city's medical examiner.
On Dec. 3, 2014, a grand jury impaneled by then-Staten Island District Attorney Daniel Donovan, who is now the city's only GOP congressman, declined to indict him. Pantaleo is still employed by the NYPD and has received several pay raises since.
In 2015, the city worked out a $5.9 million settlement with Garner's estate.
The grand jury decision sparked big protests throughout the city, the country and the world. Dozens of African-American congressional staffers and other individuals walked out of their offices in Washington, D.C. and stood on the steps of the Capitol to protest the Garner and Brown decisions.
When the rally first kicked off in Harlem Monday night, Shannon Jones, one of the co-founders of Why Accountability, an anti-police brutality group formed in August 2014 in the aftermath of Garner's death, asked the roughly 75 attendees to repeat a series of facts about Erica and her father.
"The NYPD and Mayor de Blasio refused Erica's demands to fire him and Obama's Justice Department refused to bring charges," Jones shouted. "Instead, Officer Pantaleo received a raise."
Erica was outspoken about the physical toll of her activism. She also campaigned for Sen. Bernie Sanders (I-Vt.), a Democratic presidential candidate. A letter from Sanders was read aloud by Rev. Al Sharpton—whose National Action Network helped put together the funeral—during the ceremony.
Q.B., who has worked with NYC Shut It Down and was close to Erica, concluded the rally at Erica's memorial, noting that one of Erica's favorite chants was, "Hey, hey! Ho, ho! Pantaleo has got to go!" They also yelled, "I can't breathe!" 11 times, as well as "Say her name! Erica Garner!" and "No justice, no peace!" throughout the rally.
Before arriving at Erica's memorial, they yelled, "You work with a murderer!" while rallying in front of the 120th Precinct where Pantaleo works.
"Sometimes, she would come, she would lay in the street, she would scream," B. said. "Sometimes her asthma would act up because we were in severe cold, but she never stopped. She never stopped fighting for her, she never stopped fighting for her father, and she never stopped fighting for her children because her dream was that one day her children would grow up and never have to experience what we experience."
She said Erica "wrote whatever was in her heart" and "kept everything black and white," whether she was dealing with politicians or activists.
"She started out from just being a mother to being an activist nationally known," B. continued. "That's a hard job for somebody. Every step that you make is watched. Everything you say is criticized, it's judged and you're not even out of our 20s yet."
And she blasted the memorial service, which was closed to the press, saying it should not have been held in Harlem given Erica is from Brooklyn and accused people of taking advantage of her. Gwen Carr, Eric's mother and Erica's grandmother, and Garner's cousin Benjamin Lawton were not able to enter the service.
The church said NAN provided security detail and that the family provided guest lists. Sharpton maintained NAN "had nothing to do" with the guest list.
At the funeral, Snipes-Garner recalled that Erica would protest despite her objections.
"She lived on her own terms," Snipes-Garner said, according to The Root. "And she died on her own terms."
The Mayor and Police Reform 
The mayor, who was not at the funeral, has been criticized over the NYPD ending its practice of disclosing officer disciplinary records because they discovered they were flouting section 50-a of the state's civil rights law. He called changing the state law a key part of his legislative agenda in Albany this year.
The day before Erica died, Police Commissioner James O'Neill indicated neighborhood policing—an initiative that pairs officers with community residents—is up and running in 51 of 71 precincts.
When asked how many officers have received implicit bias training since Eric Garner's death, NYPD First Deputy Commissioner Benjamin Tucker said training will begin for sergeants, supervisors, recruits and the executive staff in late January or early February.
De Blasio said the entire police force has been retrained on de-escalation techniques and pointed to the neighborhood policing initiative—as well as all officers having body cameras by the end of 2019.
"I don't dispute the fact that implicit bias training has taken too long, and I'm unhappy about that and I've made very clear to the Commissioner and his whole team that that has to be up and running immediately," he said recently.