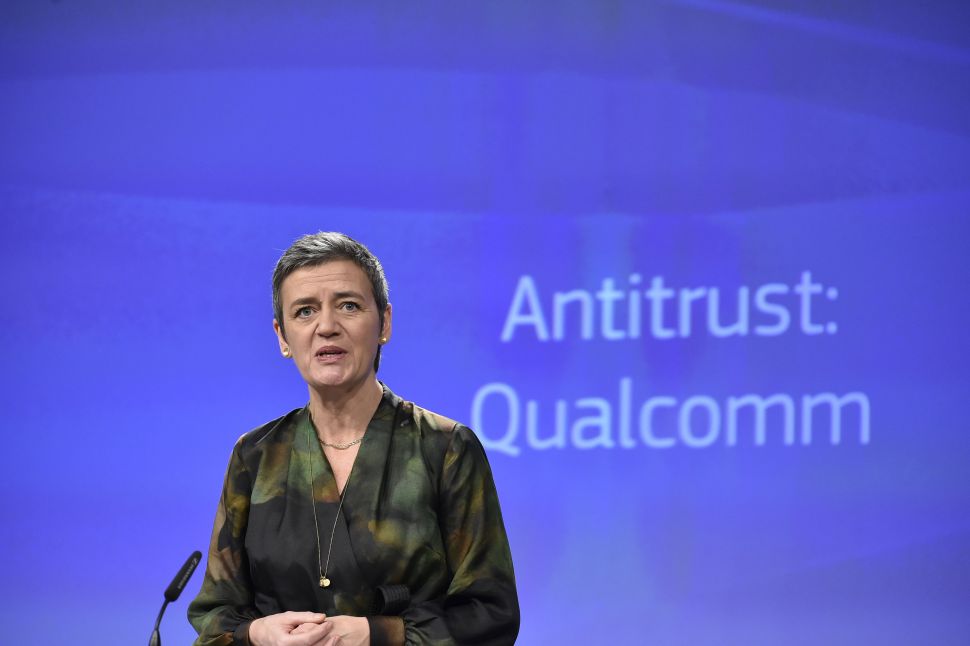 This week, U.S. chipmaker Qualcomm became the latest target of Europe's antitrust regulators.
The European Commission, an executive arm of the European Union (EU), announced Wednesday that it has fined Qualcomm 997 million euros ($1.23 billion) for illegally paying Apple for years to be the exclusive chip supplier of iPhones and iPads.
The commission alleged that Qualcomm had signed an agreement with Apple in 2011, committing to make significant payments to Apple on the condition that Apple would exclusively use Qualcomm's Long Term Evolution, or "LTE," baseband chips in all iPhones and iPads.
When the agreement expired in 2013, Qualcomm extended the term to the end of 2016. The agreement effectively blocked access to Apple by Qualcomm's rivals in the sector.
"Qualcomm's behavior denied consumers and other companies more choice and innovation—and this in a sector with a huge demand and potential for innovative technologies. This is illegal under EU antitrust rules and why we have taken today's decision," Margrethe Vestager, a competition policy commissioner of the European Commission, said in a statement.
After reviewing Apple's internal documents, the commission found that Apple had seriously considered sourcing chips from Intel, Qualcomm's primary rival in the baseband chip sector, but didn't due to the agreement with Qualcomm. When the agreement was about to expire at the end of 2016, Apple began shopping around for chips from other manufacturers, and used Intel chips in iPhone 7.
The fine amount is about five percent of Qualcomm's 2017 revenue.
The company denied violating Europe's competition rules and said it would appeal the case.
"We are confident this agreement did not violate EU competition rules or adversely affect market competition or European consumers. We have a strong case for judicial review, and we will immediately commence that process," the company's general counsel Don Rosenberg said in a statement on Wednesday.
Qualcomm is the world's largest manufacturer of baseband chips. It owned 50 percent of the market share as of 2017, according to a Wells Fargo analysis.
While market dominance by itself doesn't violate EU antitrust rules, the commission said that dominant companies "have a special responsibility not to abuse their powerful market position by restricting competition."
Update: A previous version of this article didn't clarify that Apple used Intel chips in iPhone 7 before the Qualcomm agreement expired.