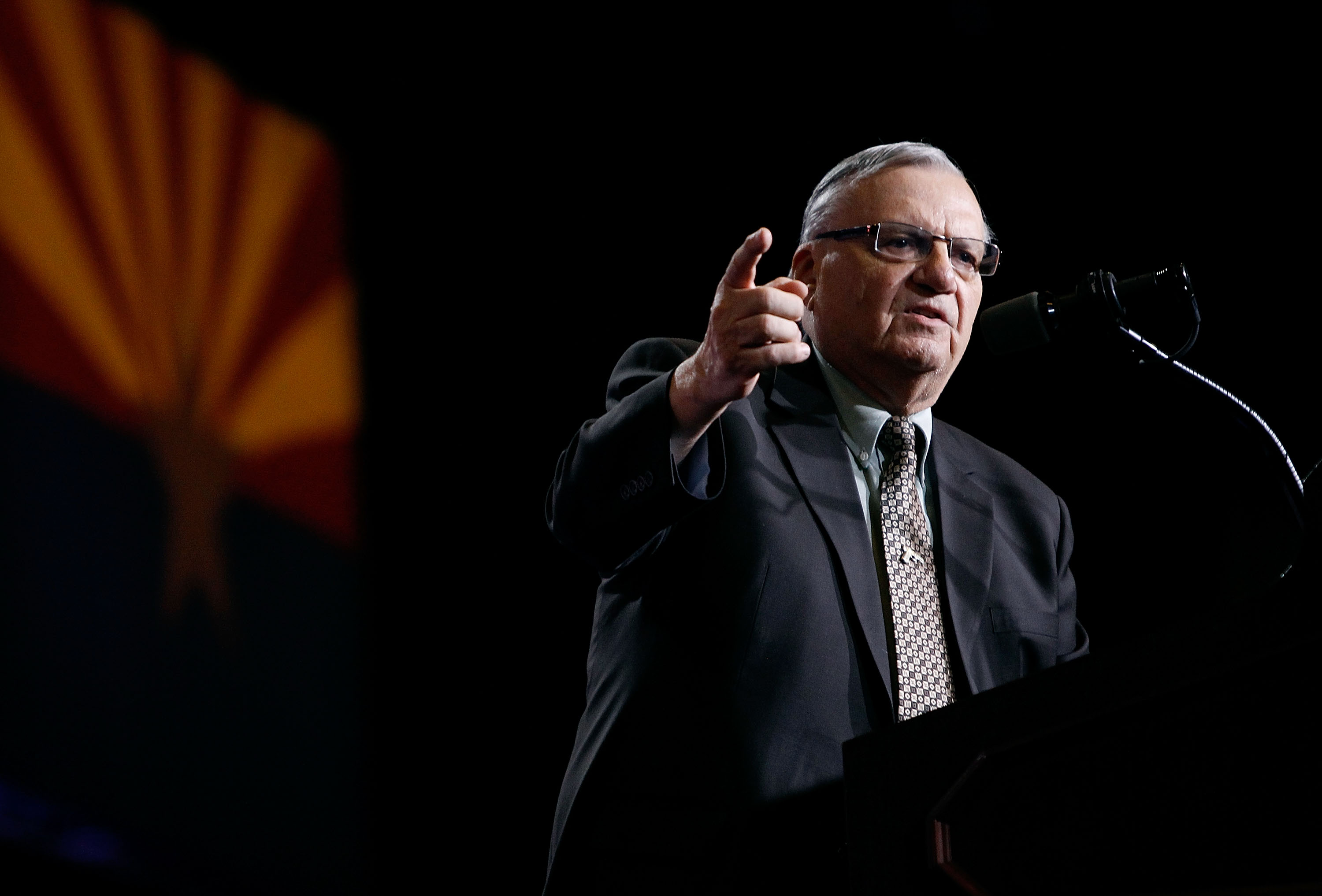 The entrance of former Maricopa County Sheriff Joe Arpaio into the open Arizona Senate race was like a bull entering a china shop. The question is whether the former law enforcement official will be a boon or a millstone around the party's neck, the way Roy Moore was for Alabama Republicans in the state's special election for the U.S. Senate.
Will Arizona 2018 Look Like Alabama 2017 as Arpaio Enters the Race?
When Sen. Jeff Flake announced that he would not run for another term, it looked like a rare opportunity for Democrats to pick up a Senate seat. That was especially the case since the first candidate to announce her bid was former State Senator Kelli Ward. She challenged Sen. John McCain in the primaries two years ago and has the benefit of having run a statewide race.
But Ward is considered vulnerable. Despite her name ID, Ward's record is not so great. In addition to being far more conservative than the average Arizona resident, her attacks on McCain will be remembered by citizens who love their longtime senator. In addition, she's also well- known for hosting a town hall meeting to discuss the conspiracy theory of whether or not "chemical trails" from airplanes were killing the population, earning her the unfortunate moniker "Chem Trail Kelli."
Ward's weaknesses helped encourage GOP Rep. Martha McSally to give up her safe seat to compete for the nomination. Many see Sen. Mitch McConnell, the Senate majority leader from Kentucky, as having a hand in her decision. In fact, there are a host of Republicans who have entered or are planning to enter the race. These range from former Arizona Congressman Ben Quayle (the son of the former vice president) to former governor nominee and Congressman Matt Salmon, as well as Rep. Paul Gosar. Other candidates include pharmacist and Trump activist Nicholas Tutora, as well as financial planner Christian "C.J." Diegel, a veteran of the Iraq and Afghanistan Wars.
"An open seat happens very rarely," Diegel told me. "The tenor of political discourse has brought me out to the fight. In Arizona, North American trade is critically important for our economy, and the current discourse is slowing and obstructing the course of productive business! Likewise, the idea that more spending on revamping the existing physical barriers along the U.S.-Mexico border will solve our problems with immigration and criminality is ludicrous. I feel that we are losing sight of what is important and distracting from the real problems."
But Arpaio's surprise announcement upset their plans. "I got Sheriff Joe'd," Diegel wrote the day of Arpaio's announcement. Indeed, an ABC 15 and OH Predictive Insights (OHPI) survey this week shows Rep. McSally with 31 percent of the vote and Arpaio in a statistical dead-heat with her, at 29 percent (the margin of error is four points). Ward dropped to 25 percent. Just two months ago, the same poling group had Ward with 42 percent of the GOP vote and McSally behind her with 34 percent of the vote.
Arpaio does leap-frog McSally when an endorsement from Trump is thrown into the mix. With McSally tied to McConnell, she's stuck in neutral in the state. Ward still finds herself on the outside looking in. It's too early to say what will happen if Quayle and Gosar formally announce, but Arpaio is still likely to be near the top.
Arpaio could well turn out to be the best chance for a GOP candidate, due to his name recognition and ties to Trump. And Senator Ward is unlikely to win, as Democrat front-runner Rep. Kyrsten Sinema led her in a survey by at least seven percentage points, increasing her lead from last summer. Images of Ward with disgraced strategist Steven Bannon, who endorsed her, won't help.
But Arpaio has his weaknesses as well. His conviction for criminal contempt for ignoring the court order to cease racial profiling (though he was pardoned by Trump), his age (he's 85), his frequently controversial comments, some of his actions (ranging from the food he fed prisoners to the "tent city" he established), and his defeat as Maricopa County sheriff in 2016 make him a liability as a nominee, especially in a state that is weakening as a stronghold for Republicans.
A Shakeup in the Grand Old Party in the Grand Canyon State
Arizona has been a bastion for the Grand Old Party for decades. It gave us Sen. Barry Goldwater, the conservative presidential candidate, as well as Supreme Court Justice Sandra Day O'Connor, the first woman on the Supreme Court, a Ronald Reagan nominee. Currently in office, there's Arizona Sen. John McCain, Gov. Doug Ducey, and all five cabinet officers are all Republicans as well.
But there is evidence that the GOP's hold on the state is slipping. McCain won reelection comfortably, but Hillary Clinton performed better than expected, narrowly losing 45.5 percent to 49 percent to Donald Trump (the state was decided by less than 100,000 votes). Moreover, four of the state's nine congressional districts are now held by Democrats, and one Republican (Trent Franks) recently resigned. The state has only a narrow 32 to 28 percent advantage for Republicans in Party ID, with the remaining 40 percent counting themselves as independents. While legalized marijuana narrowly failed, there was a ballot initiative to increase the minimum wage to $10 per hour, which passed with 58.3 percent of the vote.
In other words, the state cannot be considered a slam-dunk for the Republican Party anymore.
An Opportunity for Democrats, if They Can Take Advantage
Congresswoman Sinema, who also has experience in the state legislature, seems to be a candidate tailor-made for Democrats to win against a Republican weakened by a primary fight. But first she has to get by Deedra Abboud, an attorney and Muslim-American activist. "Establishing personal relationships to form a grassroots network is how Deedra plans on winning the nomination," Mike Johnson with Surprise AZ told me. "Deedra has been all over the state from liberal Flagstaff through Sedona, Quartzite, Kingman, Tucson, Yuma and all over Maricopa County where 62 percent of the voters are located including CD9, home of Rep. Sinema."
Both parties face an unusual challenge. The primary day is August 28, 2018, just a few months before the general election in November. That's a lot of time for candidates to beat each other up before facing a relatively short time before the general election. Whichever party can have the most professional and least divisive primary contest will have a tremendous advantage going into the 2018 midterm election.
John A. Tures is a professor of political science at LaGrange College in LaGrange, Georgia.