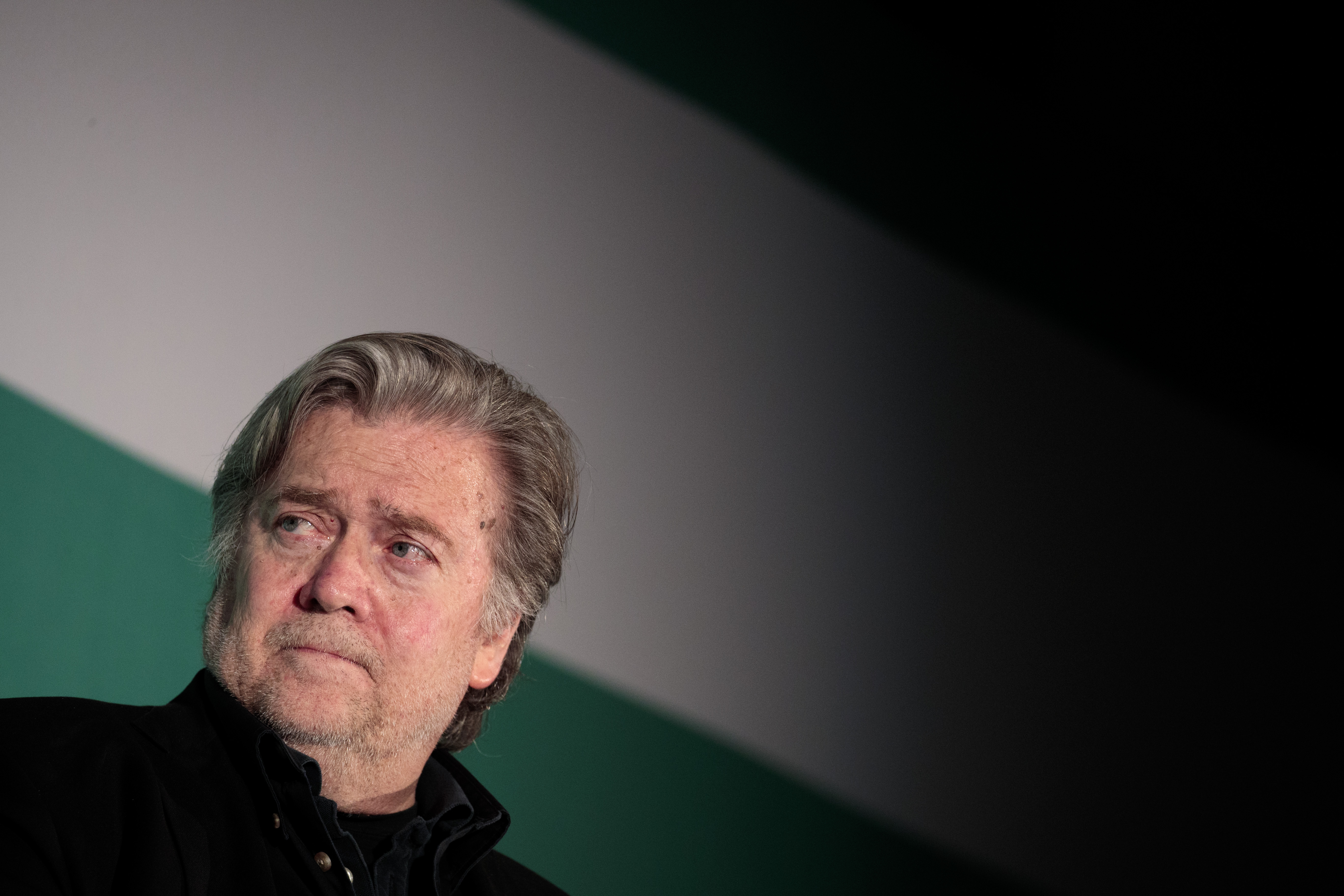 Fire and Fury: Inside the Trump White House by Michael Wolff is an insider account of President Donald Trump's first year in office that will be published on January 9. It was adapted this week in a story titled, "Donald Trump Didn't Want to Be President" in New York Magazine.
The story casts Steve Bannon as an incisive genius thwarted at every step by the stupidity of Trump and his family. Gee, I wonder what insider fed Wolff that tale? This is a sampling of the Super Bannon-man theme that runs throughout:
Ailes's Fox News, with its $1.5 billion in annual profits, had dominated Republican politics for two decades. Now Bannon's Breitbart News, with its mere $1.5 million in annual profits, was claiming that role. For 30 years, Ailes—until recently the single most powerful person in conservative ­politics—had humored and tolerated Trump, but in the end Bannon and Breitbart had elected him.
Let's deconstruct the "Bannon and Breitbart elected Trump" assertion. The Trump campaign was a series of strategic provocations that achieved the presidency. It began with his announcement: an impeccably dressed man descending his own escalator in his own building and spewing political fire.
It proceeded through Little Marco, Lying Ted, and Crooked Hillary—all the way to the Oval Office.
It was Trump himself who correctly read the Zeitgeist to defy convention and win. There were no think tanks or consultants or white papers behind this. Breitbart, certainly, was not advocating for a do-the-opposite-of-what-everyone-says-to-do candidate.
It is an occupational conceit of people like Michael Wolff to believe that people are influenced by those who purvey news and opinion, because that's what he does.
The idea, though, that tens of millions of ordinary Americans were influenced by a $1.5 million web site is at least as ridiculous as the idea that they were persuaded by Putin's $100,000 worth of Facebook ads.
Here's the non-fake news account about how Bannon became involved with Trump.
After he had dispatched 16 challengers to win the Republican nomination, Trump was compelled by some of the big Republican donors who had supported Ted Cruz to accept Bannon as his strategist.
Bannon was always a Johnny-come-lately and too much a bit player to assume the power-behind-the-throne role he attempted to arrogate for himself.
Based upon the events of the last three months, we now know the following about Bannon's strategic acumen.
Trump's presidency was beset early by a wild story emanating from the FBI of all places that victory in the election had somehow been secured in some sordid conspiracy with Vladimir Putin.
You would think the president's chief strategist would have the sophistication to find the source of this stupidity immediately and to skillfully parry it.
A little digging and Bannon would have found that the whole thing was based in Democratic opposition research that was as phony as it was uncorroborated.
But no. Bannon instead followed the story via New York Times reporting and came to believe that when Trump's son met with a Russian lawyer in Trump Tower it was treason. That is the big reveal in the New York Magazine piece.
Not even Joe Scarborough and Mika Brzezinski went there. That's because campaigns meet with foreign representatives all the time, and there is nothing wrong with it.
Based on Wolff's reporting, it can now be said that the Trump administration mishandled the ridiculous Russian collusion canard in the crucial early days at least in part because its chief strategist believed it.
Heckuva job, Stevey.
After Bannon was fired, he decided to involve himself in the Alabama Senate special election on behalf of the only Republican in that state who would not get elected.
Bannon's candidate, Roy Moore, had been twice removed from office for disciplinary reasons. The Republicans lost a Senate seat.
With strategists like Steve Bannon who needs tactics.
Which raises the crucial distinction between Bannonism and Trumpism. Bannon, Roy Moore, conservative click-bait web sites, others who monetize public policy by becoming gadflies—they provoke for the sake of being noticed.
They meet their own definition of "Washington insider" because they use politics to fan their personal brands, not unlike the functionaries they criticize in think tanks and in the Deep State.
The difference is that Trump engages in strategic provocation, wielded by someone with real world negotiating skill, who has based his life's work on the art of the deal. He uses incitement as misdirection and leverage and posturing. It is not an end but a means to an end.
The people in charge should stop confusing the two.
Trump turned his provocations into the presidency. As president, amid the constant swirl of sound, fury, and tweets, Trump has produced Justice Gorsuch, a booming economy, and tax reform.
Bannon, in contrast, has given Republicans Roy Moore, one less Senate seat, and now an absurd treason charge, as everyone at CNN is saying, from a close presidential advisor.
Viewed in the larger picture, Bannon is a product of his own imagination, someone who appears to have parlayed his Goldman Sachs and investment career into a high place in conservative politics.
He could have survived the Roy Moore fiasco if he kept his head down and played nice. The one thing this Everest of Strategists could not do, though, was to become the muse for the Trump hating media.
He did that and lost any remaining political clout he had in the process.
Thomas J. Farnan is an attorney from Pittsburgh, Pennsylvania. He can be contacted at http://www.farnanlawoffice.com and at tfarnanlaw@gmail.com