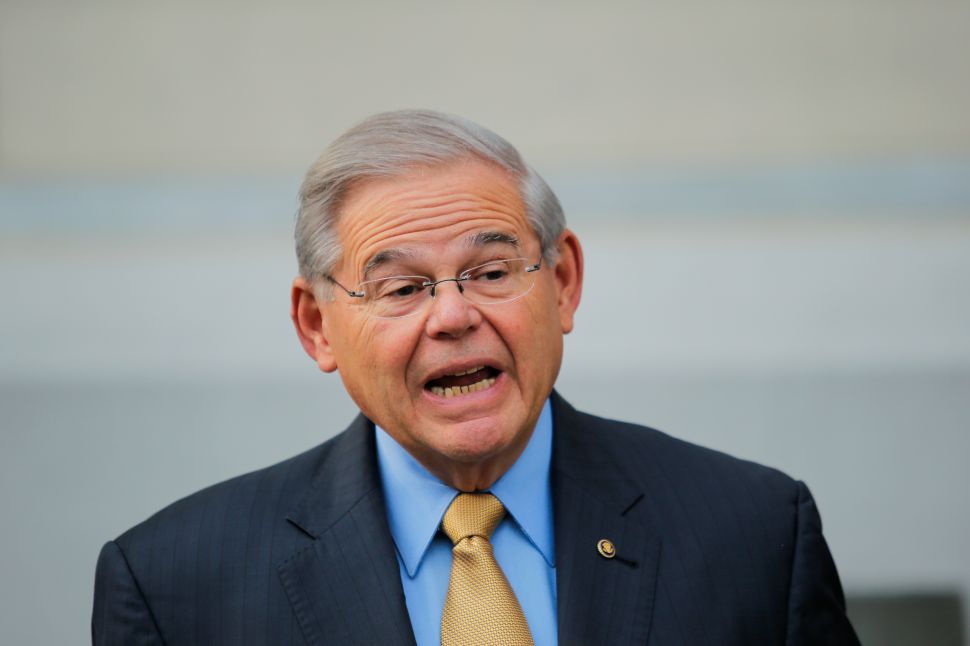 Federal prosecutors intend to retry Sen. Bob Menendez on corruption charges two months after a jury deadlocked on all counts against the New Jersey Democrat and his co-defendant, Salomon Melgen.
The Justice Department filed a one-paragraph notice of intent to retry the case and asked U.S. District Court Judge William H. Walls for the earliest possible trial date.
"The United States files this notice of intent to retry the defendants and requests that the court set the case for retrial at the earliest possible date," the notice said. "Defendants Robert Menendez and Salomon Melgen have been indicted for bribery and corruption by two separate grand juries properly empaneled in the District of New Jersey. The first trial ended in a mistrial with a deadlocked jury. An early retrial date is in the best interests of the public, and the United States is available to schedule a retrial at the Court's earliest convenience."
Walls declared a mistrial in November after the jury failed to come to a verdict in the corruption case against Menendez and Melgen, a wealthy Florida eye doctor and the senator's top donor. Menendez was accused of performing official acts to advance Melgen's interests in exchange for gifts, trips and campaign contributions. Defense lawyers argued the actions Menendez took to help Melgen stemmed from a close friendship, not an illegal bribery agreement.
The jury deadlocked on Nov. 16 after a two and a half month trial. A juror said at the time that the jurors leaned 10-2 toward acquittal.
A statement from Menendez's office said the senator plans to be vindicated.
"We regret that the DOJ, after spending millions and millions of taxpayer dollars, and failing to prove a single allegation in a court of law, has decided to double down on an unjust prosecution," the statement said. "Evidently, they did not hear the overwhelming voices of the New Jerseyans who served on the jury this fall. Senator Menendez fully intends to be vindicated—again."
Menendez is up for re-election this year and all signs indicate he is planning to run for another term. Top New Jersey Democrats quickly backed Menendez after his case ended in a mistrial, but now the senator could be forced to campaign while on trial.
A New Jersey Republican hasn't been elected to the U.S. Senate since 1972. So far, Menendez has just one declared GOP challenger: Richard Pezzullo, who lost a Republican primary bid for Senate in 2014.
Another potential Republican challenger, pharmaceutical executive Bob Hugin, has begun meeting with the state's GOP county chairmen and has expressed interest in launching a Senate campaign, according to an email he sent to the chairmen on Friday morning that was obtained by Observer.
Hugin, a former marine and the executive chairman of Celgene, has ties to former Gov. Chris Christie and is wealthy enough to self-fund a statewide campaign.
Harrison Neely, a GOP strategist, noted that a Rutgers-Eagleton poll in November found that more than half of New Jerseyans said Menendez didn't deserve to be re-elected.
"Now voters might have the option to replace him with a high-quality GOP candidate that is a real success story with the resources to tell it," Neely said in a statement. "All the while, Menendez is going to be on the sidelines trying to prove to a jury that he's not corrupt. This is a big opportunity for the GOP."