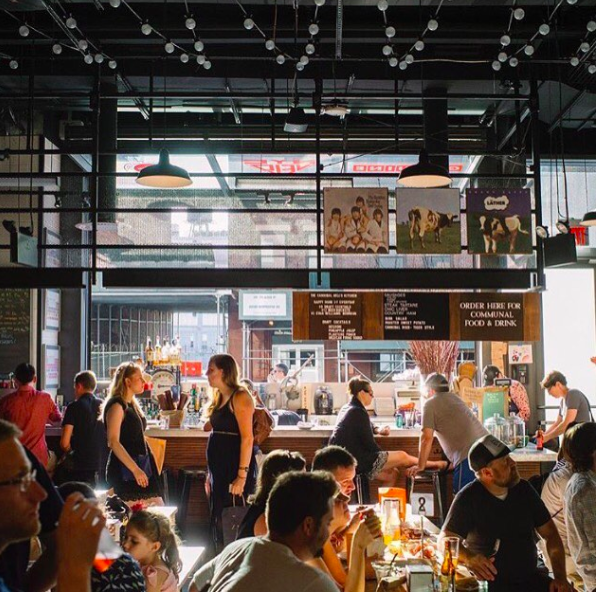 If you want a dining experience that offers a myriad of cuisine options, a relaxed atmosphere and Instagram-friendly interiors, plan a visit to one of NYC's premiere food halls. From long-time classics to new arrivals, these food markets feature a wide range of cuisines and purveyors, like on-the-go ramen, cult-favorite Israeli eats and NYC's first-ever avocado bar.
Here, we share our picks for the best food halls in New York and the dish you can't miss at each one.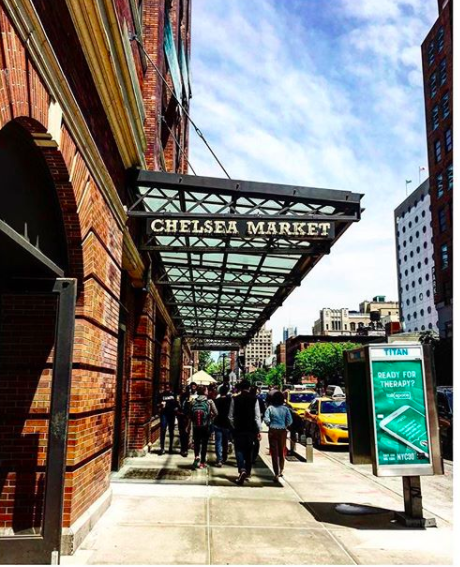 A pioneer in New York's food hall scene, Chelsea Market still reigns supreme as one of the best possible examples of the concept. There's a dish here for every craving, including street tacos, high-brow sushi and rich gelato. Housed in an industrial building on the West Side that once contained the National Biscuit Company's factory, Chelsea Market is a sprawling space that is perfectly-equipped for the celebrated vendors who set up shop here, such as the Philadelphia hummus wunderkinds known as Dizengoff, the comfort-food aficionados at Creamline, and Num Pang, purveyors of bold Cambodian sandwiches.
The Must-Try Dish: In addition to its plethora of food stands and kiosks, Chelsea Market features several stand-alone restaurants, including Mŏkbar, a Korean noodle joint from Chef Esther Choi. Specializing in ramen soup with a Korean twist, their signature dish is the Mŏkbar Classic, made with Gochujang pork broth, ramen noodles, braised pork, spinach, bean sprouts, shiitake mushrooms, scallions and nori. It's a unique hybrid with bright flavors and comfort-food warmth.
The force behind pop-up events like Mad. Sq. Eats, Broadway Bites and the Union Square Holiday Market, Urbanspace now operates two permanent food halls in Manhattan. The location adjacent to Grand Central Station plays host to chef-driven stands from major players in the culinary world, including Roberta's, Dough and Red Hook Lobster Pound. Urbanspace Vanderbilt rotates its vendors on a regular basis, ensuring that there will often be a new cuisine to sample.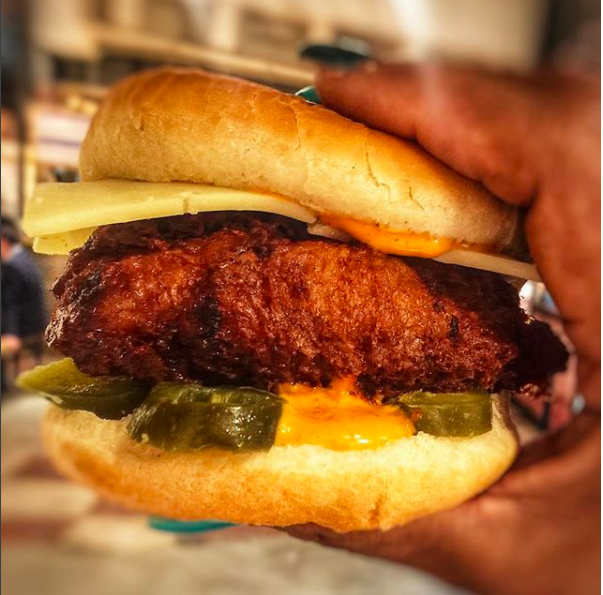 The Must-Try Dish: Fried-chicken fanatics will want to head directly to Delaney Chicken, a sandwich spot from Brooklyn BBQ impresario Daniel Delaney. The Original Chicken Sandwich is wonderfully crispy and savory, but if you can take the heat, you'll want to opt for the Spicier Chicken Sandwich instead. The fried chicken is topped with pickled jalapeños, Havarti cheese and spicy mayo, creating a major flavor bomb.
Located just steps away from the Hudson River, in a window-filled Hell's Kitchen warehouse, Gotham West Market features high-profile vendors with plenty of foodie credibility. Ivan Orkin has a ramen shop there, The Cannibal serves up American cuisine and craft cocktails and Seamus Mullen of Tertulia opened El Colmado, a Spanish-inspired tapas bar.
The Must-Try Dish: In addition to his ramen-focused Slurp Shop, Orkin also has a second concept at Gotham West Market: Corner Slice. This bakery and pizzeria is helmed by Michael Bergemann and serves some of the best new slices in NYC. The shop offers daily square-slice specials, like spicy meatball and sweet onion or bacon and delicata squash. As far as Corner Slice's regular offerings go, the finest is the White Slice, a sauce-free version topped with fresh mozzarella, ricotta, Pecorino, Grana Padano, garlic and black pepper. With a supple crust and a delightful salty zing from the cheese blend, this slice is the one you'll come back for again and again.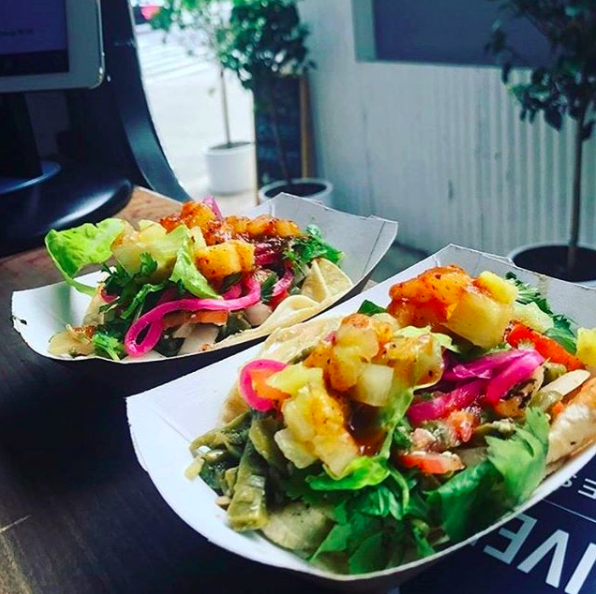 The Bowery Market might have fewer vendors than Gotham West and Chelsea Market, but the petite open-air food bazaar (which is located in a former auto-shop lot) offers a well-rounded list of vendors. Currently, The Bowery Market boasts an outpost of the beloved SoHo sandwich shop, Alidoro, in addition to Oaxaca Comido Calle taqueria, and the Indian-inspired pancakes of Dosa Royale.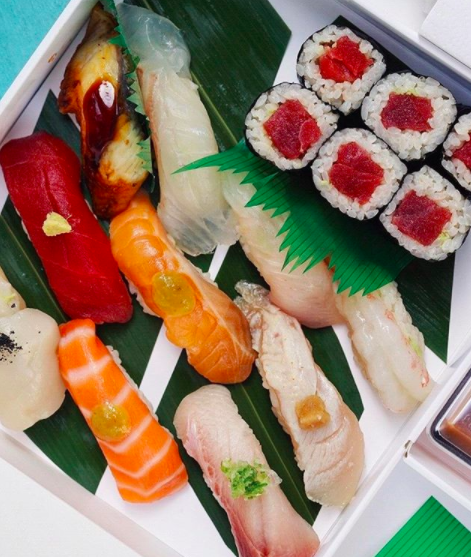 The Must-Try Dish: If you have 30 minutes and a hankering for sushi, you'll definitely want to pull up a stool at Sushi on Jones, the miniature restaurant counter inside Bowery Market. The $50 omakase menu takes only a half-hour to devour and it includes scallops, crab, hamachi, uni, eel, Botan shrimp, tuna, Wagyu beef and salmon. It's definitely a better place to spend your lunch break than Sweetgreen.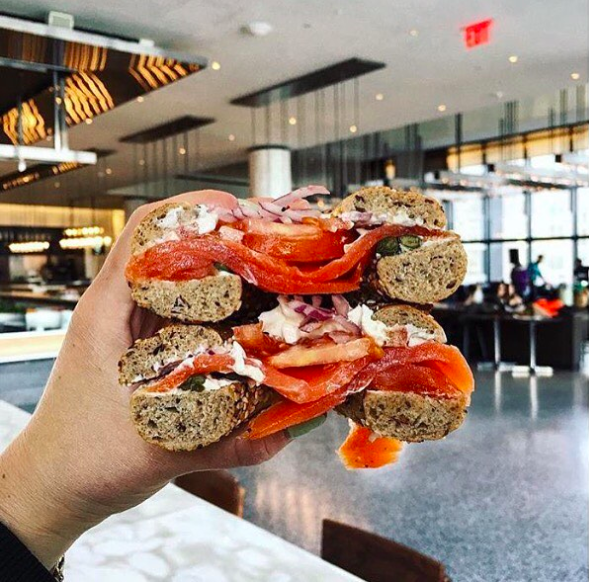 Brookfield Place, the massive dining and retail development in the Financial District, features a sleek food court, known as Hudson Eats. This space features a kiosk from Montreal bagel maestros Black Seed Bagels, a sushi bar from the Blue Ribbon team, the Texas-Carolina BBQ blend at Mighty Quinn's and, very soon, an outpost of Fuku, David Chang's smash-hit chicken sandwich joint.
The Must-Try Dish: At Northern Tiger, Hudson Eats visitors can find hearty, flavorful and comforting dishes, all inspired by the cuisine of Northern China. The noodles and dumplings are excellent (and a welcome departure from Americanized Chinese food), but the must-have item here is the Shaobing Wrap. The Aromatic Braised Beef version is stuffed with tender, spiced beef, crunchy slaw and a tangy sauce, all of which is wrapped up in a flaky Chinese pancake.
One of the city's newer food halls, DeKalb Market Hall in Downtown Brooklyn presents cuisine from 40 vendors, ranging from satellite locations of NYC culinary classics like Katz's Deli to brand-new concepts like Dulcinea churros. The wide breadth of options makes DeKalb Market Hall an all-day adventure for exploratory eaters.
The Must-Try Dish: Before DeKalb Market Hall's opening, anyone who wanted to sample the impeccable desserts from Steve's Key Lime Pies would have to venture to the shop's only location in Red Hook. Now, the masses can easily access the toothsome graham-cracker crust and sweet-and-tart key lime filling in a place with far more mass-transit options. For the ideal Steve's Key Lime experience, grab a Swingle. This disk of pie is served on a stick and is entirely coated with a hard shell of dark chocolate.
A waterfront development that is quickly informing the future of Sunset Park, Industry City uses its expansive 35 acres for retail shops (like a Brooklyn Flea pop-up), event rentals, creative workshops and a small but mighty group of vendors who occupy the dining hall kiosks. Social media went wild over Avocaderia, Industry City's center for all things avocado, but there are a number of other delicious—albeit less viral—concepts, such as Brine & Dine's seasonal pickles and Bangkok B.A.R.'s Thai cuisine.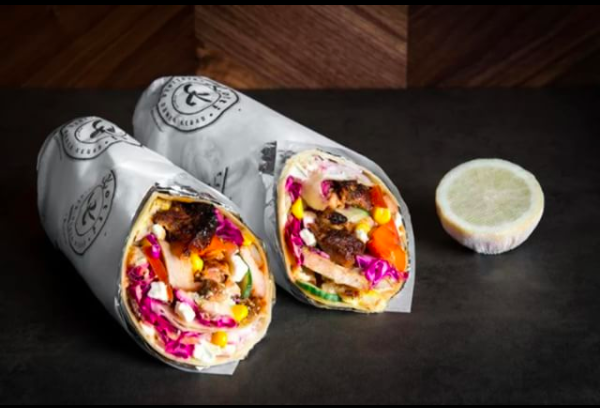 The Must-Try Dish: For the first time ever, NYC has a spot for authentic Berlin-style döner kebabs, and it's the Kotti Berliner Döner Kebab stand at Industry City. You'll want to go for the shop's namesake Kotti Berliner Döner kebab sandwich, which involves spit-roasted chicken, fresh vegetables and an herb or harissa sauce, all wrapped in Turkish pide, a sesame-crusted flatbread that's similar to focaccia.