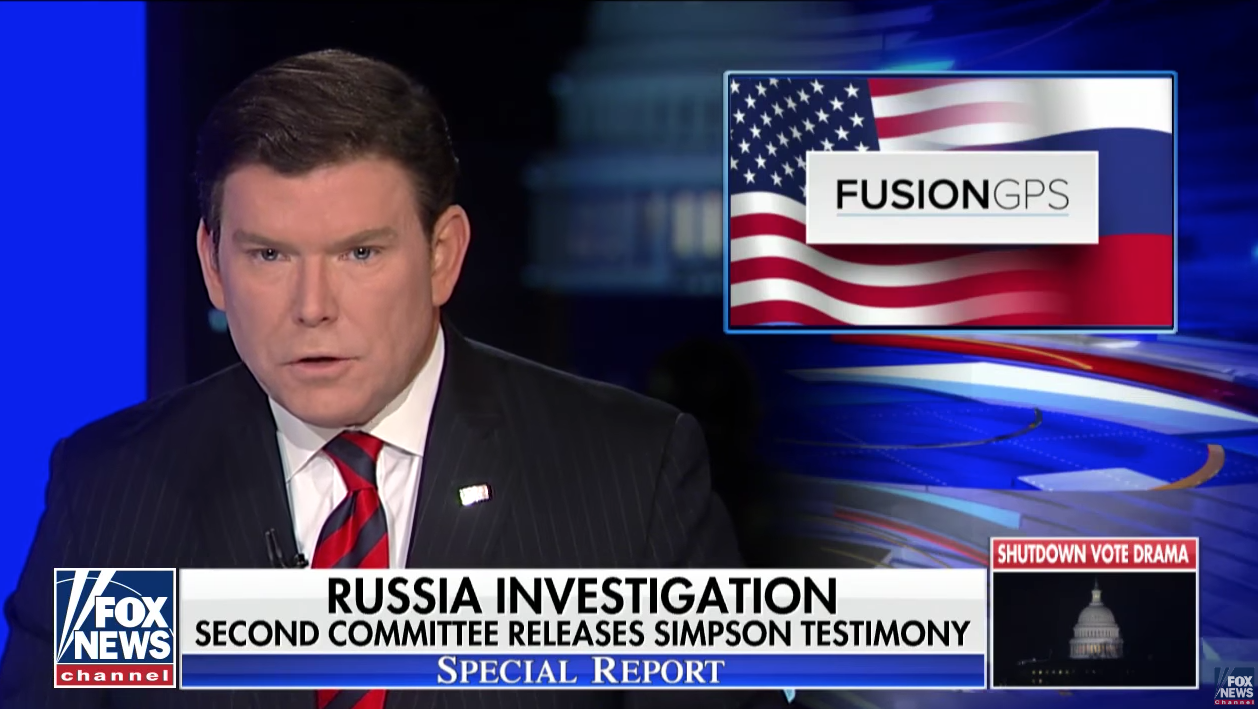 Amateur President Donald Trump sometimes forms opinions and takes actions based on what he sees and hears on Fox News Channel.
If he watched legal commentator Andrew Napolitano on Special Report Thursday night, he might have reason to hire more lawyers or warm up a getaway limo.
"Look, I say this as somebody that likes the president and has known him for years and wants him to succeed," Napolitano told anchor Bret Baier. "But if there is evidence to substantiate the allegations in this testimony, this is a constitutional crisis coming our way."
A "constitutional crisis" could lead to impeachment or something worse. The testimony was a transcript of an appearance before the House Intelligence Committee by Glenn Simpson, co-founder of Fusion GPS, the opposition research firm that investigated Trump before the 2016 election.
The transcript of Simpson's words was released Thursday. Let Napolitano summarize the problem.
"There's a lot in there about the president's business dealings—from the years before he was president—with Russian mobsters and agents of the Russian security services," Napolitano said. "None of which is good for him."
Remember, these words were spoken by a Trump buddy at a network that works as Trump's de facto propaganda factory as the investigation by special counsel Robert Mueller closes in on the family and close associates of the large, loud, 71-year-old, eccentric, orange-faced, yellow-haired demagogue.
The transcript story was overwhelmed Thursday by the one about how the government might shut down Friday night while Trump flies to his millionaires' retreat in Florida for money talk and maybe a little golf.
And everyone seems to have absorbed and gotten past last week's piece in that racy tabloid, the Wall Street Journal, which essentially asked: "Did a Porn Star Blackmail the President for $130,000?"
Napolitano, you might remember, caused a Trump Twitter spasm earlier this month when he turned to the camera and warned Trump about reauthorizing a section of the Federal Intelligence Surveillance Act.
Trump, who had taken the opposite position the night before, suddenly suggested by tweet that FISA abuses of his campaign resulted from Fusion's "phony dossier." He seemed to reverse his FISA position.
He even credited Fox & Friends. But then he changed his mind again in another Twitter belch.
Surprisingly, Napolitano was not the only Fox voice warning Trump Thursday night. In the 7 p.m. hour that followed Baier, anchor Martha MacCallum of The Story spoke with law professor Jonathan Turley about allegations by Simpson of money-laundering by Trump or those close to him.
This allegation by Simpson echoed one from Steve Bannon, Trump's former chief White House strategist and campaign chairman, quoted in the Michael Wolff book Fire and Fury.
"I think he may be right about that," Turley said of Bannon's speculation of money-laundering. "The money-laundering allegations are very, very serious if they're proven to be true. But the problem for the Trump White House is that  these are the type of allegations that require you to open all your books… We're talking about an investigation that will expand exponentially."
After this, the story disappeared from Fox for prime time. Sean Hannity, in the 9 p.m. hour, touched on it peripherally by featuring a conga-line of right-wingers who said the dossier proves only a shocking conspiracy involving Hillary Clinton that will be proven when new documents are released and lots of folks get fired.
The most in-depth coverage of the story came from The Rachel Maddow Show, opposite Hannity on MSNBC. Maddow explained the link in the Simpson testimony to her long-running angle about the mansion deal in Florida in which Trump bought a property for $41 million and soon sold it to a sketchy Russian "banker" for $95 million.
Maddow said the testimony transcript "reads like a spy novel" and tracks Trump's ties with the Italian mob and the Russian mafia. She quoted Simpson's literary allusion about how much dirt there was on Trump.
"You know, we threw out a line in the water," he said, "and Moby Dick came back."
But Trump must never watch Maddow because he doesn't tweet about her. He's a Fox fan, and he's right in their demo: old, white and male. Perhaps he can roll back his DVR and listen to two more quotes heard on Fox, one from Turley, the other from Napolitano.
"There are a lot of business deals that the Trump family and business had with the Russians," Turley said. "They've admitted that. Trump's own sons said that they had access to like a hundred million dollars in Russian funds… (It) doesn't mean that it's money-laundering. But it does mean that Mueller can follow that trail, and it could go a long way."
And Napolitano warned specifically about Trump's current plan to answer questions from Mueller's investigators. One of Trump's law-talkin' guys, Ty Cobb, re-affirmed this Thursday and said he hoped Mueller's questions "wouldn't be a mere perjury trap."
(How strange, mused Chris Matthews on MSNBC, for a lawyer to mention his client and "perjury" even before the appearance).
On Fox, Napolitano warned Trump and Cobb "don't talk to a guy who owns a grand jury" because it will be a trap.
"Never, never, never—I can't say that enough—let your client sit down with prosecutors who are trying to develop a case against him," Napolitano said. "It's a recipe for disaster."
Joe Lapointe spent 20 years as a sports reporter for The New York Times and worked as a segment producer for Countdown With Keith Olbermann—read his full bio here.