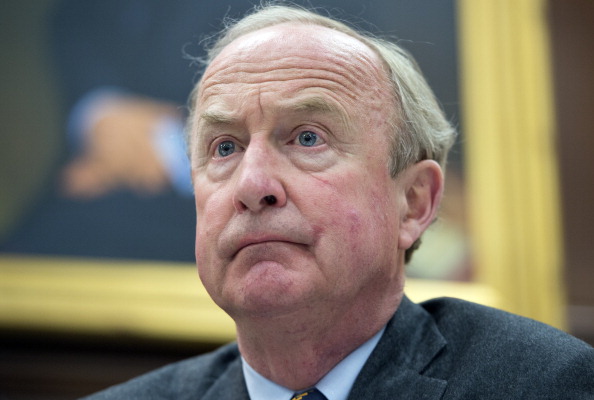 New Jersey Rep. Rodney Frelinghuysen (R-11), a 23-year incumbent and chairman of the powerful House Appropriations Committee, announced Monday that he will retire from Congress at the end of his term, avoiding what would have been his toughest re-election bid.
Frelinghuysen, 71, didn't say why he was retiring in a statement announcing his decision. He was considered among the most vulnerable Republican incumbents ahead of the November midterm election, with several Democrats lining up to challenge him. The Cook Political Report has shifted his reliably Republican-leaning district to a "toss-up" this year.
"I have worked in a bipartisan manner, not just in times of crisis but always, because I believe it best serves my constituents, my state and our country," Frelinghuysen said in a statement. "My father reminded me often that we are temporary stewards of the public trust. I have sincerely endeavored to earn that trust every day, and I thank my constituents and my home state of New Jersey for the honor to serve and I will continue to do so to the best of my abilities through the end of my term."
First elected to Congress in 1994, Frelinghuysen became chairman of the House Appropriations Committee last year, a powerful perch that gives him significant sway over where the federal government spends its money. He won re-election in 2016 by a 19-point margin, and his district was once considered so safe that, in 2000, filmmaker Michael Moore registered a ficus tree to run against Frelinghuysen to highlight the uncompetitive district.
But Democrats had Frelinghuysen in their crosshairs this year, as they try to seize on President Trump's unpopularity in New Jersey and make gains in the Republican-controlled House. And Frelinghuysen made a few potential missteps last year that have energized activists in the area.
He supported a House bill to repeal the Affordable Care Act, a measure that would have likely stripped health care coverage from many in the state. He voted to release a GOP budget resolution due to a need to get important appropriations moving. But that resolution also included the basic provisions of the Republican-led federal tax overhaul, an unpopular plan in New Jersey and one that Frelinghuysen eventually voted no on.
In May, Frelinghuysen wrote a letter to a local bank calling employee Saily Avelenda a "ringleader" in the activist group NJ 11th for Change, some of Frelinghuysen's harshest critics.
Among the Democrats seeking the 11th district seat are Mikie Sherrill, a former federal prosecutor and Navy veteran who has already locked up support from the Democratic county chairs that make up the district. She has raised over $1.2 million in the seven months since declaring her candidacy, her campaign announced Monday.
"Representative Frelinghuysen's retirement opens up a very competitive seat that is moving quickly towards Democrats," said Democratic Congressional Campaign Committee spokesman Evan Lukaske. "With veteran and former federal prosecutor Mikie Sherrill's strong candidacy, and the abysmal approval ratings of Speaker Ryan's Republican Congress, Democrats are confident that this seat will turn blue next November."
National Republican Congressional Committee Chairman Steve Stivers noted the district as been held by a Republican since the 1980s and said "we plan to keep it that way in November."
"Congressman Frelinghuysen's record of service to New Jersey's 11th district will be remembered for decades to come," Stivers said in a statement. "We'll sorely miss his leadership in Congress, and I wish him well in the next chapter of his life."
Frelinghuysen joins Rep. Frank LoBiondo (R-2) as New Jersey lawmakers retiring from Congress at the end of this term.
Update (5:11 p.m.): Mikie Sherrill's campaign announced she has raised $1.2 million since declaring her candidacy. This story has been updated to reflect the new fundraising total.