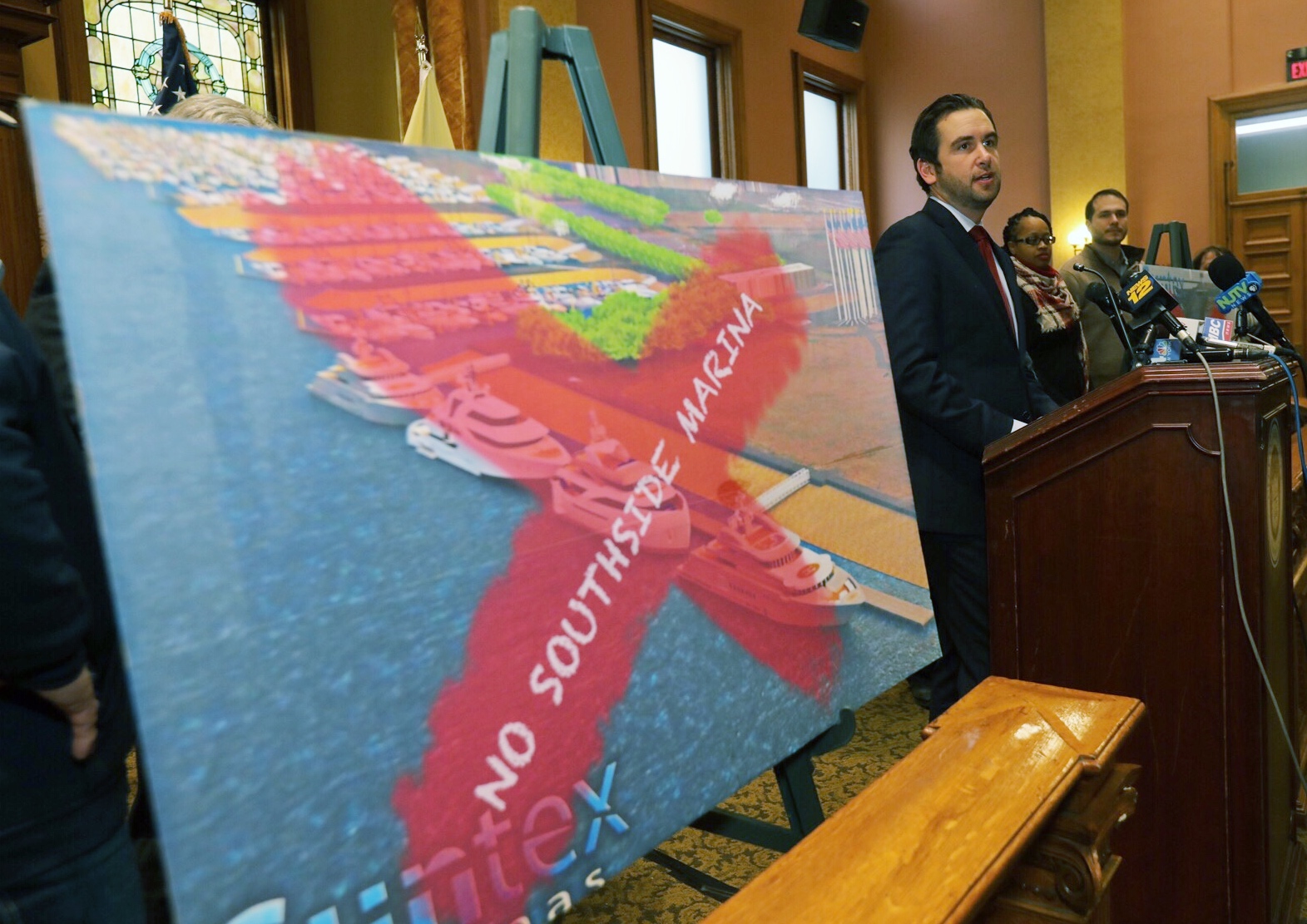 Jersey City Mayor Steve Fulop on Tuesday filed a lawsuit at the Hudson County Superior Court aimed at stopping a large portion of Liberty State Park near the Statue of Liberty from becoming a marina, a plan that the state Department of Environmental Protection has supported under the administration of outgoing Gov. Chris Christie.
"We formally filed a lawsuit this morning to stop Governor Christie's plans to develop the south side," Fulop said regarding the marina project. "We feel that this would do irreparable damage to Jersey City and Liberty State Park, which is one of the crowning jewels of New Jersey and one of the best parks in the entire country."
Last week, the DEP and Suntex—a Texas development company that has agreed to lease and develop the marina—reached terms, indicating that the project will move along even after Christie leaves office on January 16. The DEP estimates that the plan, which also includes expanding an already-existing marina in the park's north end, will bring in up to $25 million and substantially offset the cost of repairing a bulkhead in the park's north end.
Fulop called the plan "horrible" and said that he and the Jersey City council have unanimously agreed to fight "tooth and nail" against development plans, noting that the area where the marina is to be built is used primarily for recreation and offers views of the Hudson River and New York City. The development has been dubbed "millionaire's marina" by Fulop and other opponents.
"We are going to fight at all costs in order to stop it," Fulop said at a Tuesday press conference announcing the lawsuit. The mayor was joined at that event by a number of advocates opposed to the marina development including representatives from Friends of Liberty State Park, NY/NJ Baykeeper, the New Jersey Audubon Society and the New Jersey Sierra Club.
Jeff Tittel, Director of the New Jersey Sierra Club, said that new laws need to be enacted in New Jersey in order to avoid privatized development of public parks.
"We should not be privatizing our park to take care of millionaires at the expense of the people of New Jersey," Tittel said. "We will take this to court if we have to, as well as bring out hundreds of people to these hearings as we have in the past. Since the Christie administration has promoted privatizing our parks, we're going to have to protect them ourselves."
Suntex will still need to hold public information sessions before the plans for development can move forward. Fulop is working with the law firm Riker Danzig, Scherer, Hyland, & Perretti to halt the plan.
DEP Press Officer Robert Geist declined to comment for this story. The Office of the Attorney General did not immediately respond to request for comment.