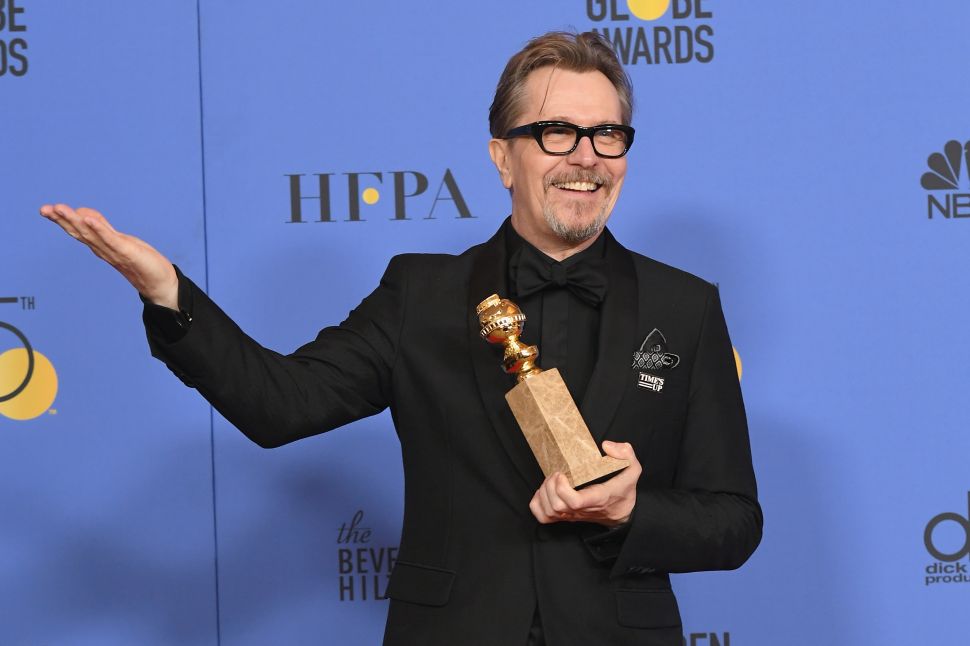 Gary Oldman is a great actor. Over his 30-plus year career, he has slipped into the skin of every character imaginable, from infamous assassin Lee Harvey Oswald in JFK to one of Batman's greatest allies in The Dark Knight trilogy. But his fans have always felt as if he's largely been ignored by the prestigious awards bodies that prop up the red carpet industry. Now, that complaint may not have much merit moving forward.
Oldman snagged a Best Actor in a Drama Motion Picture award at Sunday night's Golden Globes and is the odds on favorite to take home the statue at the Oscars. Though he gave an impassioned acceptance speech on Sunday, it's hard to know just how much he cares for the Golden Globes overall seeing as how he described it as "meaningless" just a few years ago.
Oldman won for his turn as Winston Churchill in Darkest Hour, whom he quoted in his acceptance.
"Winston Churchill said, 'My taste is very simple. I am easily satisfied with the very best.' And I am surrounded by the very best," Oldman said.
But back in 2014, the actor wasn't exactly overflowing with praise for the Hollywood Foreign Press awards. In an interview with Playboy, he had some choice words for the ceremony and the entertainment industry as a whole.
While calling the Golden Globes a "meaningless event," he said: "What people don't realize is that you need to work at being a celebrity. I'm not talking about movies. I mean the other side of it. You have to campaign. It's a whole other part of your career, and I wish I could have navigated it a bit better. I may have an Oscar now, had I…I know it certainly doesn't mean anything to win a Golden Globes, that's for sure."
In the same interview, he also attacked the perceived politically correct atmosphere of Hollywood, saying. "I think it's like, take a fucking joke—get over it…At the Oscars, if you didn't vote for 12 Years a Slave you were a racist."
This year's Golden Globes embraced the #MeToo and #TimesUp campaigns, with the majority of A-list guests wearing black to protest sexual misconduct against women. Oldman himself was dressed in all black as well.