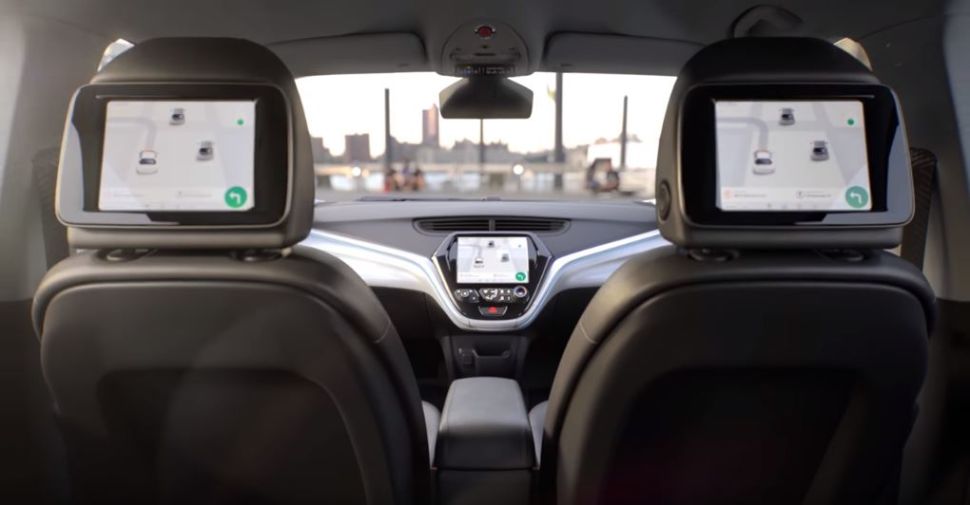 Pedal to the metal? Not anymore, thanks to General Motors' latest innovation.
Ahead of this week's North American International Auto Show in Detroit, the automaker announced that it will begin mass-producing self-driving cars without steering wheels or pedals by 2019. The new vehicles, manufactured by Cruise Automation, will make up the fourth generation of GM's driverless, electric Chevy Bolts.
GM also wants the cars to be used by ride-hailing companies. Coincidentally, company president Dan Ammann is on the board of Lyft.
Many automakers are experimenting with autonomous cars—quite a few demonstrated them at CES last week. And Ford has also committed to build a self-driving vehicle without pedals or steering wheels, but it won't be available until 2021.
If GM succeeds with its two-year head start, it will set the pace for other automakers. It's already given an idea of what the inside of the vehicles will look like.
Even though the area that normally holds a steering wheel is empty space, the interior is otherwise very similar to other GM vehicles.
And while the new Bolts may lack brakes and accelerators, they will be equipped with accommodations for hearing impaired, visually impaired and physically disabled customers.
The price of the vehicles has not yet been determined, but GM estimates they will cost less than $1 per mile to operate by 2025.
The automaker is also working with the National Highway Traffic Safety Administration to retool federal safety standards for driverless cars. For example, since a car without a steering wheel can't have a steering wheel airbag, GM would instead put a second passenger airbag on the "driver's" side of the car.
While most companies test self-driving cars in less populated areas, GM wants to try out its new vehicles in San Francisco. A company report states that drivers in the city have 32 times more interactions with people and objects than country drivers.
As such, GM wants to expose its vehicles to as many different scenarios as possible. For example, on average, San Francisco drivers encounter 270 emergency vehicles per 1,000 miles. In some less populated areas, that number drops to just six per 1,000 miles.
In the event of an accident, each of GM's driverless cars is equipped with two data recorders. Crashes have been an issue for GM of late—six of its autonomous vehicles were involved in accidents in September alone.
Many people brought up these issues on GM's Twitter account after the company's initial announcement. But plenty of others were excited by the futuristic prospects.
"This should have been here years ago. #finally," one person wrote.