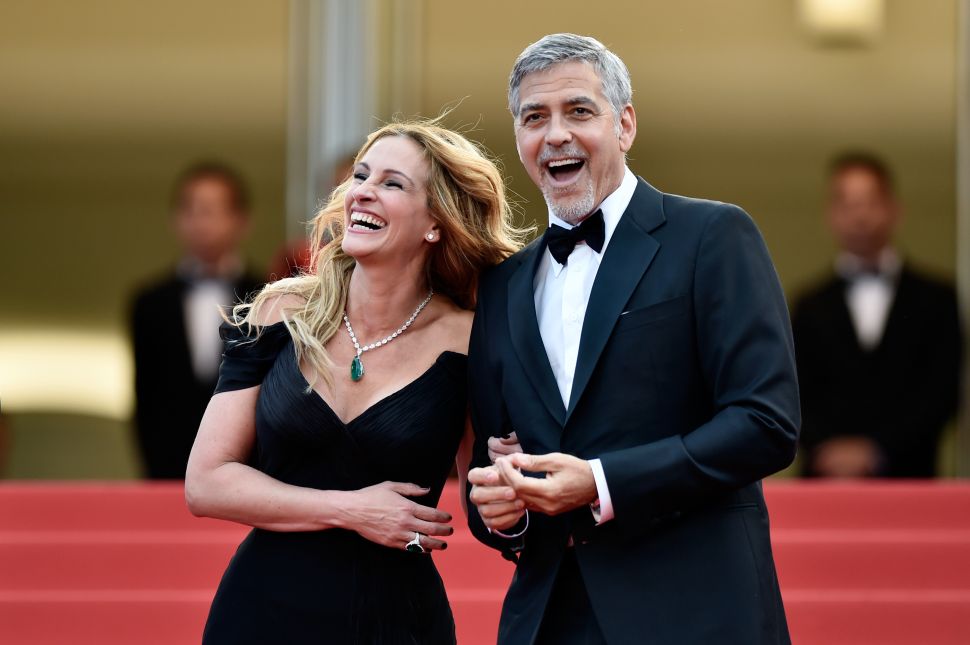 Television is the hot medium nowadays with a record 487 scripted series in 2017 and even more on the way this year. With the rise of deep-pocketed and ambitious streamers such as Netflix, Amazon (AMZN) Prime Video and Hulu—not to mention the looming entrances of Disney and Apple into the game—TV is more readily available and demanded than ever before. No wonder more and more movie stars are flocking to the small screen. That's where the interest is and, surprisingly, where all the money is too.
Reese Witherspoon and Jennifer Aniston will reportedly earn upwards of $1 million an episode for their new Apple morning-show drama. That's about what George Clooney is expected to earn, with room for more, in his return to television with Paramount (PARA) TV's adaptation of the classic novel Catch-22.
"Clooney is co-directing, producing and acting, so his combined number is significant. Clooney is in the $1 million ballpark," Amy Powell, Paramount's president, told THR.
No network or streaming platform is attached to the project yet, but it is said to be a limited six-episode series centered around book protagonist Yossarian, a U.S. Air Force bombardier stationed in World War II Italy. The series is expected to generate significant interest as it gets shopped around Hollywood.
Regardless of where it lands, Paramount TV isn't worried about Clooney's paycheck.
"The world is upside down in terms of features and TV," Powell said. "The budget parameter will probably expand and then contract to a reasonable place. We have not yet made our big-swing, big-budget sci-fi show, but we're working on Neal Stephenson's Snow Crash for Amazon. Joe Cornish (Ant-Man) is directing, and it'll be twice as big as anything we've created."
Snow Crash is just one of many big budget genre spectacles Amazon is sinking money into in 2018. The company is looking for their first mainstream splashy breakout hit to separate themselves from the critically acclaimed yet smaller niche series they've produced thus far. Their Lord of the Rings adaptation is shaping up to be the most expensive series in history.
Clooney's $1 million-plus salary would put him at the top of the TV food chain.
Recent data suggests that the cast of CBS' The Big Bang Theory are the biggest winners in all of television in terms of compensation with a $900,000 per episode salary. If Amazon had moved forward with David O. Russell's highly-hyped drama series, Robert De Niro would have earned $750,000 per episode. Dwayne Johnson makes "only" $650,000 for HBO's Ballers.