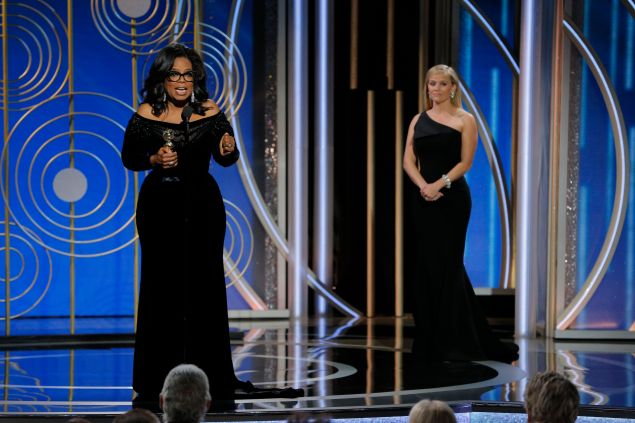 Last night's Golden Globe Awards were notable for their support of women through the Time's Up movement. But the Hollywood Foreign Press (HFPA), which hands out the trophies, also stood up for the First Amendment through two monetary gifts.
HFPA president Meher Tatna announced on the telecast that her organization was awarding two grants of $1 million each to the International Consortium of Investigative Journalists (ICIJ) and Committee to Protect Journalists (CPJ). Both nonprofit journalism groups focus their work on press freedom.
"Today our mission has expanded to protect journalists and their network, which in many cases have come under attack lately," Tatna, whose group also funds several California journalism schools, said during the Globes.
ICIJ, which is best known for its work on the Paradise Papers and Panama Papers investigations, will use the money to purchase an official headquarters in Washington, D.C.
"There's never been a more important time to safeguard the truth by supporting investigative journalism," ICIJ president Gerard Ryle said in a statement. "Truth is under attack, both politically and economically, and the brutal reality of recent years is that journalists routinely risk their lives just for doing their jobs."
CPJ will use its grant to strengthen its international network of programs. The organization protects threatened journalists in the United States and around the world—262 journalists were imprisoned around the world last year just for doing their jobs.
"This underscores to the broader public that journalists are real people who put their livelihoods on the line," CPJ advocacy director Courtney Radsch told Observer. "Having this sort of recognition underscores the need to protect press freedom and journalists."
The HFPA grant announcement wasn't journalism's only moment in the sun last night. During her roof-raising acceptance speech for the Cecil B. DeMille lifetime achievement award, Oprah Winfrey also praised reporters for their important work.
"We all know that the press is under siege these days, but we also know that it is the insatiable dedication to uncovering the absolute truth that keeps us from turning a blind eye to corruption and to injustice," Winfrey said. "I value the press more than ever before as we try to navigate these complicated times."
Radsch echoed Winfrey's sentiments and said celebrity endorsements like hers (and Meryl Streep's at last year's Globes) only help CPJ's cause.
"There is a growing recognition that press freedom is one of the key pillars of democracy and the Fourth Estate is under attack," Radsch said. "We need to think about the people behind the headlines."
Movies like The Post and Spotlight, which take viewers behind the scenes in newsrooms, also help this mission, according to Radsch.
"Journalism is a black box to the American public," she said. "Pop culture that shows the considerations of reporters, editors and publishers who protect their sources can only be helpful."
But Radsch also said silver screen depictions of newsrooms shouldn't overshadow the work of the real life reporters who will benefit from the HFPA grants.
"Journalism plays a fundamental role in holding those in power to account and giving greater transparency to the public," she said.