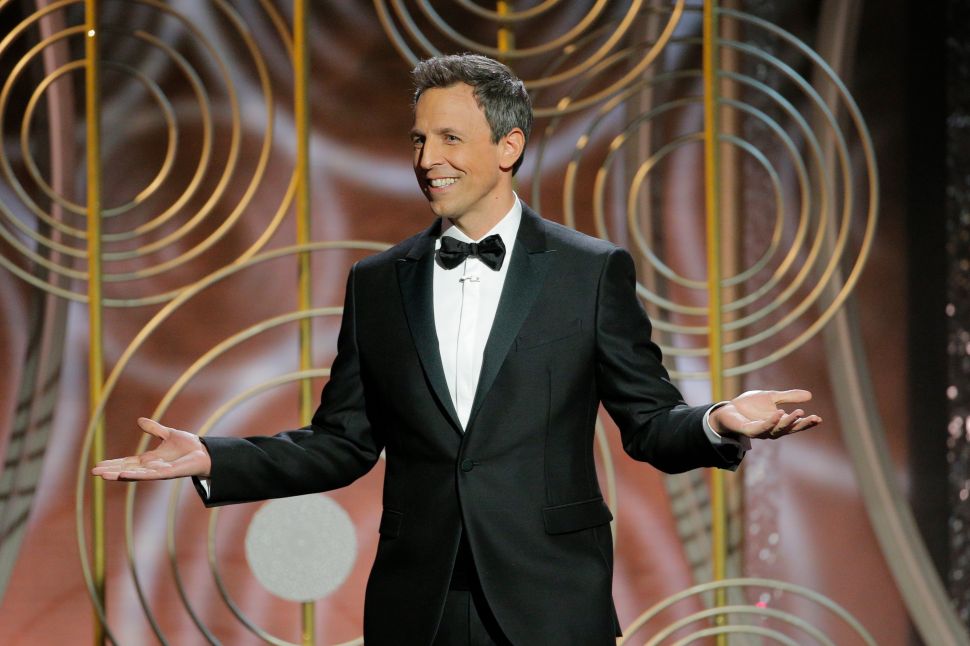 Have you ever wondered which of the endless Hollywood awards shows are most important? Scratch that. Have you ever wondered which of the endless Hollywood awards shows are second-most important behind the Academy Awards? In the eyes of audiences, there's a clear hierarchy.
According to Nielsen's early TV ratings, per TheWrap, Sunday night's Golden Globes hosted by Late Night host Seth Meyers rose 1 percent compared to 2017's ceremony. Last year's show, hosted by The Tonight Show's Jimmy Fallon, earned a 13.3 household TV rating from Nielsen, according to the outlet. That show saw an average of 20 million viewers and an impressive 5.6 rating in the advertiser-friendly 18 to 49 demographic, which marked a 2 percent rise from 2016's grade of 13.0. That Ricky Gervais-hosted night scored 18.5 million viewers and a 5.5 rating in the key demo. Though its early and numbers are subject to change, it looks as if Meyers will supplant Fallon as the second-best metered market Golden Globes rating since 2007.
Update: The final numbers actually have Sunday's telecast down a tick from 2017 as it scored 19 million overall viewers for NBC and a 5.0 in the 18 to 49 demo.
Conversely, the Emmys Awards haven't been doing so hot lately. Whether that's because general audiences find film to be more glamorous than television, we don't know. But with a record 487 scripted shows in 2017, there's no denying that television is the hot medium right now yet the viewers don't seem to care that much come awards time.
Last year's 69th Primetime Awards telecast hosted by The Late Show's Stephen Colbert sank to an all-time low rating of 8.2 in the metered market metric. Total viewership was around 11.3 million viewers. That marked a 2 percent dip compared to 2016 and the third consecutive year in which the awards show set a new all-time low viewership record. Ouch. Clearly, both awards ceremonies are trending in very different directions.
Last year's Emmys suffered so poorly in the ratings, and Colbert took so many shots at President Donald Trump, that the Commander in Chief couldn't help but poke fun on Twitter.
Overall, the Golden Globes typically nets out as the third most-watched annual awards show behind the Oscars (32.9 million viewers in 2017) and the Grammys (26 million). The Emmys has some serious catching up to do.