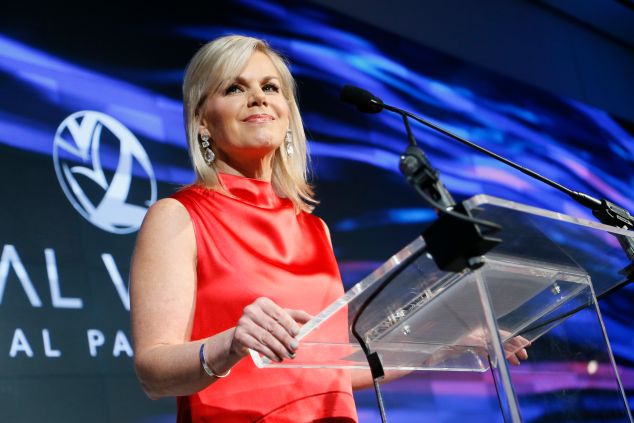 She's a former Miss America who's also been one of the pageant's harshest critics. But now Gretchen Carlson is helping the program move forward after a lewd email controversy.
The Miss America Organization announced last night that Carlson, a 51-year-old former Fox News personality and 1989 Miss America, had been named chairman of the group's board of directors. She's the first former pageant winner to lead the 97-year-old organization.
Three other former titleholders are also joining the board: Laura Kaeppeler Fleiss (Miss America 2012), Heather French Henry (Miss America 2000) and Kate Shindle (Miss America 1998 and current president of Actors' Equity).
As part of the new leadership structure, most of the currently serving directors have resigned from the board.
"This has not been easy for anyone who loves this program," Carlson said in a statement. "In the end, we all want a strong, relevant Miss America."
The reshuffling of Miss America comes less than two weeks after a bombshell HuffPost exposé about the organization. Then-CEO Sam Haskell referred to former pageant contestants as "cunts" and "pieces of trash" in internal emails. He also resented Carlson's criticism of the organization, pushing board members to do things that would "drive Gretchen infuckingsane."
Board member Tammy Haddad and former scriptwriter Lewis Friedman also made eyebrow-raising comments over email. Haddad claimed "80 percent of the winners do not have the class, smarts and model for success."
And when Friedman emailed Haskell to offer his condolences on the death of former Miss America Mary Ann Mobley, he added "It should have been Kate Shindle."
Haskell, Haddad and several other board members resigned after the emails became public. Dick Clark Productions, which televises Miss America each year, also cut ties with the organization over the emails, calling them "appalling."
Carlson is a fitting choice to right the ship for Miss America, and not just because of her history with the pageant. She sued former Fox News CEO Roger Ailes in 2016 over sexual harassment, receiving a $20 million settlement. Ailes was pushed out of the company and died last year.
Carlson has continued to focus on ending workplace sexual harassment during the #MeToo era. She is now working with members of Congress on bipartisan legislation that would protect women at work.
Miss America did not respond to Observer requests for comment.