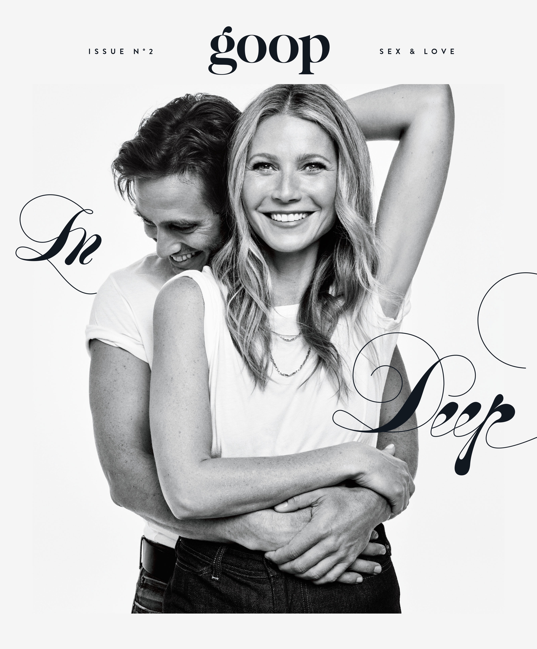 Gwyneth Paltrow was rumored to be engaged in November, but she finally confirmed the news this month with a Goop cover featuring her and her husband-to-be, Brad Falchuk.
If you're unfamiliar with her beau, Falchuk is a television producer…and according to this "How Goopy is Brad Falchuk?" video to celebrate their engagement, he is medium Goopy. In the short video, he discloses that their favorite activity is going to dinner ("Gwyneth likes to eat"), that, in a show of dedication, he took Tracy Anderson classes for a year (as "the only guy in there") and that Paltrow's most "brutal" cleanses include cutting out fried foods, because "mama needs her fries."
Falchuk says the couple enjoys going to infrared saunas for a half hour of "hot naked space," and confirms that he has, in fact, found Paltrow's G-spot, which appears to be the Goop icon on his iPhone. At the end of the video, Paltrow reveals that she's been sitting behind the camera the entire time, which probably contributes to all the positive things Falchuk had to say about their relationship.
The actress and producer connected in 2015 on the set of Glee, which Falchuk created with Ryan Murphy. According to the video, she was dressed as Mary Todd Lincoln at the time, making for a real meet-cute.
If you feel like purchasing the magazine for $14.99 instead of watching the corresponding video for free online, you'll get a peek inside the Sex & Love themed issue. There, the lifestyle guru writes in-depth about her conscious uncoupling from Coldplay's Chris Martin, who's now rumored to be dating 50 Shades of Grey star Dakota Johnson.
"I'm actually the only one in my life who got divorced. This used to feel like a failure; it took me a while to reframe that divorce isn't a failure," she explained.
In the issue, Cat Marnell's mentor Jean Godfrey-June discusses the "fleeting energy behind a crush" and music journalist Jancee Dunn, who recently got 15 cosmetic procedures in a year for Vogue, tackles the orgasm gap. There are also toxic-free yoni products, to make the issue as Goop as humanly possible.
And while Paltrow hides her ring on the cover, it's shown off in the pages of the magazine, in all its sparkling glory. Perhaps she didn't want to have to compete with Paris Hilton's mega rock.