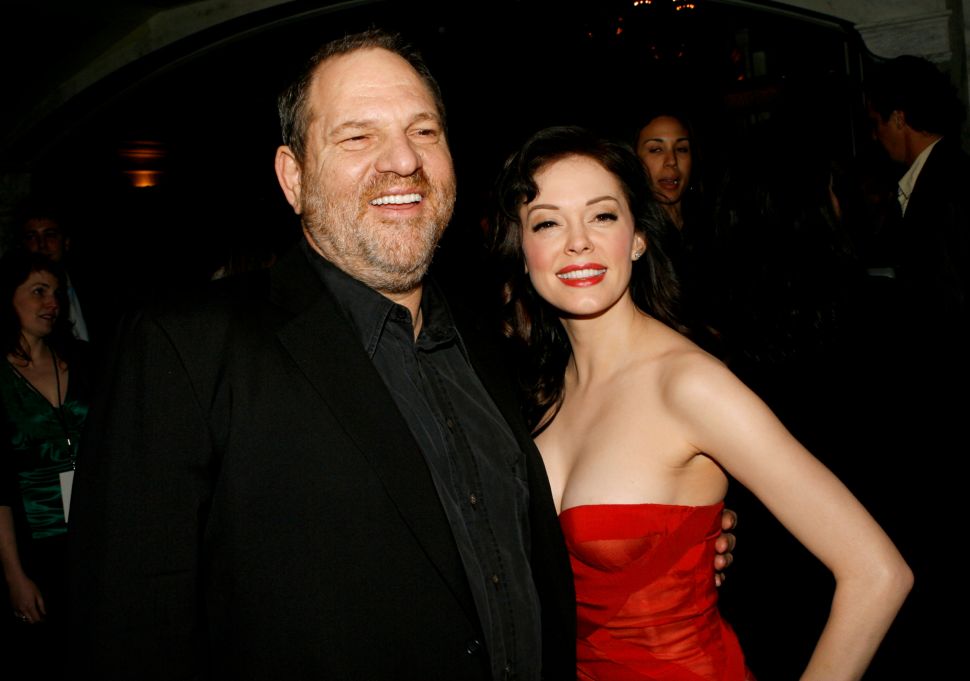 Harvey Weinstein has laid low since career-ending reports detailing decades of sexual assault and misconduct allegations against him were published back in October.
But late Thursday night, Weinstein broke his silence by releasing a statement through his attorney, Ben Brafman, in response to the accusations brought against him by actress and leading #MeToo voice Rose McGowan.
"As a general matter, Harvey Weinstein and his attorneys have refrained from publicly criticizing any of the women who have made allegations of sexual assault against Mr. Weinstein despite a wealth of evidence that would demonstrate the patent falsity of these claims," the statement reads, per TheWrap.
"Watching the 'performance' by Rose McGowan as she looks to promote her new book however, has made it impossible to remain quiet as she tries to smear Mr. Weinstein with a bold lie that is denied not only by Mr. Weinstein himself, but by at least two witnesses, including Ms. McGowan's own manager at the time, who Ms. McGowan claims to have confided in the day after the alleged assault, and an A-list actor Ben Affleck, who Ms. McGowan claims to have also told about her encounter with Mr. Weinstein shortly after the incident she now describes as 'rape,' but which in 1997, she described to her manager as a 'consensual' act of sex."
It is unclear when or how Weinstein obtained the above quotes attributed to Ben Affleck and McGowan's then-manager Jill Messick.
Affleck's representatives did not immediately respond to Observer's request for comment. Countless other celebrities have commented about the accused behavior and the #MeToo campaign it has inspired.
McGowan has claimed that Weinstein sexually assaulted her during the 1997 Sundance Film Festival. On Tuesday, while promoting her new book Brave on Good Morning America, she recounted the incident.
"You float up above your body because you're trying to figure out—my brain was actually literally when he grabbed me, I was thinking, 'Oh, I hope I still have lipstick on for the camera,' so your brain is in another place, and all of a sudden your body is like 'what, what, what,' and this is not what I expected at 10 in the morning," she said.
The New York Times reported last year that Weinstein paid McGowan a $100,000 settlement in relation to the alleged 1997 incident. Prior to the publication of the original reports in October, Weinstein attempted to acquire $25 million in "hush money" from Netflix.
The Weinstein Co. is on the verge of being sold in a $500 million deal.