When it comes to Haute Couture week in Paris, there is never a dull moment, and the Spring 2018 season was no exception. From a racially-charged debacle to the sweetest mother-daughter moment that the Parisian runways have seen, here are five of the most discussed events on and off the runway this season.
The Most Meme-Friendly Collection: Valentino
For Spring, Valentino designer Pierpaolo Piccioli topped each of his gem-toned outfits with fanciful feather headwear that some described as "jellyfish hats" and others called "something Joan Collins would wear to a courtroom as Alexis Colby on Dynasty." One outlet dutifully noted that they were "the most gram'd accessory of the week." The hats, a colorful Philip Treacy creation, even served as model camouflage; Harper's Bazaar pointed out that Kaia Gerber walked in the Valentino show and was almost unnoticed.
However, our favorite review of the hats has to be in the form of a low-brow culture reference made by GQ's Cam Wolf on Twitter. As he pointed out, these feather headdresses do mimic the hairdo of the Simpsons character Robert Underdunk Terwilliger Jr., Ph.D. (A.K.A. Sideshow Bob). The resemblance is uncanny.
The Most Tone-Deaf BFF Duo: Ulyana Sergeenko and Miroslava Duma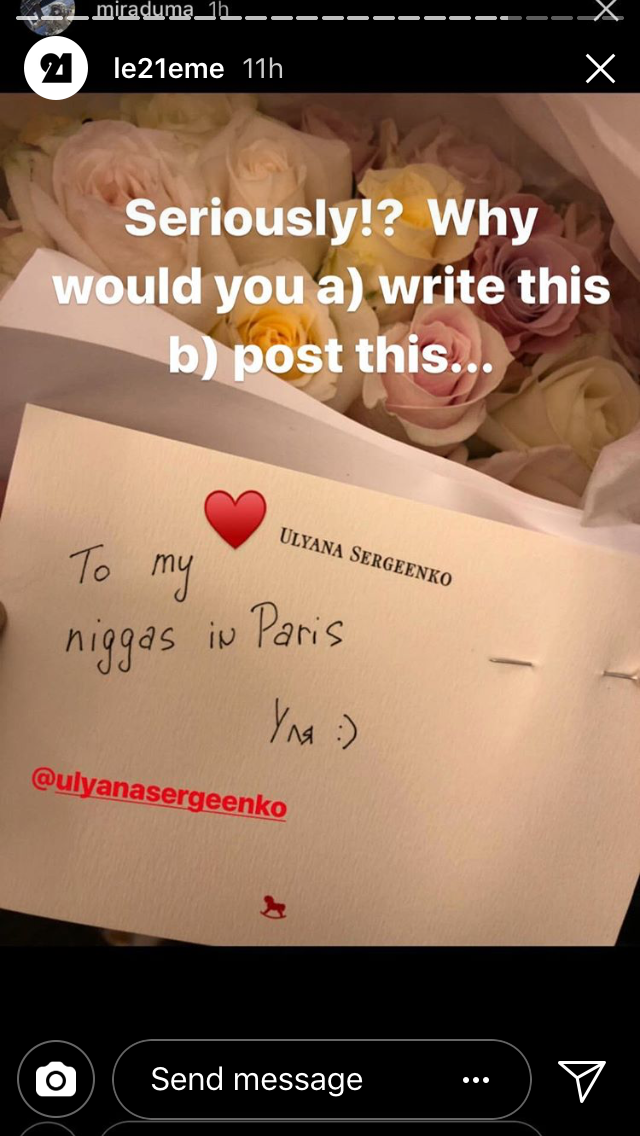 Both designer Ulyana Sergeenko and fashion editor Miroslava Duma are facing industry backlash for making racist comments. Earlier this week, Sergeenko sent Duma a bouquet of flowers along with a note that read "To my n*ggas in Paris," which the Buro 24/7 founder subsequently shared on Instagram Stories. The industry was astounded by the behavior and the above image of the note was widely shared on social media.
Not long after, an old video of Duma surfaced, in which the editor explained to an audience in Russian why she doesn't support blogger Bryanboy's decision to wear women's clothes nor the very public role of transgender model Andreja Pejić. She went on to suggest that men modeling women's clothing could negatively affect young boys. Duma made not one, but two apologies via Instagram about the whole debacle—but not before she was removed from the board of The Tot, a Dallas-based children's clothing store she co-founded in 2006.
Sergeenko, on the other hand, issued a shockingly oblivious apology on her own 'gram, which has since been deleted. "I have certainly learned my lesson and am grateful for it. And yes, we call each other the N word sometimes when we want to believe that we are just as cool as these guys who sing it," she wrote, in reference to the Kanye West song she was purportedly referencing in her original note. Sergeenko finished her apology with this laughable line: "There is enough anger in the world, please, can we stop it here?"
The designer's haute couture show took place on January 23, but wasn't greeted with much fanfare. "It was real quiet outside the Ulyana Sergeenko presentation… I guess a lot of editors decided to skip it," street style photographer Phil Oh noted on Twitter.
The Most Adorable Moment: Jean Paul Gaultier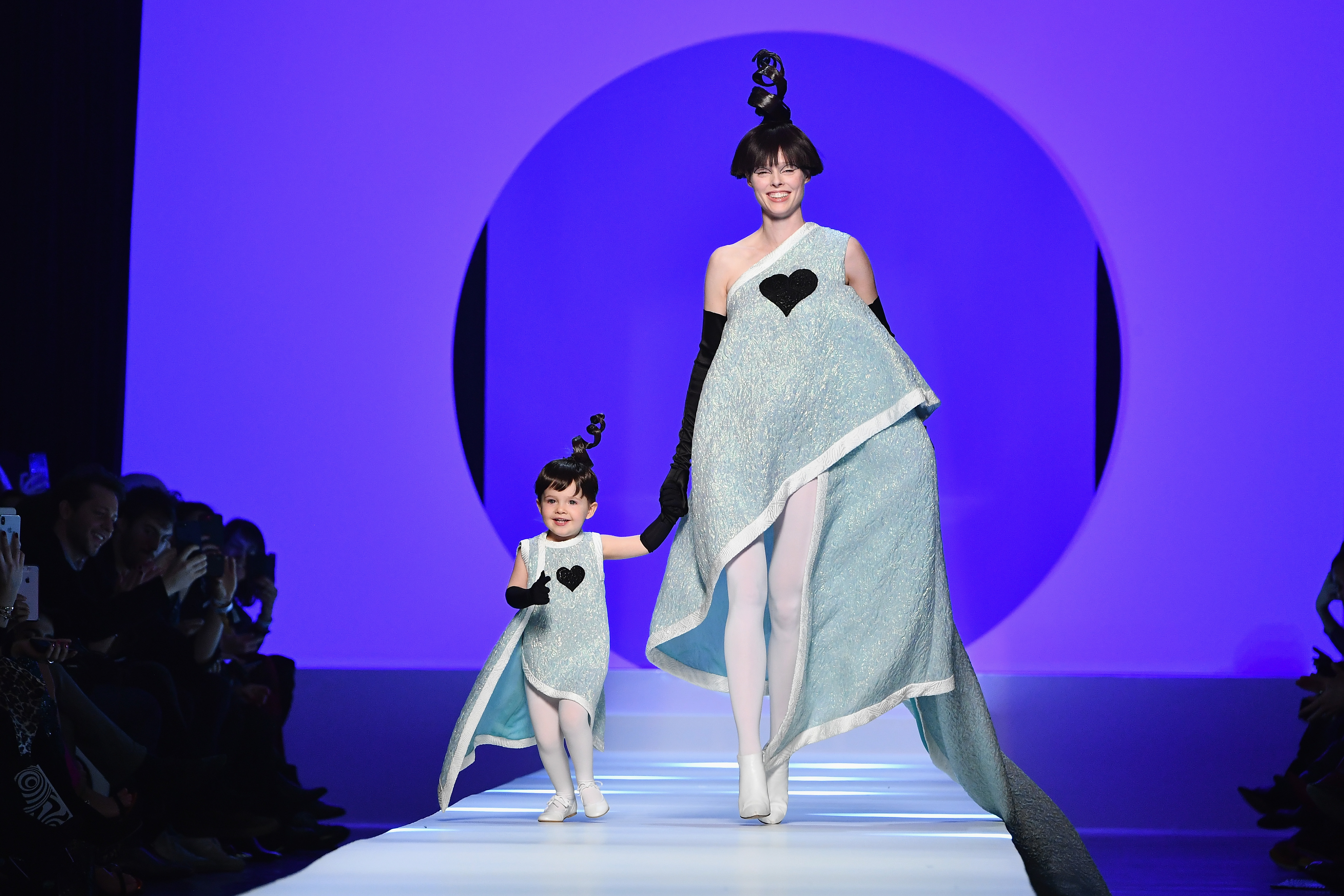 Coco Rocha has done a lot on the Jean Paul Gaultier runway over the years. In 2007, she Irish stepdanced down the catwalk; she and Karlie Kloss performed in a mock dance competition in 2013; and this past July, she rode a bicycle down the runway.
But this season tops all others, as Rocha walked the runway alongside her daughter, Ioni Conran (who, by the way, has a very cute Instagram account of her own). The mother-daughter duo, dressed in coordinating blue sparkly asymmetric dresses and curlycue 'dos, served up some fierce poses and subsequently melted the stone cold hearts of the Haute Couture audience.
The Most Instagrammable Show: Maison Margiela
Maison Margiela designer John Galliano gave the people what they wanted: A collection that was actually made to be Instagrammed. Galliano used a reflective fabric throughout the range that looks black to the naked eye, but transforms into a mesmerizing metallic rainbow under the flashbulb (or iPhone camera flash). It seemed that, when paired with a multitude of polka dot prints, slick bathing caps and holographic makeup, Galliano did it all for the 'gram.
The Most Elegant Creepy-Crawlies: Schiaparelli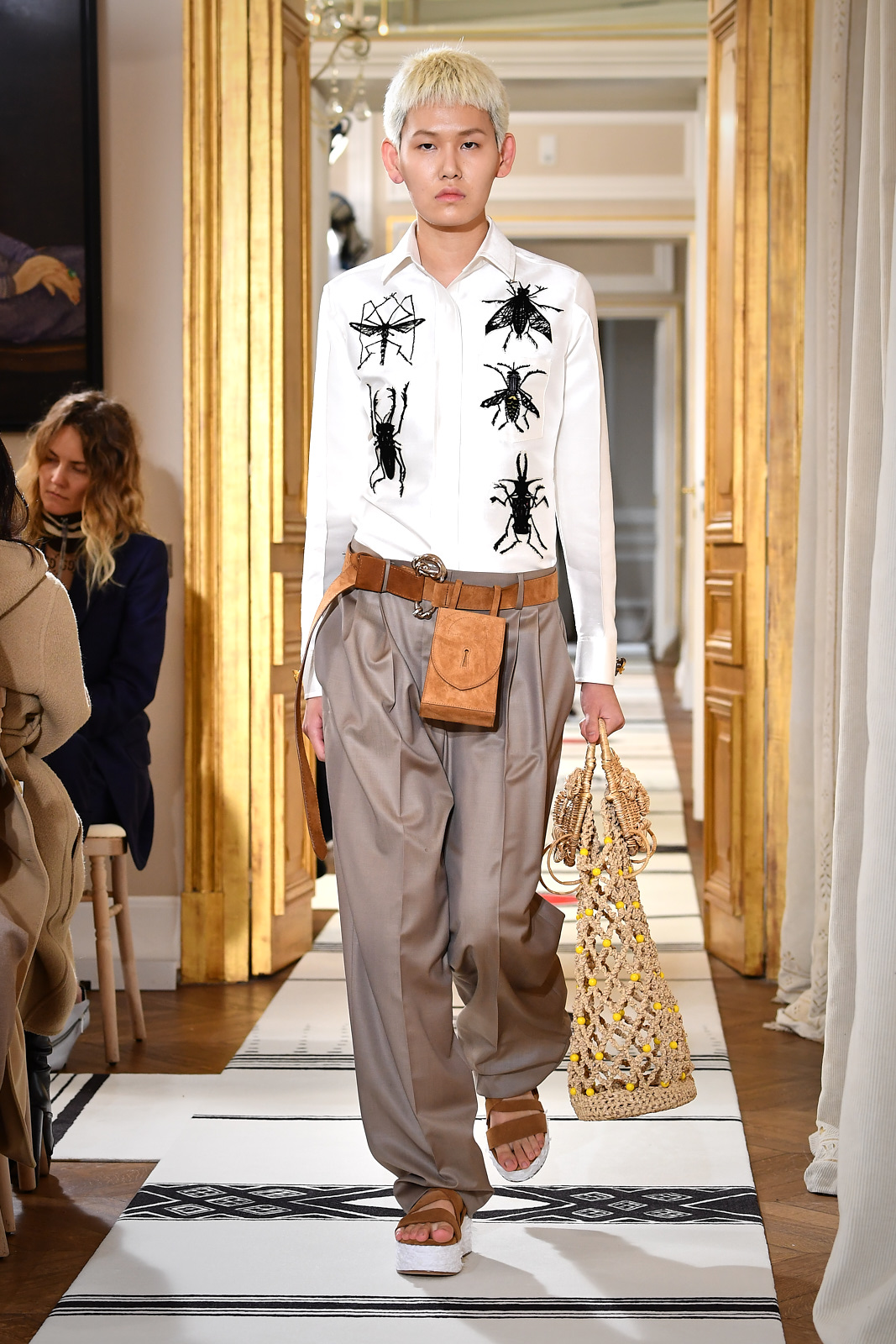 It takes a lot to make insects look chic, but leave it to Schiaparelli designer Bertrand Guyon to turn bugs into the chicest adornment of the week. A series of creepy crawlies adorned a white button down, which when paired with some loose khaki pants, appeared to be the uniform of a sartorially-informed exterminator. Later in the show, a scary-looking snake slithered across a black dress with a raffia fringe. However, not all of the animal adornments were of the skin-crawling variety. Butterflies were interspersed throughout the range, too, decorating the heel of shoes and flittering on a dress of tulle.