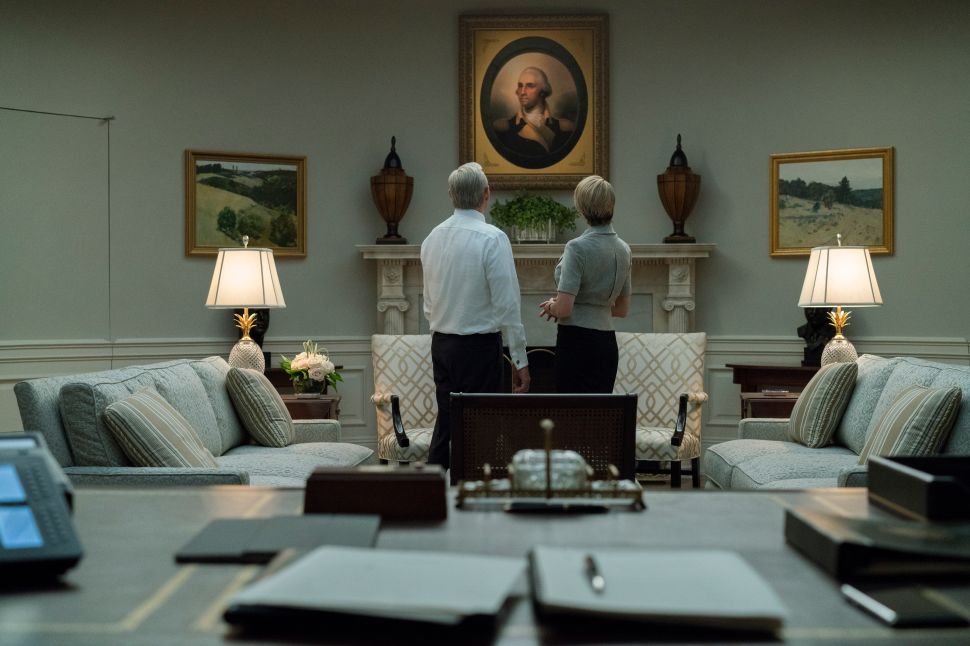 With Kevin Spacey gone from Netflix's flagship series House of Cards and Robin Wright installed as the show's lead after a lengthy production hiatus, the streamer is finally ready to get rolling on the show's final season.
To that end, Academy Award-nominees Diane Lane (Justice League) and Greg Kinnear (Brigsby Bear) have been cast in the show's final eight episodes (previous seasons ran for 13 episodes). Production will officially resume Wednesday after Spacey was fired following sexual misconduct allegations.
According to THR, Lane and Kinnear will play siblings in season six. No other details about their roles were immediately available. Representatives for Lane have not yet responded to Observer's request for comment. Kinnear's camp declined to comment.
The sixth season of House of Cards was reportedly well into production when Spacey was fired. During the hiatus, the streamer and MRC, the studio behind the series, were forced to re-write the bulk of the season with Spacey's Frank Underwood expected to be given an off-screen death (in the source material, Frank's character also dies). A spinoff was also potentially under consideration.
In its fourth-quarter earnings report, Netflix noted that it lost $39 million on unreleased projects believed to have been related to Spacey and Louis C.K., who admitted to sexual misconduct last year.
This move marks Lane's first-ever TV series regular gig.
She was nominated for a Best Actress Oscar in 2003 and has recently been a mainstay of Warner Bros.' DC Extended Universe as Superman's mother, Martha Kent. Kinnear recently appeared in Amazon's anthology sci-fi drama Philip K. Dick's Electric Dreams and was nominated for a Best Supporting Actor Oscar for 1998's As Good as It Gets.