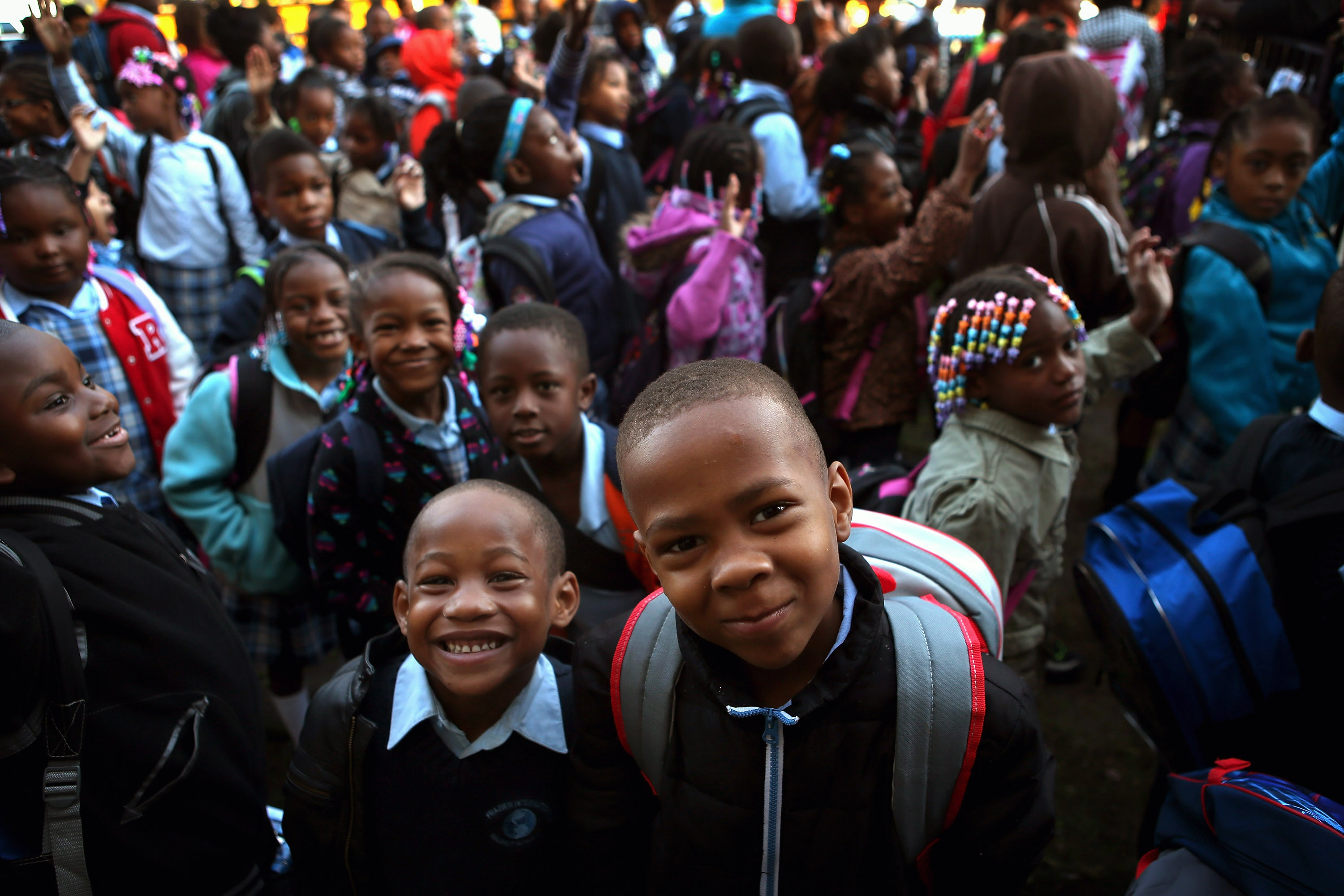 One of the biggest political battleground issues for 2018 is going to be education policy, and America's international test scores serve as evidence for the need to change. But before we rush headlong into another attempt to remake our schools, we need to understand how our students performed compared to other countries and what we really need to focus on in order to help kids succeed.
What Critics Are Saying
A new wave of attacks on American student performance has emerged from both liberals and conservatives. These are fueled by a battery of international tests that compare the United States' students to those in the Organization of Economic Cooperation and Development (OECD) countries, as well as several East Asian countries and cities. The results appear to show America falling behind in key subjects.
"We throw more money at our schools than just about any other country, and what do we get? For our K-12 school system, an honorary membership in the Third World," writes Professor F. H. Buckley in a Fox News opinion column. Buckley, who teaches at George Mason University, added, "Not long ago, we had a superb public school system, but now we trail most countries. In math, we're 38th in the world among developed countries in terms of how 15 year-olds perform. And it's getting worse, not better."
He's not alone. Critics across the ideological spectrum have denounced U.S. education scores. And Obama's Education Secretary Arne Duncan attacked the performance of American students on international tests, even as high school graduation rates rose to their highest level in several decades.
"In a knowledge-based, global economy, where education is more important than ever before, both to individual success and collective prosperity, our students are basically losing ground," Duncan said. "We're running in place, as other high performing countries start to lap us. The hard truth is that the U.S. is not among the top performing OECD nations in any subject tested by PISA," he added.
Two issues come to mind with these analyses. First, America's public school system has always been a whipping boy for politicians and the media; it was never seen as superb, even if it was. Second, it's time to employ some of that math that our students are supposedly struggling with.
How We're Really Doing
International test score rankings aren't like college football or basketball, where numbers in rankings matter so a few teams can be selected for bowl games or tournaments.
"Rankings based on international assessments are simple to understand—but they can also mislead," writes Louis Serino with The Brookings Institution. "While researchers often shy away from using rankings in serious statistical analyses of test scores, they can have a substantial impact on political rhetoric, and consequently, education policy. Media outlets often take these lists and use them in headlines or sound bites, providing little context and furthering educational policy discussion that can often be misleading."
So how are American students doing? As the Brookings report reveals, America's scores on the PISA test (Program for International Student Assessment) have remained relatively flat from 2000 to 2014, but the data from the latest TIMSS (Trends in International Mathematics and Science Assessment) test in 2015 show Americans scored their highest marks in the 20-year history of U.S. tests. One wonders why that wasn't reported widely.
As for international scores, we need to employ measures with statistical significance, not a number ranking system. Such proper analysis paints a different picture of where America ranks. Among the top 69 countries tested in the PISA rankings in reading, we're ahead of 42 in reading and statistically tied with another 13, scoring only behind 14 countries. When it comes to PISA math and science, the numbers are lower. For math, we're ahead of 28, tied with five, and behind 36. Science is a little better; the USA is ahead of 39, tied with 12, and behind 18 countries.
Yet those TIMSS scores, which also look at math and science, provide better results for American students. Our fourth graders are ahead of 34 in math, tied with nine, and behind 10, while scoring ahead of 38 in science, tying with seven, and placing behind seven. For our eighth graders, it's a similar score: they're ahead of 24 countries in math, tied with 11, and behind eight. For science, U.S. eighth graders are ahead of 26 countries, tied with nine, and behind seven. That's definitely not Third World; it's not even close. PISA scores are closer to Top 20 for reading and science, and TIMSS scores in math and science show top 10 results.
To use a sports metaphor for these international tests, the U.S. is in the playoffs, but it's not the top-seeded team. Those real results are useful to know when deciding whether to blow up the franchise and start all over or build on prior success to make the modifications necessary to be the best.
What We Can Do for Education Reform
As the findings show, American students are definitely not as bad as pundits and politicians make it seem. But Americans like to be number one, so the question is, how do we get better?
Spending more money on education may seem to be the simple solution. Critics claim that America spends the most money on education, but the United States is actually fifth in spending per student, according to The Atlantic, and that analysis was conducted before a wave of national and state budget cuts. Additionally, "The U.S. trails behind almost every developed country in the world when it comes to access to high-quality preschool," notes Kris Perry, executive director of The First Five Years Fund, in a USNWR article. How the money is spent matters.
"Other high-performing nations, such as Japan, Switzerland, Finland and Poland, [American Federation for Teachers leader Randi] Weingarten claims, have more respect for public education and work to give teachers the resources they need to ensure students, particularly those with greater needs, are successful in the classroom," writes Allie Bidwell.
One way of improving education may have already been implemented in 2015, the last year of international testing data. The No Child Left Behind Act (NCLB)—hated by students, teachers and many parents for its obsessive "teach to the test" mentality—has been replaced. And while NCLB may have been effective in shutting down schools, it did little to give schools the resources to succeed.
Having taught social studies curriculum to education majors in college, I've found that many expect to make little money and feel their profession is scorned by society, even sometimes mocked somewhat by majors in other fields. They decide to pursue this vocation despite these obstacles. Even in preparing these would-be teachers for the Georgia standards exam, I exhort them not to memorize, but to develop creative lesson plans that can help their students remember the material with great results.
Professor Buckley, education specialist Diane Ravitch, and others have talked about how private schools may play a greater role in the solution. And they're right. Even in West Georgia, where I live, the region spends a lot on building bigger schools, even as not-for-profit private institutions have space that could be filled by the growth in student population for a fraction of the costs of construction.
Private schools, which were exempt from the maniacal obsession with testing (according to Ravitch), were able to adopt the creativity that students really need to succeed in the global market, which is more about innovation and free thinking than memorization of material that can be easily accessed by a computer. And testing reflects more of the latter than the former.
Take the case of Singapore, an international leader in test-taking. Yet even their own education minister admitted that while their students aced international tests, they struggle produce mathematicians, scientists, entrepreneurs and academics. "America's is a talent meritocracy, ours is an exam meritocracy. There are some parts of the intellect that we are not able to test well, like creativity, curiosity, a sense of adventure, ambition. Most of all, America has a culture of learning that challenges conventional wisdom, even if it means challenging authority. These are the areas where Singapore must learn from America." And that trend persists even today, as Singapore students are considered "learning machines but not innovators," according to the Financial Times.
America must ask itself what it wants to succeed in. Do we want the best test scores in the world or a generation of leaders in business, math, science, academia and the arts?
As for this new obsession with charter and private schools, we need to look at what we want from these institutions. If it's just an excuse to destroy teachers' unions, it's unlikely to help American students succeed. If it's about giving teachers the freedom to adopt innovative instruction and involve students more in the learning process, rather than conduct rote memorization drills, then we can generate those leaders from the classroom, and it probably wouldn't hurt those international tests that we wring our hands over every three years.
John A. Tures is a professor of political science at LaGrange College in LaGrange, Georgia. He can be reached at jtures@lagrange.edu. His Twitter account is JohnTures2.