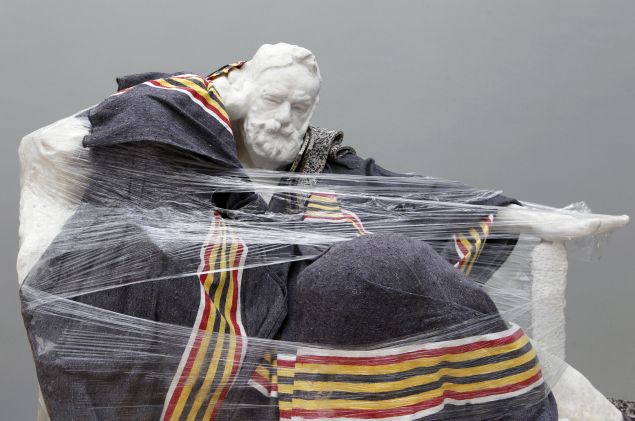 Last year proved to be an expensive one for the U.S. insurance industry, with losses of more than $300 billion, much of which were attributable to a series of hurricanes that pummeled Puerto Rico, Florida and the Gulf states, as well as the fires and more recent mud slides in California. Colin Quinn, director of claims management at AXA Art Insurance, referred to the recent events in California as "rolling disasters," which required constant attention to weather reports, changing wind patterns and sending alerts to policy holders in the affected areas.
Good news (for art owners) is that the damage and destruction caused by drought and rain did not result in catastrophic damage to individual artworks or whole collections, at least not at the level of the damage to private homes, according to experts within the insurance industry.
Steven Pincus, senior managing director at DeWitt Stern, an insurance brokerage firm based in New York City, noted that claims for damage to artworks have come in from victims of both the Napa (northern California) and Thomas (southern California) wildfires totaling in "the millions of dollars, easily," although Colin Quinn, director of claims management at AXA Art Insurance, noted that "there have been a few claims, for smoke damage to paintings mostly, but relatively insignificant, considering the amount of overall devastation."
The combined damage to homes and businesses from the northern and southern California wildfires was estimated "up to $6 billion" by Moody's Analytics, while the devastation caused by Hurricanes Harvey and Irma was estimated by the company at close to $200 billion.
Quinn noted that art insurance companies and brokers sought to stay in contact with policyholders through texts, emails and telephone calls about when their property might be in danger and if they needed to have their objects picked up and transported immediately to storage facilities outside of the areas affected by the fires. However, predicting where the fires would spread to next was difficult, and many homeowners in the path of these fires had little time to prepare. "We were following reports that changed from hour to hour, based on the vagaries of the wind patterns," Quinn said. "Of largest concern to us was the fact that the wind was blowing fires toward the waterfront…where our insureds have their homes and art collections."
None of the recent natural disasters in the south or in California approached the devastation to artwork experienced during 2012's Hurricane Sandy, which caused approximately half a billion dollars in damage to artwork in private homes and commercial art galleries in Connecticut, New Jersey and New York, leading to rises in insurance premiums in the following year of between five and 20 percent, as well as some outright policy cancellations. Insurers also demanded that policy holders adopt certain practices in order to have new policies written, which included paying attention to weather alerts and sending valuable objects to secured art storage facilities, as well as purchasing a back-up electricity generator and simply moving artwork from areas in their homes that could be flooded to upstairs rooms less likely to be affected by water damage.
Storm warnings, however, usually provide homeowners with two or three days' notice to take action, which wildfires often do not permit, and moving artworks from the basement or ground floor rooms upstairs would have had little effect when there is a fire. Having a reserved space within a secure storage facility and contacting it to pick up items immediately is perhaps the only action that can be taken when an alert comes through.
Adequate reparation is, perhaps, all that one can do, Pincus said, noting that art owners should obtain up-to-date appraisals of the valuables in their possession in addition to having a complete list of these items that could be presented to an insurance company when making a claim. "Having a complete list, having recent appraisals, makes a difference in the settlement you receive and in the timeliness of getting a claim settled," he said.
The extent of the damage in the affected regions in California is likely to increase the cost and limit the availability of insurance for some, as insurers seek to contain their risks going forward, he said.
Dorit Straus, a private art insurance advisor and former worldwide fine art manager for Chubb, noted that those living in potential wildfire areas need to "clear out any brush, cut down and remove trees that are close to one's house, plant succulents rather than grasses, which won't catch fire as easily."
She added that certain types of roofing also are able to retard or even prevent wildfires from engulfing a home.
The largest concerns have been for artwork in private homes, rather than in museums. The J. Paul Getty Center in Los Angeles, with its multi-billion dollar art collection, was in the path of the recent series of wildfires, but the campus of buildings were designed to minimize the risks of damage and destruction, composed of nonflammable metal and concrete, and with an air filtration system intended to keep smoke out. Additionally, the museum has a one million gallon tank of water available put out blazes, although none of it was needed.
Straus noted that as the insurance industry assesses its potential risks in areas prone to regular and increasingly severe wildfires, the requirement to reroof or relandscape one's home may make the difference between homeowners obtaining less costly insurance policies or any policies at all.
There is worry in the insurance industry that "rolling disasters" may become the new normal, the effects of climate change that many scientists believe have resulted in dryer conditions in the west coast and more intense hurricanes in the east coast. "Climate change is a great concern to the art insurance industry, particularly because of the hurricanes we are seeing," Quinn said. Both AXA and Chubb are active in promoting research in climate change, recognizing that catastrophic natural events may prove to be an annual occurrence.
Daniel Grant is a freelance writer and the author of five books on business and fine art.