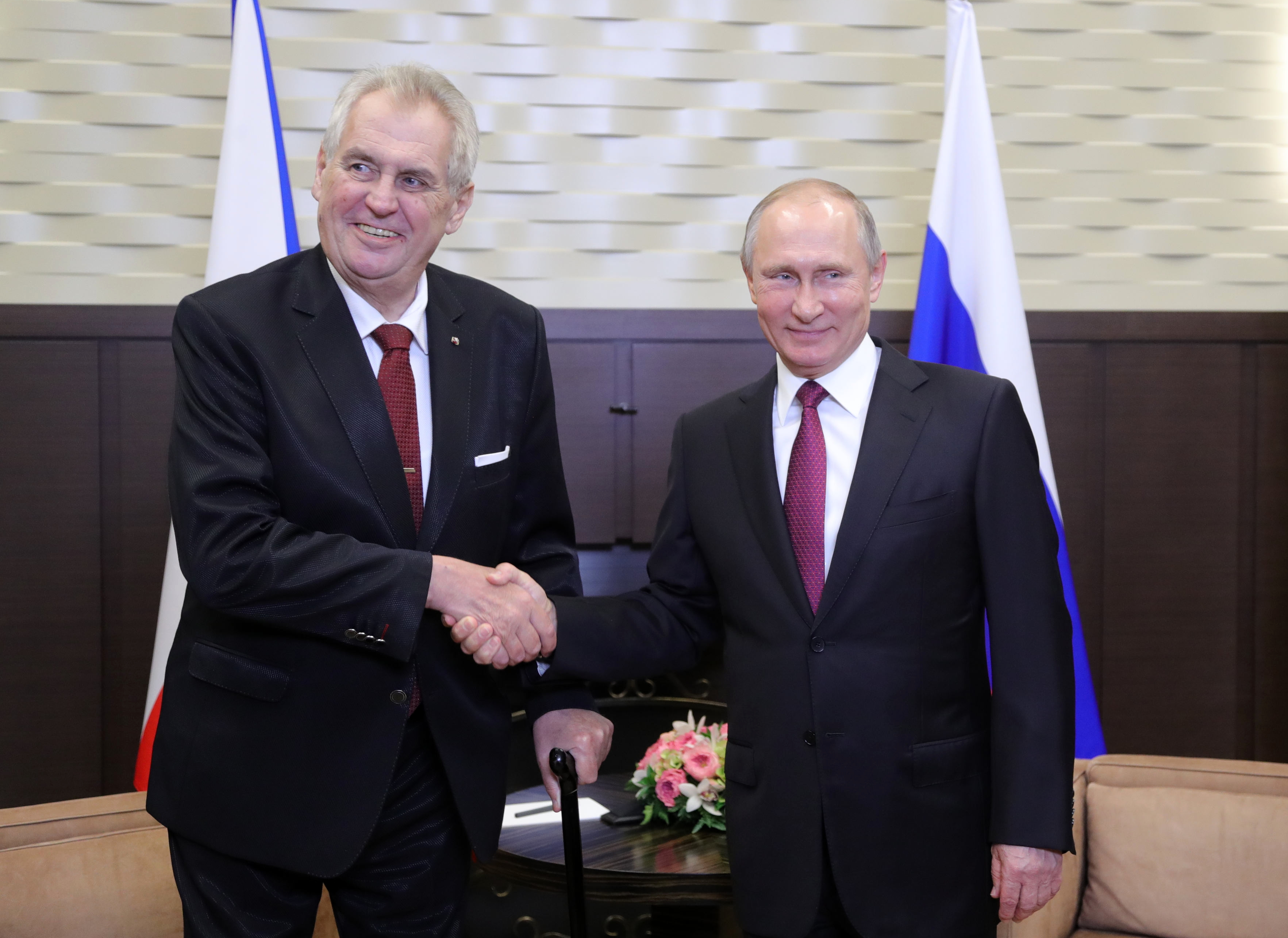 Czech President Miloš Zeman has become the most influential Kremlin ally in Central Europe. He holds ceremonial powers as head of state, but his position also allows him to support Russian President Vladimir Putin extensively. In foreign policy, Zeman has often stood contrary to the Czech government, which generally defends the positions of the EU and NATO.
Like many Kremlin proxies, Zeman often reiterates Kremlin messages, including denying the presence of organized Russian troops in Ukraine, arguing that Crimea is Russian, and demanding that the West lift the sanctions it imposed on Russia. He is portrayed by Russian propaganda as an independent, strong anti-American leader who adores Putin. If size of countries is taken into account, Zeman, the president of a country with 10 million people, is the second most quoted European leader in the Russian information space, right after German Chancellor Angela Merkel. He also serves Chinese interests, even acquiring a Chinese advisor at the Czech Presidential Office.
Zeman systematically aids Kremlin goals inside the Czech Republic. Local extremists and conspirators are fed pro-Kremlin disinformation, which they gladly reproduce, as they share the same enemy as Moscow: media and the political mainstream. The disinformation community is usually fringe and irrelevant, unless they find strong political figures who deliver legitimacy. As the Czech Security Information Service points out, Russia's goal is to create the perception that "everyone is lying" to "weaken the society's will for resistance." Zeman has spent years legitimizing disinformation outlets by giving them dozens of interviews in which he attacks mainstream politics. Those attacks have become relevant today, for the Czech disinformation community is now attacking Zeman's challenger, Jiří Drahoš, in the presidential race.
The Russian Connection
How has Miloš Zeman, the former Czech prime minister who led the country in joining the EU and NATO, become a person who clearly serves Russian interests?
During his retirement period (2003-2012), the Czechians neglected Zeman. In contrast, the Russians took notice of him. Since 2003, he has been invited to the Dialogue of Civilisations Forum by Vladimir Jakunin, a former KGB officer and prior member of Putin's inner circle. Jakunin is also on the U.S. sanctions list. Zeman has since maintained the friendship, meeting Jakunin regularly and even attending his forum several times while president. Despite Zeman's position as head of state, various expenses were covered by Jakunin's organization.
Martin Nejedlý is Zeman's closest aide. Nejedlý is a Czech citizen who spent most of the 1990s doing business in Russia and working closely with Moscow's political elite. After returning to Prague in the early 2000s, he launched Lukoil Aviation Czech, a Czech branch of Kremlin-linked company Lukoil. Since 2009, Mr. Nejedlý has co-founded and run a political movement for Zeman that has become a springboard for Zeman's presidential bid. After Zeman became president in 2013, Nejedlý became his formal external advisor, occupying a privileged office in the Prague Castle. Nejedlý receives no pay, has no official working contract and no security clearance. Czech security agencies consider the president's office a murky place: Zeman's chief of staff's application for top secret security clearance was declined, and his chief of military office lost his top secret clearance.
Since 2015, Nejedlý has changed his modus operandi from hiding to appearing publicly next to Zeman. He accompanies the president on foreign trips to the East and has attended numerous meetings between Zeman and Putin. Investigators revealed that Nejedlý has nearly isolated Zeman; he controls the information that the Czech president receives and lobbies for Rosatom to acquire strategic deals surrounding Czech nuclear power plants. If Nejedlý manages to push a major Russian energy deal through the Czech government, Prague may be partially controlled by heavy Kremlin geopolitical influence, as is the case in Hungary and Serbia.
When Nejedlý acquired considerable debt, Russians bailed him out. His position as external advisor came under threat when he owed approximately $1 million euros to the Czech state, but in October 2016, Lukoil's Moscow headquarters paid off his debt. The Kremlin managed to keep its insider next to the Czech president in time for presidential elections, which finish on Saturday. If Zeman wins re-election, Putin will maintain his ally in Central Europe until 2023. Through aiding proxies such as Nejedlý, Moscow is able to buy influence in the highest levels of European politics.
Jakub Janda is the head of the Kremlin Watch Program at the Prague-based European Values Think-Tank.