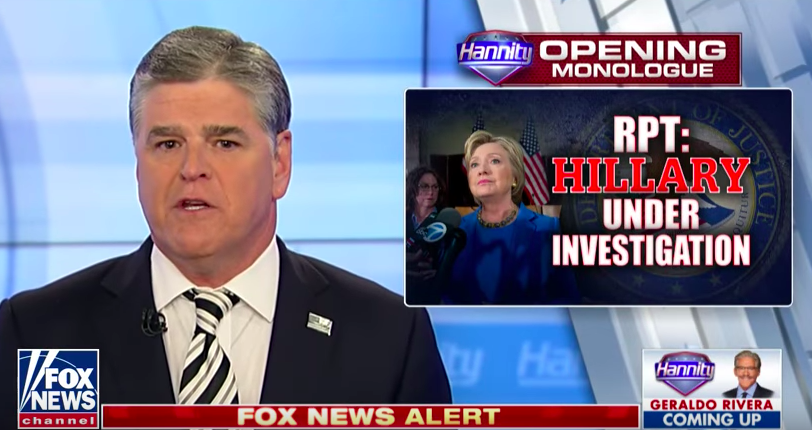 On Thursday, journalist Michael Wolff reported an anecdote about how Fox News Channel boss Rupert Murdoch reacted after a telephone conversation with President Donald Trump.
"What a fucking moron," Murdoch said of Trump, after hanging up the phone, according to Wolff's piece in The Hollywood Reporter.
Wolff also is publishing a book, Fire and Fury: Inside the Trump White House, on the shelves today.
If you watched MSNBC or CNN, or the newscasts of the major broadcast networks on Wednesday and Thursday, you probably know a lot about what Wolff wrote and how he has been denounced by the Trumpists.
However, if you watched only Fox for those two days, you night wonder what all the fuss was about. Most of the Fox shows alluded to some things told to Wolff by Steve Bannon, Trump's former campaign manager and chief strategist.
But Fox hosts or guests rarely mentioned the words "treasonous" and "money-laundering," which were words used by Bannon to describe Trump aides like Donald Trump, Jr. and Paul Manafort, who met with Russian agents in Trump Tower in the 2016 campaign to hear about "dirt" on Democratic candidate Hillary Clinton that the Russians had stolen.
As for Robert Mueller's investigation of the Trump gang, Bannon suggested it is leading to "money-laundering" charges involving those closest to Trump.
Although Murdoch controls Fox, his quote about the "moron" president didn't make air on Fox Thursday, even in censored form. As for Bannon's incendiary charges, you had to pay close attention to Fox to get a few minutes of bits and pieces every hour.
It's a common problem on Fox. When real news embarrasses or threatens Trump, the Republican Party or the right wing, Fox tries to dance around the subject and touch on it in only a glancing way that allows Fox to claim they covered it without really explaining the truth to the viewers.
The farce started Wednesday night when Sean Hannity got timid about reporting it on Hannity in the 9 p.m. hour. Although the other networks by then were quoting specific passages of the book, Hannity clearly had not gotten his White House talking points.
So he tried to fake it. At the opening of his show, he said, "The media is giddy tonight over the back-and-forth between President Trump and Steve Bannon."
Then he ignored the subject for 12 minutes until he showed a banner headline that said, "Bannon's Comments" next to Bannon's face as he said that the media was "hyperventilating" and "foaming at the mouth" about what Bannon said to Wolff about Trump and his gang.
Then Hannity said nothing more about it.
Things improved a bit by Thursday morning when Fox & Friends held up a New York Post front page that said "Et Tu, Bannon?" and at least addressed the fact that the book caused a major controversy.
The three anchors—Larry, Moe and Shirley—expressed their disappointment in Bannon with the Shirley character saying, "Look at it, it's just a salacious book. It's so tabloid. It's a book about this guy who was fired was saying about what was happening inside the White House. Do you really care?"
(Since you asked, Shirley, YES, we care, and we wish you would report what is in the book so we can decide. You report. We decide. Got it?)
By afternoon, Fox was showing a clip of Trump in the Oval Office Thursday and saying of Bannon, "He called me a great man last night, so, you know, he obviously changed his tune pretty quick… I don't talk to him. I don't talk to him. I don't talk to him."
(One of the revelations in the Wolff book is that Trump repeats himself, repeats himself, repeats himself, and sometimes forgets what he says minutes before).
Fox anchor Harris Faulkner seemed startled in the 1 p.m. hour when her guest—Fox News anchor Chis Wallace—spoke bluntly and directly about Bannon's accusations that Junior and Manafort engaged in "treasonous" behavior and probably took the Russian agents in to meet Daddy Trump.
Wallace also used the term "money-laundering" in quoting Bannon's accusations. Soon, he was gone and Kayleigh McEnany of the Republican National Committee arrived to assure Faulkner and red-state America that "it was not treasonous at all," whatever was said in that meeting the Trump gang tried to keep secret by telling lies.
Fox's most realistic hour, at 3 p.m., featured anchor Shepard Smith interviewing John Bussey of The Wall Street Journal. They brought up the allegations of treason and money-laundering and used direct quotes from the book, including one about Trump and wife Melania fighting on election night and how she cried because she was sad he had won.
By 4 p.m., things got back to normal at Fox as Neil Cavuto reported "cease and desist" orders from Trump lawyers to the book's author and his publishers. Cavuto, a "business guy," moaned about how sad it was that this book took attention away from the Dow hitting 25,000.
On The Five, Kimberly Guilfoyle alluded as to how author Wolff had "access to the chairman of this company." (Such a pity she didn't have the nerve to quote Murdoch himself, minus the expletive).
In Special Report at 6 p.m., anchor Bret Baier gave the book story a mere four minutes as his second news item and 10 more in a panel discussion. One interesting book detail came from White House reporter Kevin Corke.
"A claim that the President used to brag about getting a friend's wife into bed made life worth living," he said, while a readout on the screen behind him said, "Trump liked to say that one of the things that made life worth living was getting your friends' wives into bed."
He also reported that the president eats McDonald's food because it is pre-made and no one can poison him.
On the panel, while outnumbered by Trumpist apologists, Charles Lane of The Washington Post managed to use the word "treasonous" and added "Look, the president is doing things that by the standards of past presidents are bizarre… highly unusual behavior."
On The Story in the 7 p.m. hour, guest host Sandra Smith didn't get to the book story until the 29th minute and interviewed constitutional law attorney Jonathan Turley who said Trump's threats of lawsuits didn't have much chance of success.
The worst obfuscation came in prime time, when the audience is largest.
In the 8 p.m. hour on Tucker Carlson Tonight, the host devoted five minutes to the story and most of it went to Trump pal Roger Stone. "It's a stunning act of betrayal," Stone said, but Carlson didn't ask for any specific examples of what Bannon or Wolff got wrong.
Most ludicrous was Hannity in the 9 p.m. hour. The host opened with "Hillary Clinton is under investigation."
After talking about that and bragging about the economy for nine minutes, Hannity played clips of other networks reporting about the Wolff book and Trump's reaction to it. A clip from CNN showed Anderson Cooper saying, "It suggests Trump's oldest son and son-in-law committed treason."
After about three minutes, Hannity segued to a sermon about the greatness of Ronald Reagan and that was the end of his coverage of the Wolff book and the Bannon comments and the White House response.
In the 10 p.m. hour, Church Lady Laura Ingraham referred to "salacious tidbits" that "thrilled the lefty cable nitwits." To her credit, she actually showed and read some quotes, although she muffed one of the major ones.
Ingraham said that former deputy chief of staff Katie Walsh said the White House was "incompetently run."
But the screen behind Ingraham showed Walsh as having said working for Trump was "like trying to figure out what a child wants." (Did The Church Lady edit her script after her producers built the full-screen quote?)
Ingraham also mispronounced the name of Treasury Secretary Steve Mnuchin as "Munchin." But she scored one truth when discussing Bannon's comment on the Trump Tower collusion meeting between Trump's top aides and the Russian agents.
"The word 'treasonous' has real legal implications," Ingraham said, 23 minutes into her show. "Steve hasn't denied the comments."
Joe Lapointe spent 20 years as a sports reporter for The New York Times and worked as a segment producer for Countdown With Keith Olbermann. Recently, he has taught journalism at New York University, Rutgers and Long Island University-Brooklyn. Follow him on Twitter: @joelapointe