The major streaming platforms hardly ever tip their hands in terms of subscription and viewership numbers, leaving the rest of us fumbling around in the dark to determine what's working for them and what isn't.
They all also vehemently dismiss any third-party metrics as inaccurate snapshots. But since they aren't talking, all we really have to go on when trying to figure out which streamers are growing, which shows are popular and which platforms are falling flat is Nielsen's data and the in-depth studies conducted by Parrot Analaytics.
Parrot Analytics tracks video streaming, social media activity, photo sharing, blogging, fan and critic rating platforms and other consumer demand sources to put together a composite of viewership and growth—what they have coined as Demand Expressions—for popular streamers such as Hulu, Netflix and Amazon Prime Video.
What they found is that Hulu's breakout year has it nipping at market-leading Netflix's heels.
Thanks in large part to The Handmaid's Tale, which made history as the first streaming series to take home a Best Drama Emmy award and a Best Drama Golden Globe, Hulu surpassed 17 million worldwide subscribers recently. That's a 41.6 percent growth since the service previously announced 12 million subscribers in May 2016.
Netflix exceeded expectations in its fourth-quarter earnings for 2017, adding 8.5 million new customers, pushing the company to a $100 billion market cap for the first time and hitting an all-time high stock price of $227.58 as of this writing.
But as you can see, Hulu is growing at an astonishingly fast rate as well.
According to the study, demand for Hulu's original series has grown by 230 percent since 2016. Much of that has to do with the runaway success of The Handmaid's Tale, but other Hulu originals, such as Marvel's Runaways, are starting to attract attention as well.
Hulu is estimated to have invested $2.5 billion into content in 2017 and added more than $1 billion in revenue, while growing its viewership to north of 54 million unique viewers, per a company press release.
Netflix earned $3.29 billion in revenue last year, while Amazon, which is estimated to harbor around 40 million Prime Video users and just raised its prices, is said to have invested $4.5 billion on content and generated $6.4 billion in revenue from its retail subscription services.
The more interest your content generates, the greater number of new subscribers you'll attract.
Hulu isn't going to suddenly shoot past Netflix's 115 million-plus worldwide subscribers, but in a vacuum, you can see how the streamer is more than holding its own.
Unsurprisingly, The Handmaid's Tale is the company's most sought after original, and its return in April will help maintain the momentum that has been built over the last year.
Marvel's Runaways is virtually neck and neck with Aaron Paul's The Path despite only arriving in November, showing good early life. The streamer also has some interesting high-profile projects in the pipeline, such as Sean Penn's The First and a new series from former House of Cards showrunner Beau Willimon.
On top of that, Hulu's back catalog of titles includes 75,000 episodes across 1,600 titles, more than double the numbers of Netflix and Amazon, according to the company.
Parrott's Demand Expressions metric is not equivalent to views, but it does paint a picture of interest and attraction. Catalog libraries are an important but unsung component of quality content providers, as the overwhelmingly positive Twitter response to Hulu's move to snatch up How I Met Your Mother after it left Netflix proves.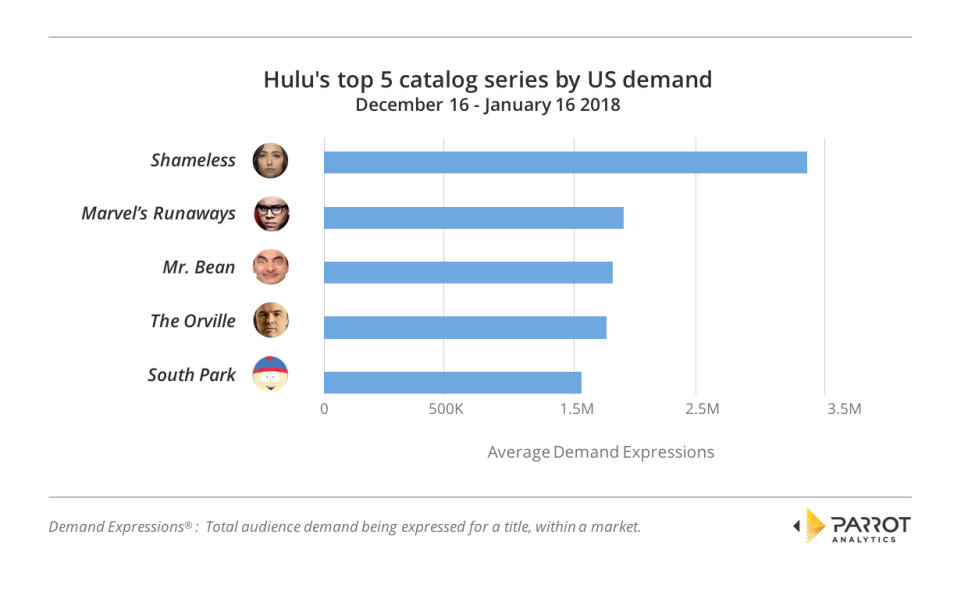 Netflix's top originals include Stranger Things, Orange is the New Black and House of Cards, which have drawn significant critical and commercial success. The company's burgeoning Marvel empire—which consists of six series—may not have culminated in the highs it was expecting, however. Marvel's The Defenders looks like an expensive flop in terms of viewership, though without any concrete data from Netflix, it's hard to know for sure.
Still, the streamer leads both Hulu and Amazon, which is still looking for its first broad genre hit, in domestic demand.
Some of that has to do with the number of subscribers for each service, and some of it has to do withe quality of their respective originals. There's a reason Amazon is beefing up its budget this year and going after more mainstream big plays. People may love Transparent and The Marvelous Mrs. Maisel, but they don't move the needle on a widespread scale.
But when factoring in the number of customers for each service, Hulu scores around half of the average demand with around a third of the subscriber base compared to Netflix, according to Parrot Analytics. As such, Hulu may actually hold a 50 percent advantage in demand per subscriber over Netflix. Their catalog is also generating near identical interest overall.
The battle between the two services should only intensify after Walt Disney's acquisition of 21st Century Fox is approved by the Department of Justice and finalized in 12 to 18 months.
Disney, which owns 30 percent of Hulu, will take on Fox's 30 percent once the deal is complete, giving it a controlling share of the platform. With the Mouse House launching its own family-friendly streaming service in 2019, many expect much of Fox's more adult-skewing library to land on Hulu. Add that to the infusion of conglomerate resources, and industry insiders are expecting something of a surge for Hulu in the near future.
Stuck in third place, Amazon has begun a strategic shift to land more heavyweight television series this year in an attempt to close the distance. Though the company's studio is coming off a disappointing year in terms of movies and sunk small screen costs, they have deep pockets and a desire to compete.
Even Apple is readying an interesting foray into the streaming world.
Long story made short: the competition is mounting. Netflix better watch its back.