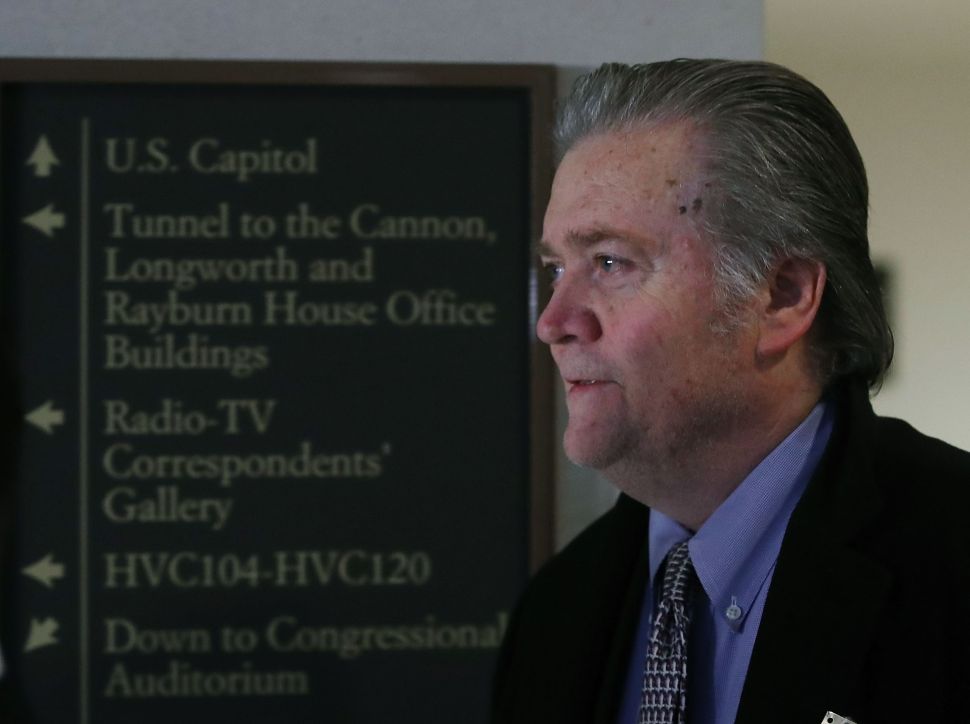 Steve Bannon disclosed a confidential conversation he had with senior White House officials regarding a meeting between Donald Trump Jr. and Russian actors. The revelation came during Bannon's closed-door testimony on Tuesday before the House Intelligence Committee.
Though Bannon was reportedly instructed by the White House not to discuss his tenure with President Donald Trump's administration, he disclosed conversations between himself, former White House press secretary Sean Spicer and a Trump legal spokesman, sources told Axios.
The conversations in question occurred while Bannon served as a White House strategist. They involved a Trump Tower meeting in which Russian lawyers may have given the Trump campaign damaging information on former presidential candidate Hillary Clinton.
In reporter Michael Wolff's exposé Fire and Fury, Bannon is quoted at-length calling the meeting "treasonous" and "unpatriotic."
After mentioning the conversations, Bannon was pressed by Congressmen Trey Gowdy (R-S.C.) and Adam Schiff (D-Mass.) on why he refused to elaborate on the meeting or his time at the White House. Gowdy parlayed Bannon's Fire and Fury remarks into a line of questioning over whether it was treasonous to collect opposition research on Hillary Clinton from Wikileaks.
After Bannon admitted such an action would be in poor judgment, the South Carolina congressman then produced emails showing how Cambridge Analytica—the Trump campaign data firm linked with Bannon and GOP megadonor Robert Mercer—did the exact same thing.
Tuesday's hearing lasted over 10 hours and resulted in the committee subpoenaing Bannon on multiple fronts. The former White House strategist is also expected to meet with Special Counsel Robert Mueller.