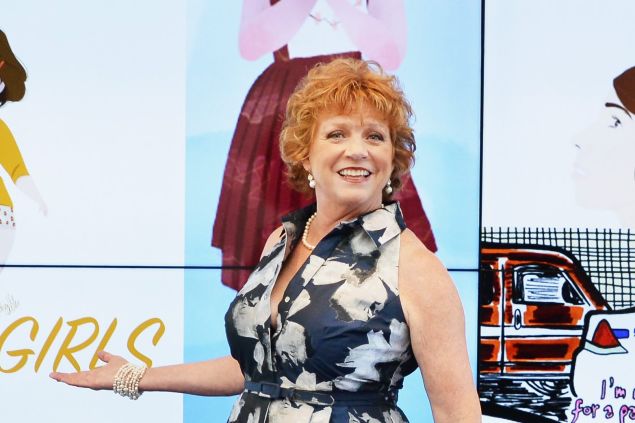 As marquee monikers go, Becky Gelke has all the resonance of four quarters hitting the floor. Happily, she didn't have to use it long, meeting and marrying early on an actor named Dylan Baker—and now there are musical hills and dales in her billing.
For a little more than three decades, Becky Ann Baker has been a Baker, but only now is she actually getting around to playing one. In Cardinal, the new Greg Pierce play previewing at Second Stage's Tony Kiser Theater for a January 30 premiere, she's Nancy Prenchel, a spunky widow who, with her grown autistic son Nat (Alex Hurt), runs the local Bread & Buttons bakery in a small, failing town in upstate New York.
The operative (or, better yet, inoperative) word there is "failing." Abandoned by industry, the whole town is slipping into a sad, slow decline. Much of the plot revolves around wild schemes to resuscitate the economy and save what loyal locals are left. One ex-pat who struck out in NYC, Lydia Lensky (Anna Chlumsky), returns to the home turf with her two cents' worth. She suggests to the mayor, Jeff Torm (Adam Pally)—her sister's old boyfriend and now hers—painting the town red. Literally. And she has one word for anyone who thinks that's a harebrained idea: Chefchaouen, a 1471 Moroccan village done in shades of blue to stimulate tourism.
If you're interested in seeing how such social and civil changes play out on a human level, check out the nuanced character-acting Baker pours into her part—how effortlessly she pins the play down to basic emotions and gives you someone to care about who's being swept away by an economic tsunami not remotely of her making.
"When I first read the play, I thought Nancy was like so many Americans who are getting shoved around these days," the actress remembers. "What I love about her is that she really represents these displaced people—not the ones who are trying to reinvent the city and not the ones who are coming in to take over. Nancy is old-school, of the town, goes generations back and now has no idea how to go forward.
"Everyone's kinda shifting in this play, losing their ground. I think, for Nancy and her son, it's the biggest shift of all. She looks around and realizes, 'My god, I don't know who these people are in my city anymore,' so she jumps at a chance to make some fast money and change her life. She sells her business and moves herself and her son in with her sister. Everything that they've had is gone, almost overnight. I love that she takes the opportunity to run. She's a part of this shifting America, trying to survive. And she's a survivor. She's going to make choices that are good for her son."
Hurt, son of William, sets Baker to clucking contentedly as she does over all her make-believe children. "He's not trying to get by on his family connections. He's taking it seriously—NYU Grad School and everything—and he's a joy to work with. My primary concern in this play is to take care of my son and invest in his future."
This comes with a patience and resignation of someone who has put in a couple of decades of autistic care-giving. Researching this relationship, Baker and Hurt met with a mother and son with a comparable real-life situation. "She is a drama therapist at NYU, and her son is autistic on the level that Natty is. It was so helpful to watch their relationship. Because of her early intervention, he is on the spectrum but very present. Remember the old days when you thought anyone with autism was home rocking in a corner somewhere? Now, because of early intervention and new strategies, kids are holding down jobs. I learned so much from that family."
Baker tends to enter previews like a monastery—"no coffee, no tea, nothing with caffeine, no sugar and no alcohol because it's all stuff that kinda gets my nerves up. I start getting anxious when we start previews so I treat it with food rather than things that rev me up. It works for me. It takes all my nerves, and I sleep like a baby."
Being a new play, it's still finding its way, she says. "Until you get it up in front of an audience, you don't know how to focus the story. That's what previews provide. We're tightening it up a lot, taking the air out. There haven't been much rewriting, I think what we've done is just learn a lot more about what the story is we're telling."
On television, Baker's mother roles have run a gamut from one Emmy-winning series to another—from Jean Weir on NBC's Freaks and Geeks (1999-2000) to Loreen Horvath on HBO's Girls (2012-2017). Jean was the soft-focused sort of mom ("She was the kind of woman who was raised in the '50s and thought everything was supposed to be perfect"), while Loreen worked well in harsh lighting ("She pulled no punches and said what she thought—extremely outspoken and honest").
In Freaks and Geeks, she had a son and daughter, played by John Francis Daley and Linda Cardellini. "John has gone on to act more, but he also writes screenplays, and he's just fantastic!" she clucks. "Linda has also had quite a career." In Girls, she had a handful of a daughter, Lena Dunham, who was also the series' creator and star.
"Working on Girls all six seasons was such a gift. The writing was so spectacular. In every single episode I got to do bad things that were just so much fun to play."
And, at series' end, there was a lovely surprise awaiting Baker—an Emmy nomination for an episode called Gummies. (She lost to Melissa McCarthy's Sean Spicer.) Her character on Girls had been spiraling out of control since Season Five when her husband (Peter Scolari in an Emmy-winning turn) came out to her as a gay man. The last straw in the last season: daughter Dunham comes to her pregnant from a one-night stand; yes, she's keeping it, and, no, she's not revealing the father.
"In the Gummies episode, poor Loreen goes on a bender and begins eating these marijuana-lanced gummy worms. She's reached a point in her life where she doesn't know what her future is, other than grandmotherhood. She's terrified, so she starts trying things she otherwise would never try because she's looking for answers."
The performance, clocking in at seven minutes of screen time over four scenes, constitutes some of Baker's best work, but she hasn't seen it—and, likely, won't.
"I don't watch episodes I'm in," she announces like a hard-and-fast rule. "I kinda find it horrifying to watch myself, especially since the invention of high-definition. I can't stand the imperfections of my acting and my aging. I watch everything else, though."
Not that Baker ever had ingénue aspirations. That faded when she was 18 and auditioning for Ohio theater impresario John Kenley. She did one song for him, and he told her where to go with her talent: "You'll always be a character woman."
This was perfectly fine with her. A girl needs a direction. "I always thought those roles were much more interesting. I don't think I ever pretended to be a romantic lead. You are what you are. You can't change that. I always had the right kind of energy for the sidekicky girl, certainly not the young ingénue. I was never that."
When The Best Little Whorehouse in Texas moved uptown from Second Avenue, Becky Gelke made her Broadway debut, playing Ruby Rae, Angelette and assorted strumpets gainfully employed at Miss Mona's Chicken Ranch. Even with the first show, "the character thing" kicked in, and Baker worked her way up to the Tony-winning lead role of Miss Mona herself—and, despite her youth, managed to get away with it.
"In the last year, I would go on for weeks at a time when someone would take a break," she recalls. "I also played her in a five-week bus-and-truck, then came back to the Broadway show. Later, I played her a couple of times in summer stock as a favor to a friend whose summer theater gave me my Equity card. I played her lots."
Carol Hall, who composed that musical, also wrote the one that brought the Bakers together. "Dylan and I met the summer of '85 at the Williamstown Theater Festival, doing a show that ended up coming in for a five or six-month run, called To Whom It May Concern. It had good people in it: Grethen Cryer, Guy Stroman, Tamara Tunie."
Two years later, the two character actors officially became a character couple—a marriage that has been echoed by TV casting directors over the years. They played Katharine McPhee's parents on Smash and Jon Foster's on Life As We Know It.
Their own daughter is named Willa after their favorite writer, Willa Cather, and, prophetically, seems to be turning into one. ("Willa also means determined and resolute—I love that about the name," she said.) Over the years, they've continued to make sentimental journeys back to Williamstown, and, while they rehearsed and performed plays, they parked Willa at a nearby horse farm where she did a lot of riding and developed a love for animals. "She's now out in Queens, writing the Great American Novel—and, for a paycheck, working at a high-end doggie daycare called Camp Canine. She's always been writing, but never thought of it before as a career."
Willa outgrew running lines for her parents a long time ago. That's the downside of actors being married to actors. "It's a total deal-breaker with Dylan and me. We would rather pay money to a teenager in the building (which we do often) to come up and run lines with us. They don't mind. They actually think it's kind of exciting."
Actors who intermarry have an extra edge, she believes. "Having a partnership with another actor means they have your back. Dylan knows exactly where I am in previews. He came to the first preview of this so he could tell me how it's going."
Professionally, she literally doesn't know what's coming next for her. "Sometimes you have a couple of things backed up and you know what you're going to do, but all that has to happen is for the phone to ring, and everything changes. Is that better than a nine-to-fiver where you always know where you're going to be? I dunno…"
She gets the ellipsis in her inflection, but, somehow, you know damn well she knows.
Harry Haun has covered theater and film in New York for more than four decades. Read his full bio here.