Seventy-one-year-old Hayley Mills is kind of a sundial for her generation, as was Shirley Temple before her. Baby Boomers keep her in a locket around their necks—a movie moppet frozen in time and memory, lingering between preteen and teen.
"There is a bit of that," Mills agrees, "but I don't resent it. I feel, sometimes, sorry for them when they meet me and see how old I am." (She's as candid now as she was as a kid.)
"It's a bit of a shock. It makes them feel old. They're disappointed I don't look exactly like I used to, but we're all on the same journey together, getting older and older."
These days, she's a grandmother three times over in real life and the mother of two fully grown daughters on stage (specifically, New York City Center Stage II where she's previewing Party Face, an Irish comedy by Isobel Mahon bowing there January 22).
This marks Mills' third theatrical appearance Off-Broadway. She bowed in a pair of Noel Coward one-acts, Suite in Two Keys, at the Lucille Lortel in 2000 and a year later found a quick slot in the revolving casts of The Vagina Monologues at the Westside.
Otherwise, she's been content to play a "Mary Noble, Backstage Wife"—the old radio role of supportive spouse in the wings—to Firdous Bamji, an Indian-American actor 20 years her junior who has been her partner since 1997. (Her older sister, actress Juliet Mills, married an actor only 18 years her junior, Maxwell Caulfield, and they're still married 37 years later.) Bamji has appeared here in Eric Bogosian's SubUrbia and Tom Stoppard's Indian Ink and is currently at The American Conservatory Theater in San Francisco co-starring with Judith Ivey in Harold Pinter's The Birthday Party.
"Judy and I were together in that Coward play," Mills chirped, "and Brenda Meaney, who's in my play now, took over when Firdous took Indian Ink to the A.C.T. in San Francisco. There's a lovely little connection of people who like to work together."
Meaney plays Mills' older daughter and lightly characterizes her role as "a saucy, feisty lawyer who provides the snarky commentary." Gina Costigan, who helpfully hails from Dublin where the play is set, is the other daughter—and the center of the play's attention, being fresh from the loony bin: "My character has recently had a bit of a breakdown, and our mother has organized a homecoming party for me. It's very much, as the title of the play suggests, putting on a party face and getting on with it."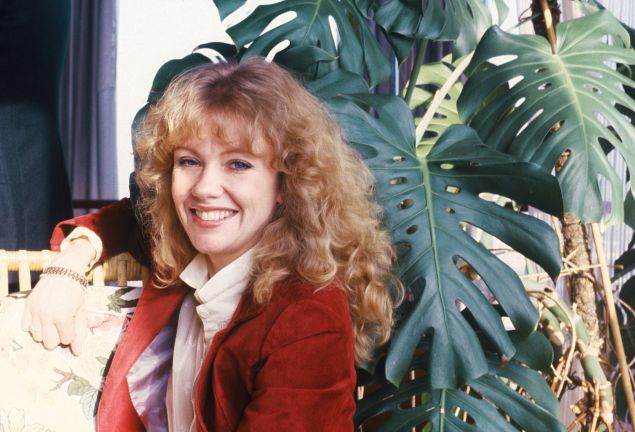 Klea Blackhurst has the Klea Blackhurst part—"the late-entrance comedic force who shakes things up" (her words). Rounding out the assembled party-faces is Allison Jean White, "the neighbor from two down."
Amanda Bearse, herself an actress best-known as Marcy D'Arcy on Married…with Children, is making her Off-Broadway-directing debut with this feminist free-for-all.
"My attraction to this play," she says, "is the play itself—and the fact that these are five women of a certain age who are all together. We need to see that. There's such a human spirit on the stage. During the course of one evening, we come to find out so much more about these women because, as we know, we're complicated creatures. It's a lovely character study—the kind of piece that you jump off of and just fly with."
Bearse does not hesitate a beat when asked her what her favorite Hayley Mills movie happens to be. "Summer Magic," she answers fast, with certainty and an emphatic finality. That was a 1963 Disney remake of Mother Carey's Chickens, where Mills and Burl Ives have a lot of fun with some Sherman Brothers lyrics ("I'm gonna crawl, gonna crawl, gonna crawl/To the ugly bug ball/One and all, one and all").
If you ask Mills' four co-stars this, three and a half of them say The Parent Trap, a huge Disney hit of 1961 where Mills was split into twins who plot the reconciliation of their divorced parents. Its big hit was a duet with herself—"Let's Get Together."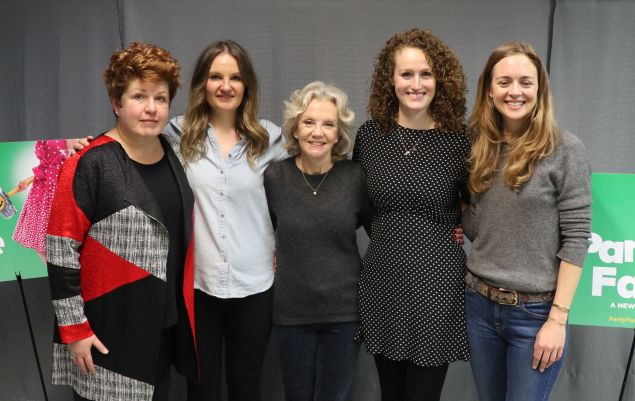 The undecided vote was White's: "It would have to be The Parent Trap, although my aunt was just telling me about her Chevalier film called In Search of the Castaways, which I haven't seen but is high on my list now. That just might be my new favorite."
As for Mills' own personal favorite, she prefers to pass. "I haven't really got one," she claimed lazily or tactfully, "but I do have a tremendous affection for the early ones—especially the first, Tiger Bay." She played a girl who witnesses a murder and did it so well it's still hard to imagine how, so untested, she pulled it off so accurately.
"Well, it was a wonderful part, terribly well written," she said. "The director was intelligent and sensitive and kind and made me feel secure. That whole experience really colored the way I feel about acting. I was very comfortable."
That role was originally written for a boy, but, when director J. Lee Thompson was talking John Mills into playing the film's police superintendent, he spotted 12-year-old Hayley in a tomboy haircut and offered her the part. The star-making performance that resulted from that impulse won her Britain's Oscar (the BAFTA) and the Berlin Silver Bear. It also won her the attention of Walt Disney, who promptly imported her to play Pollyanna, Eleanor Porter's orphaned "glad girl." That got her a stateside Oscar (the last ever given to a juvenile performer) and a Golden Globe.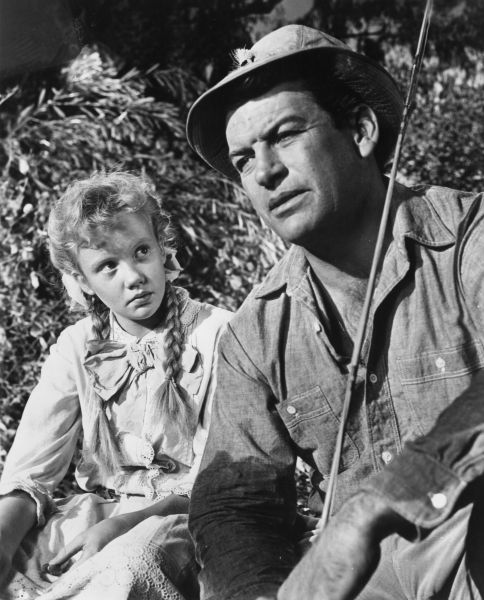 It also got her a Disney contract that, for six years, made her the most popular child actress on the planet. But first she filmed Whistle Down the Wind, a decidedly offbeat drama where she encounters another murderer-on-the-run (Alan Bates instead of Tiger Bay's Horst Buchholz); this time around, she confuses the killer with Christ.
Andrew Lloyd Webber later made a musical of Whistle, but it didn't sit well with Mills. "I liked a lot about it, but it was difficult for me to make that final leap into a different interpretation. I have to tell you, though, my mum [playwright-novelist Mary Hayley Bell] absolutely adored it. She saw it about six times. She wrote the original book, but she didn't write the film that I made. Her story was set in Sussex, and the film set it in the moors around Lancashire." The musical reset it again to the American South, trying (in vain) to get it to Broadway after a North American tour.
Two of Mills' most memorable movies have two Mills on board. Her father, John, joined her as her new father-in-law in The Family Way, which boasts a rare, deeply moving soundtrack by Paul McCartney, and played her manservant in The Chalk Garden, a classy rendering of Enid Bagnold's play and easily the best movie Ross Hunter ever produced. (Having Deborah Kerr and Edith Evans around didn't hurt.)
Then there were the ones that got away, and some were real heartbreakers. The downside of a Disney contract was that it kept her teenage years pretty squeaky clean in her loan-out pictures. Mischief as long as it wasn't sexual—like the "scathingly brilliant" ideas she had at an all-girls school run by Rosalind Russell, Mary Wickes and other nuns in The Trouble With Angels—was, apparently, O.K.
She was Stanley Kubrick's first choice for Lolita. Her parents were even bribed with a Renoir to get her to do it, but the role clashed with her Disney image. "I didn't fully understand the implications of Humbert Humbert's obsession for Lolita—not really. I wanted to do it, but it was considered inappropriate for a Disney contractee. I do understand that.
"Another film I really, really wanted to do was Exodus because I would have worked with Sal Mineo, who I knew a little bit and loved." The role went to Jill Haworth.
"The other one I was dying to do was The Greengage Summer, because it meant that I would be working with Laurence Olivier, but, again, it was a dicey situation." When the movie eventually came out in 1961, it wound up starring Kenneth More and Susannah York and, in the U.S., wore a title more to the point: Loss of Innocence.
Age has happily tempered the disappointments of youth, and Mills has a healthy que sera sera shrug for what might have been. "I think, looking back, I don't have any regrets," she contends. "It's pointless having regrets, but there are things I'd have enjoyed doing. Of course, everything you do changes the dynamic in your life a little bit, so, if I had done those movies, who knows what other things I would have done? It may have been better for my career, it may have been worse—who knows?"
Harry Haun has covered theater and film in New York for more than four decades for such publications as Playbill Magazine, New York Daily News, The Film Journal, Where Magazine, TV Guide, and Observer.