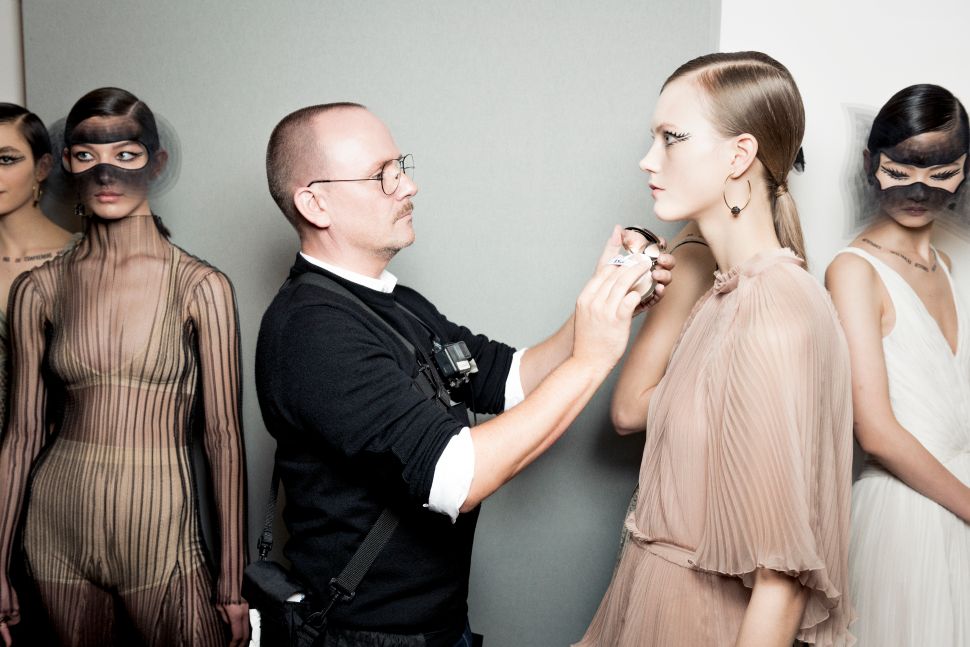 Backstage at Dior's spring/summer 2018 couture show, makeup artist and Dior's creative beauty director Peter Philips had to oversee nearly 80 different sets of extreme cat eyes, each one winged to perfection. Philips was working with direction from Maria Grazia Chuiri, the luxury fashion house's creative director. The theme for the night? Surrealism. The label's mostly black and white collection drew inspiration from the shapes, organic forms and drawings from the legendary art period, and so did the makeup—in the form of spidery, high-impact cat eyes that extended far beyond the brow on both the top and bottom lashes. The surrealist aspect was that the liner actually mimicked the effect of larger-than-life lashes, in a very tromp l'oeil way.
Under the bright lights of the Musée Rodin, which had been transformed into a surrealist paradise, with a checkerboard floor and hanging sculptures of birdcages plus floating eyes, ears, noses and torsos, the collection's makeup also closely aligned with the collection's inspiration. Chiuri looked to Leonor Fini, an artist that Christian Dior exhibited in his very own gallery—and also one who had a penchant for hats and fashion as a form of identity.
"Sometimes they say you can do more extreme. But I don't think that's the golden rule," Philips said of his approach to couture makeup versus every day or even ready-to-wear beauty. "It's a different client. Everything around it is different. I've done natural makeup for haute couture, and I've done really extreme makeup for ready-to-wear. It depends on what the designer wants to express."
"Today's look is mostly focused on the eyes," continued Philips, backstage, while surrounded by models. "The makeup is actually, mostly designed to be combined with masks." The Stephen Jones designed masks came in a variety of shapes and textures—rectangular, transparent, lacy and metallic—perhaps paying tribute to the infamous Rothschild Surrealist Ball of 1972. Timed with the brand's biannual haute couture show, Dior also hosted its second annual masked ball with a—you guessed it—surrealist theme, later that night.
As bold as Philips' makeup was, it acted as more of a compliment to the extreme masks. "It's a really extreme, loose-handed, heavy-handed lashes," the creative beauty director explained of the actual liner, which was inspired by the shape of extreme eyelashes extended. Philips also said he played off the aesthetic of surrealist movies and photos of Romy Schneider's elongated eyeliner.
To create the look, the makeup artist used a brand new felt-tipped eyeliner, the Diorshow On Stage Liner in Matte Black, which hits shelves in June 2018 in a range of amazing shades from stark white to metallic. To get the look at home right now, you can use any slim, felt tip liner that allows you to draw organic, wispy shapes. He suggests trying an option that's somewhat between a felted version and a brush. "It's very loose," he said, of the freehanded technique. "You can go really thick or you can go really fine."
"When I applied the makeup, I looked at the girl and drew two stripes," he explained, motioning to the area right above the outer corner of the upper lash line. "Very horizontal, then I just added the illusion of fake lashes, very rough and heavy-handed." The look was less about precision and more about the artistry of it—that's partly because Philips was inspired by Chiuri's painterly prints on the clothing. "I just used the same kind of brushstrokes. Not too clean, otherwise it looks like Ice Capades makeup, which is great, but not for this kind of show." Because he created such a bold eyeliner look, he also chose to forgo mascara and opted for an effortless brow.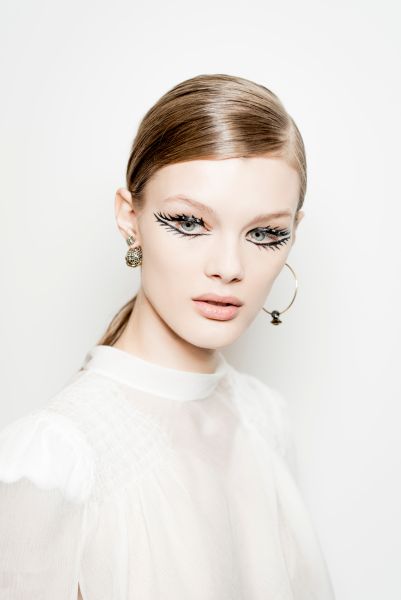 To top off the look, he used a bit of beige liner in the corner of the eye. He also kept skin minimal, with Diorskin Forever & Ever Wear Primer and suggested adding "a little bit of oil moisturizer" to add some glow. For lips, the makeup artist also kept things simple with Dior Addict Lip Glow, which adds just a hint of glow and moisture.
Of course, if you're looking for a new makeup look to try for spring and aren't into the exaggerated liner, you could also take a cue from the temporary tattoos that graced the runway models' collarbones and fingers. The runway view made the tats look like a modern version of jewelry—almost like if you didn't know about them, you'd have to do a double take to realize they weren't the models' own subtle, high-fashion tattoos.
And true to the theme—the tattoos consisted of surrealist quotes, in addition to black and gold symbols inspired by Chiuri's own drawings. One model was spotted backstage with finger tats that read, "We are all surrealists," in French. That was likely a play on the designer's insanely popular "We should all be feminists" t-shirts.
Fashion meets beauty in the most unexpected possible trend of 2018: Temporary tattoos. "It's a new way of putting on slogans, without putting them on clothes."