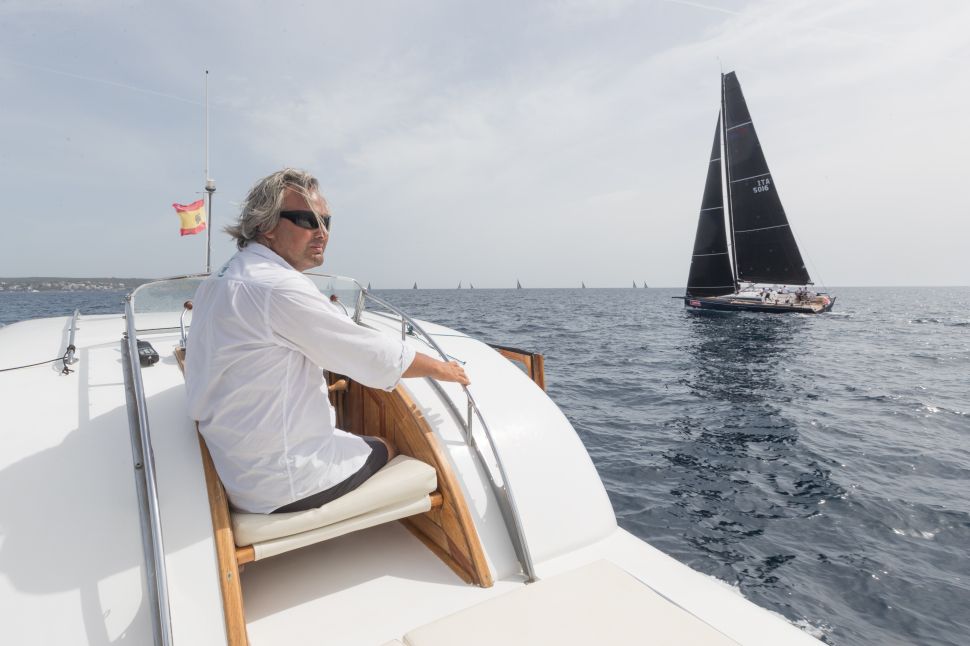 Juan Kouyoumdjian, more conveniently known as Juan K, is one of the very top sailing yacht designers working today. His naval architecture firm just celebrated its twentieth year in business. Juan K's racing yachts have broken so many records it is hard to remember them all. As his website states, his firm has three Volvo Ocean Races wins, two Olympic gold medals, nine offshore speed records, seven World Championship titles and six America's Cup involvements.
He is responsible for numerous iconic offshore race boats. Among the three most famous are Rambler 88, Speedboat 100 and ABN Amro. His spectrum is amazing. He has designed Olympic class Finn boats and a production boat, a Beneteau First 30. Juan K also created the new Swan Club 50, now in production and selling fast in Europe. It was just voted boat of the year for its class by Sail Magazine. All together there are 25 Juan K designs.
Here is what sailing star Tony Rey of Cloud 10 Racing had to say when he spoke to Observer recently:
"Juan is at the vanguard of performance yachting because he combines analytical precision, cutting edge design tools, and a creative passion for boat speed that shines above all. The guy is brilliant and possibly very slightly crazy. His work in the Olympic classes shows how his creative approach to an established design can bear fruit. and, is latest collaboration with Swan is a stunner!"
Juan K was recently at the Paris boat show and Observer, where he spoke with Observer about his work.
Juan congratulations on your twentieth year in business. That is a terrific milestone. I hope you have twenty more amazing years.
Thank you, I hope so too, not much hair left but hopefully the brain will still work.
What do you think has been the biggest challenge in racing yacht design in the last 20 years?
Good question, I would say dealing with the rule makers and regulators. That is a sad answer and I wish it were not so but it is. There are structural and handicap rules. My job is fundamentally to break those rules and bypass them…but I need to leave the rule maker with options so as not to create conflict.
Can you give me a specific example?
Yes, on Crazy Coyote in 1999 we did a rig that had no shrouds, a free-standing rig. It was completely banned. Now of course we see yachts with this rig all around us. Another is the canting keel. We designed a number of these with mechanical innovations in the pin axis that went beyond the rules. The rule makers thought we were crazy. Again, now all the Volvo boats, as well as boats like Rambler 88, do it the way I originally designed it.
Beyond the rule issue what are the other major areas of innovation in the design/build process.
As a naval architect, of course my primary responsibility is to come up with hull shapes, keels and rigs that will be the fastest possible. You try be the very best at these. But, beyond that the major issues are in the innovation of all the systems. If the whole project is not put together in a proper coordinated way it would not matter how great all the components are. After I lock myself in a room to design the components I need to see how the whole package comes together. I cannot just call my buddy and say, "Bring me the rig or the electronic package." There is the human factor to know all the very best smartest component suppliers. These relationships are sometimes as important as the designs.
What are you not comfortable with? What trends do you see in yacht racing that concern you?
I think my greatest levels of discomfort are related to execution. So far, we have spoken about design and how it is all put together, but your design needs to be built properly. Design and build are intrinsically related. In other words, you can only design to your level of execution and you can only execute to your level of design. I must keep this in mind all the time in my design process. I need to know beforehand exactly what can be built.
I am always pushing for more performance, and when that cannot be executed properly is where the frustrations for me and the boat owner are the most pronounced. If the design is not properly executed at the level required it can be worthless. I try to learn from those mistakes and modify the design for the next time. On the bright side, when a design is built properly and the boat goes on to win race after race and breaks speed records, the reward is considerable.
Juan, what is the one boat you designed that you think is a breakthrough? The boat with a big wow factor?
It is difficult to pick but I would have to say ABN AMRO. That boat was a big leap. Even though it was within a restricted rule, I think it opened the eyes of the sailing world. To understand that you could go offshore in a very high performance boat with canting keels, and use composites and not have any structural problems, marked a change. ABN AMRO was pushed to the limits and she still won the Volvo race in 2005-2006. The sustained boat speed was just incredible. The change to the 70' from the 60' for the Volvo was a real opportunity. I got a great amount of input from the crew and the rest of the team. I also used new computer technology that I continue to modify and use today.
Which of the great races Volvo, America's Cup, Sydney to Hobart, Vendee Globe or any other you can think of is the proving ground for the latest in racing yacht design?
Well it used to be the America's Cup, but clearly it is not anymore. Foiling or flying catamarans or monohulls do not influence the larger world of boat design. They will not trickle down. For sure there is something there that will evolve into the future. There is however another side to this.
One should not think this is the only way of yachting. There are plenty of sailors who want to be in contact with the water, who want to relate to the water and the ocean. If you look at the most watched, most in demand videos or even still photographs, they are always about boats off-shore sailing through waves and in touch with a wet environment. The pinnacle of our sport should never be about avoiding the water. So, to the extent that the America's Cup with its "fly time" clock celebrates the opposite, it limits the overall appeal.
The Volvo, when it went to one design, basically killed off any possibility to innovate or improve the engineering.
So, basically you're left with the Vendee Globe. As of now it is the primary place for monohull development. There is no other race that pushes the limits of design like the Vendee.
What will the next 20 years look like for Juan K naval architects?
The next 20 years will be all about performance. I don't see myself involved in anything but performance. I don't know what form and what shape that will ultimately take…everything is in such transition, but the demand for performance in design, materials and engineering will be relentless. Look at MACIF the 30meter trimaran with Francois Gabart solo sailing around the world and smashing records. It was an unmatched feat of performance at all the levels I just mentioned. Envelopes will be pushed on every aspect in the boats of the future.
This question is on many sailors' minds. Now that the New Zealand Americas Cup has returned to monohulls, will you be designing a boat for a challenger?
I am in conversations with a few potential challengers, nothing to announce at this time, but stay tuned.
Jonathan Russo has been a sailing enthusiast for 30 years. Read his full bio here.