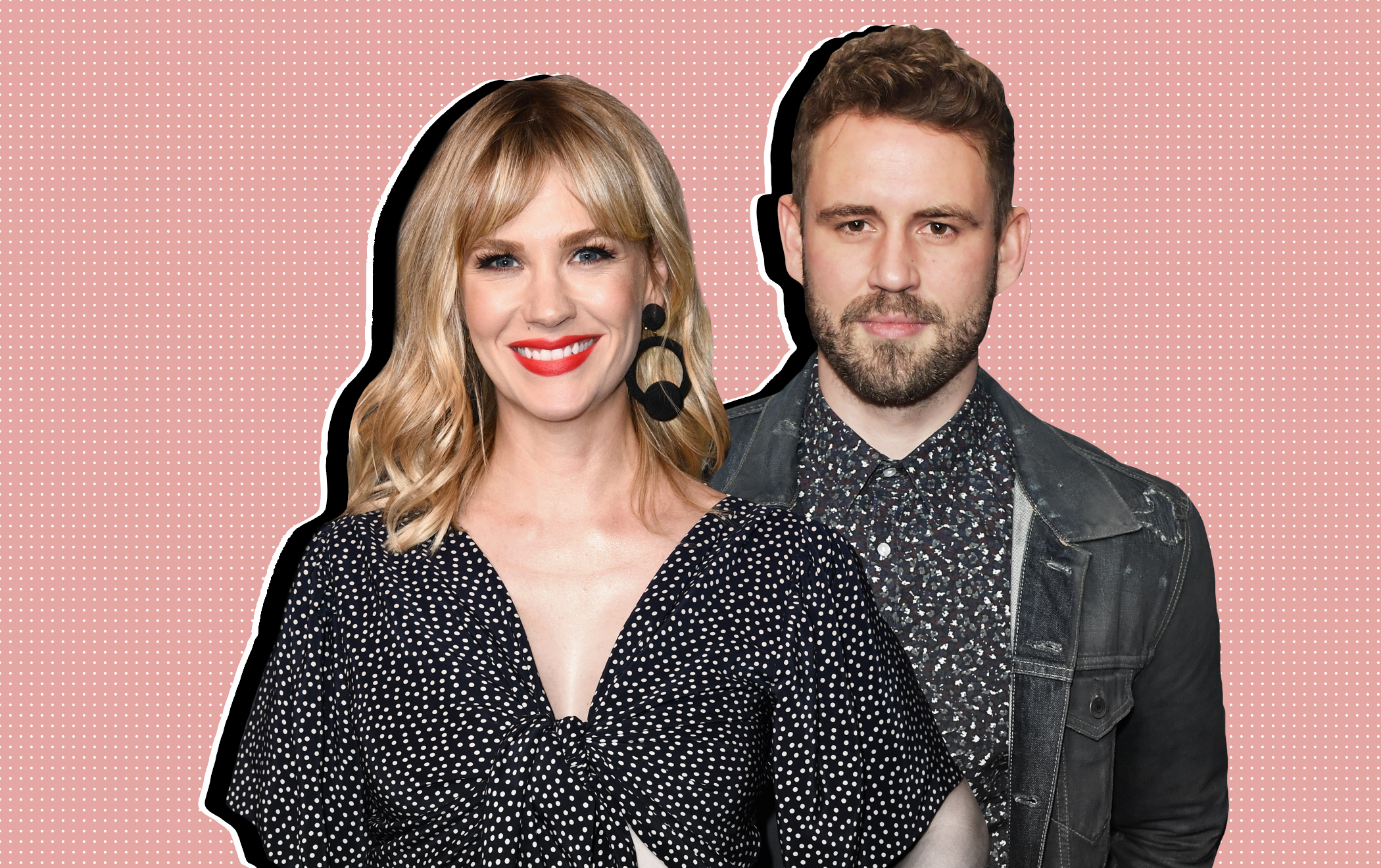 January Jones has a new man in her life…and if you're a member of #BachelorNation, he'll look all-too-familiar. According to Page Six, the Mad Men mom is dating Nick Viall, who starred in The Bachelorette (as a two-time runner-up), Bachelor in Paradise and finally, The Bachelor. 
While Viall never found love on reality television (or on Dancing With the Stars), despite getting engaged on his last go around, he's now in a relationship with Bachelor superfan Jones.
He's not the first Bachelor cast-off to start dating a well-known actress. Wells Adams announced his romance with Sarah Hyland of Modern Family late last year, and they've been posing on Instagram ever since.
The actress first declared herself a proud member of #BachelorNation on The Late Late Show. Then, Viall got in touch with her through a third party. "You don't know if you like him, or if he's a scumbag, and I think that's why I'm attracted to him," she told James Corden, echoing the thoughts of Bachelor viewers and Don Draper fans everywhere. The actress revealed that he asked her to compete with him on Lip Sync Battle—perhaps Viall was unclear about how to date without cameras.
The relationship is so serious that Viall joined her and her Mad Men castmates, including Kiernan Shipka, at her 40th birthday celebration at ink.well in Los Angeles on Saturday. The trendy restaurant is helmed by Top Chef winner Michael Voltaggio and is known for its avant-garde cuisine.
Since they started dating, Jones has been channeling her inner Betty Draper, and commenting on Viall's Instagram on a consistent basis with subtle shade, including the eye roll emoji.
Perhaps Jones can help Viall promote his subscription beauty box for men, although he seems to have left that behind in favor of acting. Now that this relationship has been uncovered, maybe Jones will finally reveal her child's father, Hollywood's favorite mystery—other than Mindy Kaling's new baby.