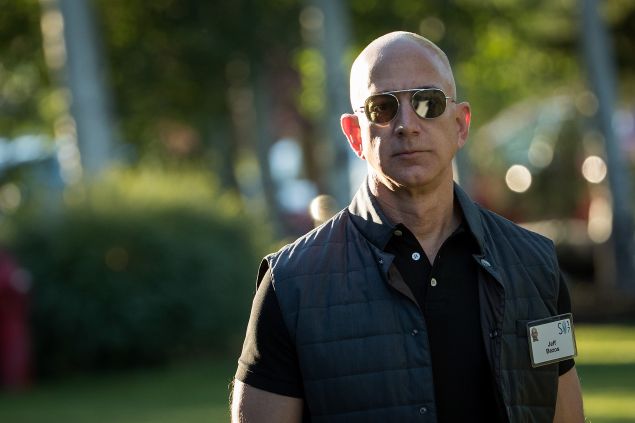 Jeff Bezos overtook Bill Gates as the world's richest person late last year. Now he's won another title over the Microsoft founder: the richest person in history.
Late Monday, Bezos' net worth reached $104.2 billion on Forbes' World Billionaires list, and his worth on Bloomberg's Billionaires Index was $105 billion. The only person who's gotten close to that amount was Gates, who had a net worth of $100 billion in April 1999.
Bezos' increased riches come mostly from the 78.9 million Amazon shares he owns. The online retailer's stock rose nearly seven percent in 2018's first week of trading, and its market value has increased 57 percent in the last 12 months.
The ever-increasing stock prices come after a dominant holiday season. Amazon captured 89 percent of spending among online retailers in the five weeks between Thanksgiving and Christmas (Walmart was a distant second with a 4.4 percent market share).
Bezos officially passed Gates on the billionaire lists in October, when his net worth reached $93.8 billion (though he also briefly held the title in July). His fortune first crossed $100 billion on November 24 (Black Friday).
If Gates had held on to his $100 billion in 1999, his net worth would be roughly $148 billion today. But the Microsoft founder and his wife have spent the last 19 years giving their fortune away through the Bill & Melinda Gates Foundation. According to public finance disclosures, since 1996 the Gates have donated almost 700 million Microsoft shares worth $61.8 billion, along with $2.9 billion in assets. Their pet causes include climate change and Alzheimer's research.
Expect the charity to continue, because Gates still has plenty of money. His net worth stands at $91.9 billion on the Forbes list and $93.3 billion on the Bloomberg list.
While Bezos has expressed an interest in philanthropy, he hasn't started giving away his vast fortune yet. So for now he'll continue to get rich from Amazon, along with the Washington Post and space company Blue Origin.
Amazon and the Gates Foundation have not responded to Observer requests for comment.