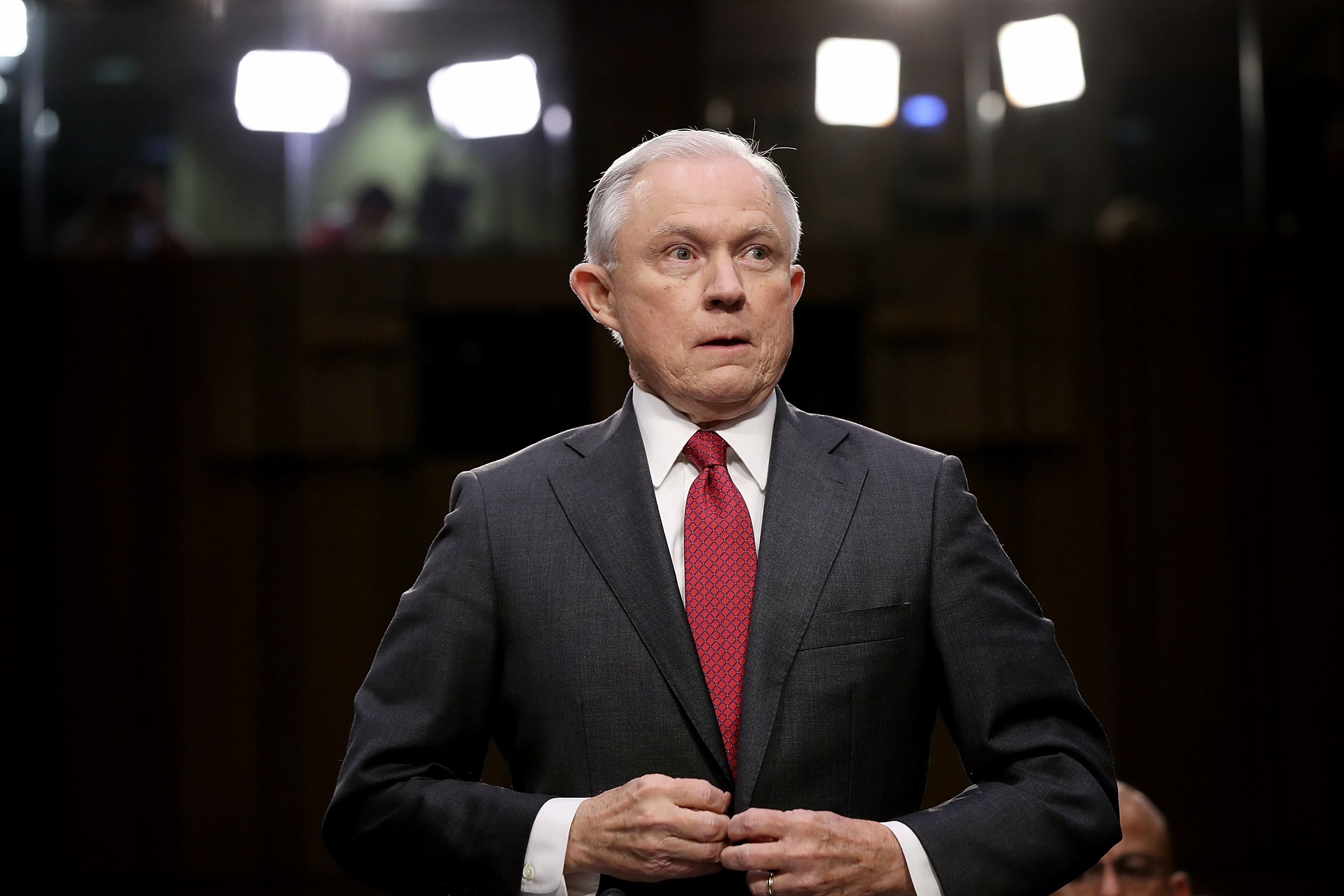 Attorney General Jeff Sessions made an announcement yesterday with regard to state marijuana laws that undermines one of Donald Trump's campaign promises, infringes on federalism, and will hurt Trump's approval rating.
When the president's staff undermines his will and violates his campaign promises, they chip away at the coalition that launched him into the White House. It is quite possible that the attorney general's personal war on states that have permitted medical and adult use of marijuana may alienate the president's support base and prevent him from attaining a second term.
Sessions announced he was withdrawing the so-called "Cole Memo," which provided guidance to Justice Department prosecutors, asking that they prioritize the prosecution of the distribution of marijuana to minors and across state lines and prevent revenue from marijuana sales going to criminal gangs. In practice, the Cole Memo served as notice to states that had passed laws allowing marijuana to not worry about the federal government prosecuting growers, sellers and users in those states.
Polling on this issue indicates Sessions' actions will likely hurt Trump's approval ratings. On October 25, 2017, Gallup released a poll that indicated 64 percent of Americans support the legalization of marijuana, a record high. Further, it found that 51 percent of Republicans support legalization, a nine percent increase from the past year. Clearly, the public wants freedom and liberty for states to make these decisions on their own.
Congress has shown its support for the right of a state to pass marijuana laws. In May 2014, Reps. Dana Rohrabacher (R-CA) and Sam Farr (D-CA) offered an amendment to prevent the Justice Department authority from prosecuting companies and individuals in states that have allowed medical marijuana to be legally distributed within that state. The House passed the amendment on a 219-189 vote, and 49 Republicans supported it. More evidence of an uprising against Sessions' is that one of his conservative allies, Sen. Cory Gardner (R-CO), promised to block all nominees to the Justice Department going forward due to Sessions' withdrawal of the Cole Memo.
Trump's prospects for re-election and the likelihood that Republicans will be successful in their fight to maintain control of Congress after the midterm elections this fall are closely tied to Trump's approval ratings. The last thing Trump needs is his own staff undermining a clear campaign promise, and Trump promised repeatedly to support the right of states to pass laws protecting medical marijuana. Candidate Trump said to Bill O'Reilly on Fox News in February 2016 of medical marijuana, "I'm in favor of it 100 percent."
The attorney general serves at the pleasure of the president, and cabinet members are supposed to implement the policies of the president—not to act as the de facto president. Attorney General Jeff Sessions violates numerous campaign promises and substitutes his judgement for the president's. His willingness to defy Trump is outrageous and grounds for removal. Sessions has been under fire from the left for his hardline stance on immigration and on the right for his reluctance to investigate Hillary Clinton's role in mishandling classified information in addition to the Uranium One scandal. Now Sessions has created still more enemies by attacking federalism with regard to marijuana laws.
The next fight for the attorney general is to convince Congress that they need to free the prosecutorial hands of the Justice Department to infringe on the right of states to police themselves by eliminating the Rohrabacher amendment from current law. Existing appropriations measures prohibit the prosecution of states that have allowed medical marijuana. The future of that law is now in Congress' hands.
Speaker of the House Paul Ryan (R-WI) and House Rules Committee Chairman Pete Sessions (R-TX) blocked the Rohrabacher Amendment from getting a vote in the House last year when they passed appropriations for the Justice Department while Senator Patrick Leahy (D-VT) voice voted a version in the Senate. That fight will come to a head on January 19th when the current government funding measure runs out. The attorney general has been very active on Capitol Hill in his efforts to convince Congress to continue to block Rohrabacher's and Leahy's efforts to push for a vote on this prohibition.
President Trump had a great 2017 with tax cuts, repeal of the individual mandate, and Neil Gorsuch's confirmation to the Supreme Court. It would be devastating if Attorney General Sessions took actions to damage his approval ratings and undo much of the progress he made in the last year.
Brian Darling is the president and founder of Liberty Government Affairs, a government affairs and public relations firm in Washington, D.C. He is former Counsel and Sr. Communications Director for Sen. Rand Paul (R-KY). Follow him on Twitter @BrianHDarling