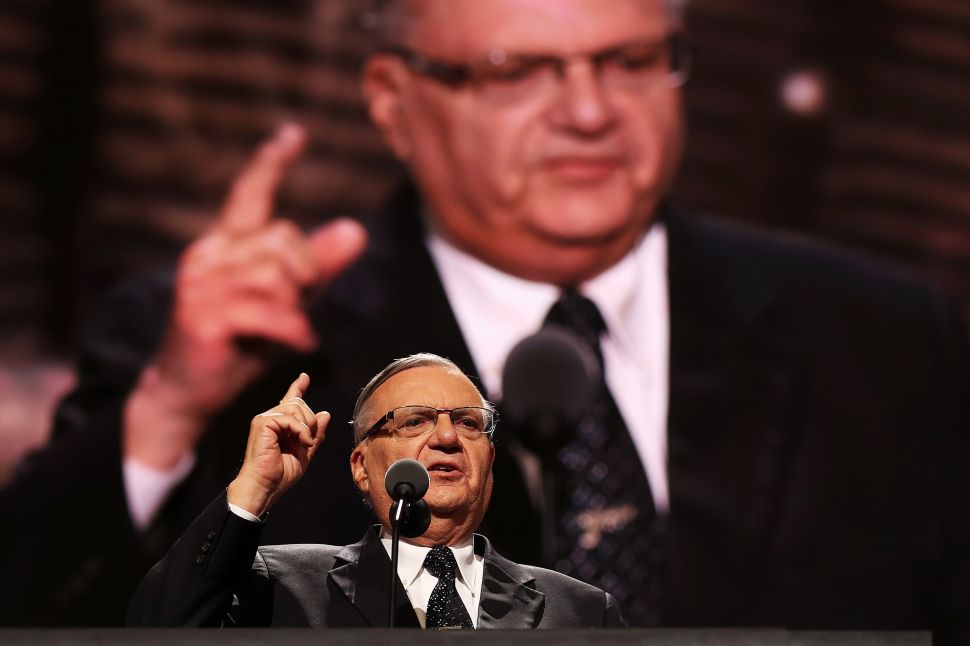 Joe Arpaio is running to fill Arizona Senator Jeff Flake's vacant seat. The former sheriff known for his hardline immigration policies announced his candidacy over Twitter, reaffirming his run to Washington Examiner.
"I have a lot to offer. I'm a big supporter of President Trump," Arpaio told the publication. "I'm going to have to work hard; you don't take anything for granted. But I would not being doing this if I thought that I could not win. I'm not here to get my name in the paper, I get that everyday, anyway."
Arpaio made a name for himself as "America's Toughest Sheriff" through targeting immigrant communities in Arizona. His 24-year tenure as a sheriff in Maricopa County, Ariz. brought droves of controversy, most notably over his construction of an open-air "tent city" prison that he once referred to as a concentration camp.
Though many groups brought class-action lawsuits against the former sheriff for discrimination and misappropriating state funds, in July of last year, a federal judge found Apaio guilty of criminal contempt in a racial-profiling case.
A supporter of the birther movement— the conspiracy theory spearheaded by President Donald Trump claiming former President Barack Obama was born in Kenya—Arpaoi stumped for Trump during the 2016 presidential election.
Trump pardoned Apaio, now 85, last August.