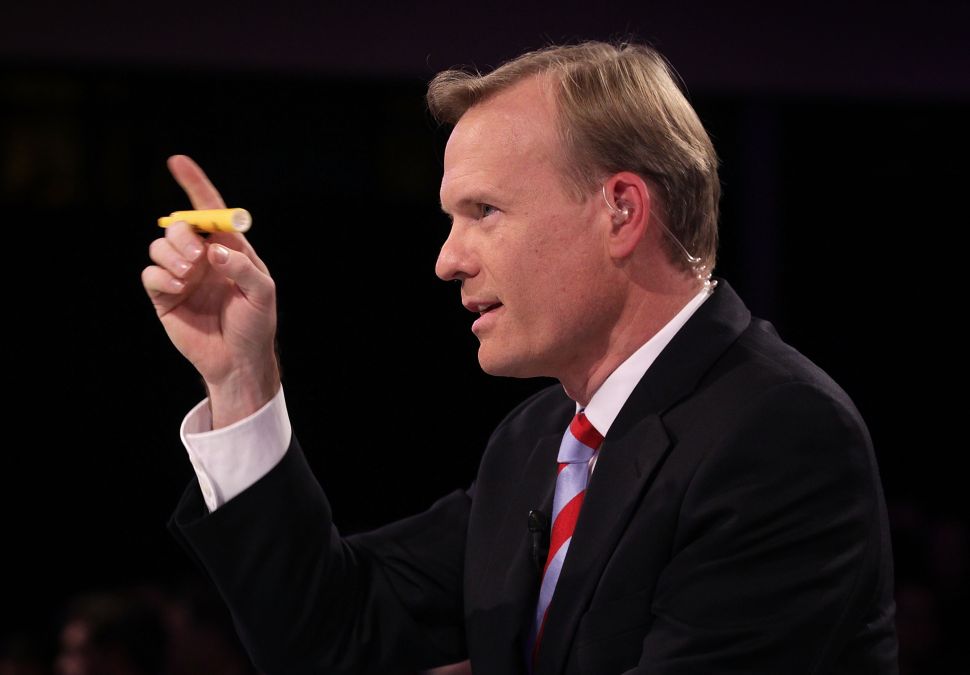 It's the season of replacements in entertainment and media as sexual misconduct scandals continue to rock the industry. Christopher Plummer miraculously subbed in for Kevin Spacey in All the Money in the World and was awarded with a Golden Globes nomination (for just nine days of re-shoots no less). Hoda Kotb will take over for Matt Lauer on NBC's Today, and although she'll be earning significantly less than her disgraced predecessor, her hiring is being celebrated across the airwaves. Now, it's cbs' turn to replace Charlie Rose.
The Huffington Post reports that the network is expected to tap Face the Nation host John Dickerson as its new co-anchor of CBS This Morning alongside Gayle King and Norah O'Donnell. He'll replace Rose, who was ousted over sexual harassment claims in November. Other potential replacements rumored to be in contention included Anthony Mason, Vladmir Duthiers and Bianna Golodryga.
CBS has not yet responded to Observer's request for comment.
While CBS This Morning routinely comes in behind Today and ABC's Good Morning America in the ratings, the morning show has continued to grow its audience since premiering in 2012. Many attribute its steady performance to its emphasis on hard-news and headline breakdown, rather than the more audience-friendly fluff some morning programs indulge in. That fits with Dickerson's style, as he has hosted the Sunday public-affairs program Face the Nation since 2015. Before that, he worked as a political director for CBS News since 2011 and an on-air political commentator for the network since 2009.
Dickerson will no longer host Face the Nation as he transitions into his new role.
What do the big wig network execs expect from him in this new position? Likely not a miracle. Here are the total viewer averages and the advertiser-coveted 18 to 49 demographic ratings for the three main broadcast TV morning shows from 2017, per Nielsen:
Total Viewer Averages
1. Good Morning America: 4.315 million
2. Today: 4.104 million
3. CBS This Morning: 3.539 million
18 to 49 Viewer Averages
1. Today: 1.517 million
2. GMA: 1.366 million
3. CBS This Morning: 964,000
Rose was fired on November 21 after eight women came forward with allegations of sexual misconduct in the Washington Post. He joins a growing list of established entertainment and media figures, including Harvey Weinstein and Louis C.K., to lose their titles and status due to such accusations.