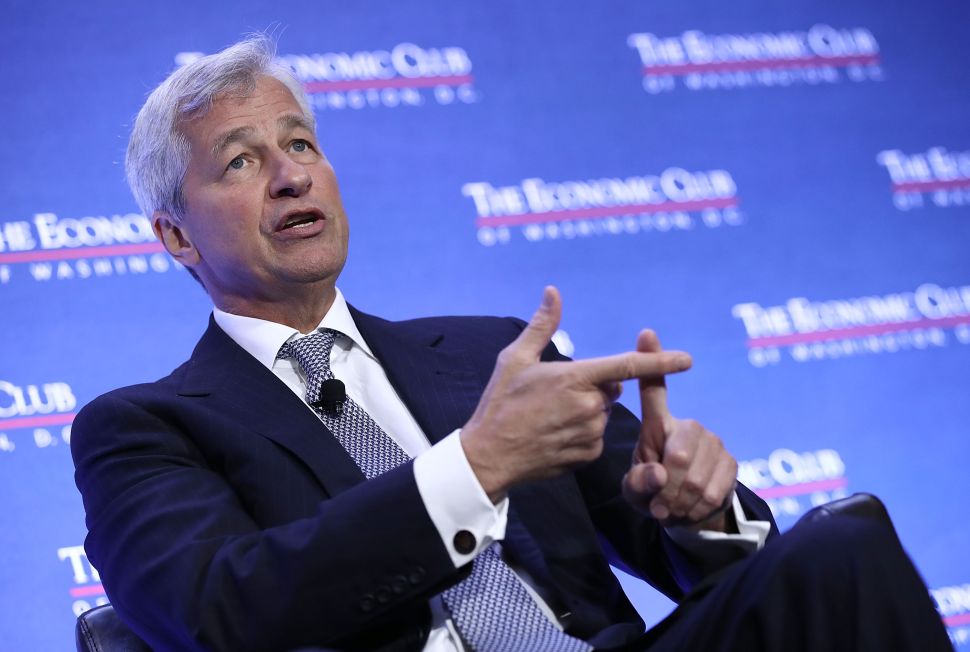 Jamie Dimon, CEO of J.P.Morgan Chase, is one of the loudest critics of Bitcoin. Last September, he called the cryptocurrency a "fraud" at a banking event—a comment "which I regret making," he told Fox Business on Tuesday.
He remains skeptical on the digital currency itself and products spun off it, such as initial coin offerings.
"You can have crypto dollars in yen and stuff like that. ICOs … you got to look at every one individually. The Bitcoin was always to me what the governments are going to feel about Bitcoin when it gets really big. And I just have a different opinion than other people," he said during the interview.
He reiterated his positive stance on blockchain, the underlying technology supporting Bitcoin and other cryptocurrencies. "Blockchain is real," he said.
But overall, "I'm not interested that much in the subject," he added.
Dimon was never a fan of Bitcoin and other so-called decentralized currencies. His "fraud" statement is probably the most frequently cited comment by news outlets in Bitcoin coverage. He also said at the September event that he would fire employees for trading Bitcoin.
"There will be no real non-controlled currency in the world. There is no government that's gonna put up with it for long." Dimon said at the Fortune Global Forum in 2015.
Perhaps not a surprising view of the CEO of the largest bank in the U.S., but Dimon's outspoken contempt for cryptocurrency wasn't much reflected in his bank's business strategy. In fact, J.P. Morgan is quite an active participant in the blockchain sector.
In October, J.P. Morgan launched a Bitcoin-like payment system called Quorum. The system was built on top of Ethereum, a decentralized smart contract platform (Ethereum token is currently the second largest cryptocurrency by market value), and is designed to significantly reduce processing time for cross-border payments and the number of parties needed to verify transactions.
A key difference from Bitcoin is that transactions on Quorum are subject to tight identity verification policies, which to some extent echoes Dimon's firm belief in the central control of currency exchange.
Fortune reported that J.P. Morgan had attempted to patent Quorum, but the application was rejected.
On matters of Bitcoin, Dimon also faced a few dissenting voices from his own crew.
Amber Baldet, blockchain lead for J.P. Morgan who directed the development of Quorum, tweeted a ¯\_(ツ)_/¯ in September in response to Dimon's public bashing of Bitcoin; Alex Gurevich, a former macro trader at J.P. Morgan, questioned Dimon's expertise in trading and new tech products on Twitter.
Bitcoin price experienced a few hiccups lately, dropping 5.4 percent in the last 30 days. On a 12-month measure, it still reported a 1500 percent growth.