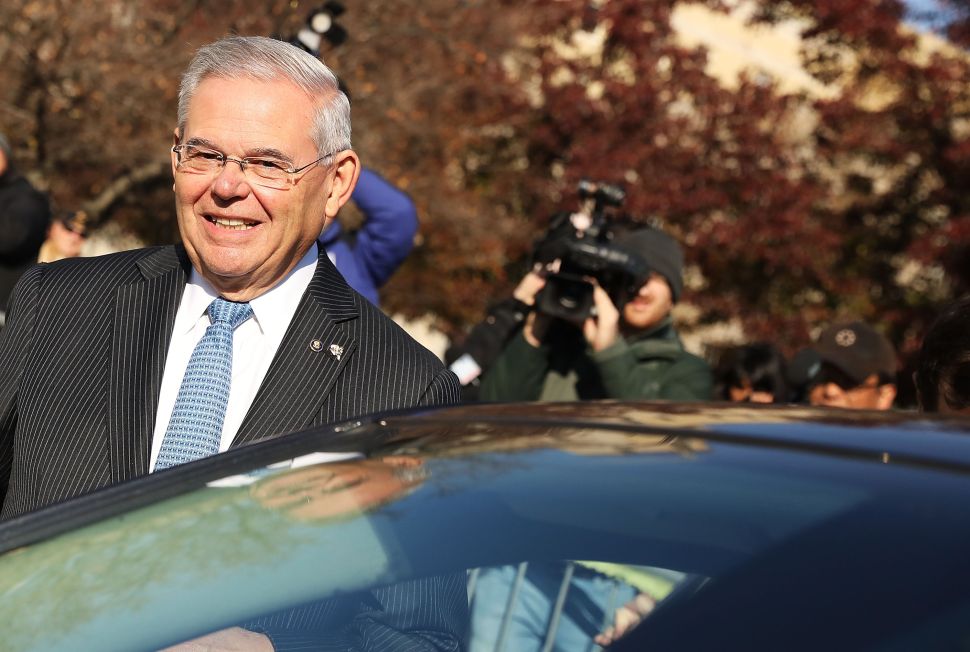 Federal prosecutors said Wednesday that they will drop their corruption case against Sen. Bob Menendez, allowing the New Jersey Democrat to run for re-election without facing bribery charges.
The Justice Department moved to dismiss the remaining charges against Menendez after a federal judge last week acquitted him and co-defendant Salomon Melgen on seven of the 18 counts they faced. Prosecutors had planned to retry Menendez and Melgen after a jury deadlocked on all counts against them in November.
"Given the impact of the Court's Jan. 24 Order on the charges and the evidence admissible in a retrial, the United States has determined that it will not retry the defendants on the remaining charges," Justice Department spokeswoman Nicole Navas Oxman said in a statement.
Menendez was accused of taking official actions to benefit Melgen, a wealthy Florida eye doctor and the senator's top donor, in exchange for gifts, trips and campaign contributions. Prosecutors also charged Menendez with intentionally omitting Melgen's gifts from his Senate financial disclosure forms.
After a two-and-a-half-month trial, a jury was unable to reach a unanimous verdict on any of the charges, and Judge William H. Walls declared a mistrial. A juror told reporters that the jury leaned 10-2 toward acquittal.
In a statement, Menendez said he was "grateful" the Justice Department decided to drop its case against him.
"From the very beginning, I never wavered in my innocence and my belief that justice would prevail," Menendez said in a statement. "I am grateful that the Department of Justice has taken the time to reevaluate its case and come to the appropriate conclusion. I thank God for hearing my prayers and for giving me strength during this difficult time. I have devoted my life to serving the people of New Jersey and am forever thankful for all who have stood by me. No matter the challenges ahead, I will never stop fighting for New Jersey and the values we share."
Menendez is up for re-election this year, and all signs indicate he is planning to run for another term. Top New Jersey Democrats are supporting the senator for his re-election bid.
"The notion to have two extraordinary senators in this state unencumbered, 1,000 percent focused on pushing forth the interests of the nine million folks who call New Jersey home is a new and great day," Gov. Phil Murphy said of the news Wednesday during an unrelated news conference in Atlantic City.
Menendez is considered a favorite to win re-election in blue New Jersey, which hasn't elected a Republican to the U.S. Senate since 1972.
But a recent Morning Consult poll showed the corruption trial damaged Menendez's standing with New Jersey voters. The poll found the senator holding a 29 percent approval rating among registered voters, while 45 percent disapprove—a 20-point drop from the beginning of 2017.
A Menendez campaign poll memo produced Wednesday painted a much rosier picture. It pegged his job approval rating among voters at 54 percent compared to 36 percent who disapprove, and said he starts his re-election bid with a six-point lead over any Republican when voters are informed of the mistrial. His campaign has $4 million cash on hand, according to the one-page memo, which didn't detail how the internal poll was conducted.
So far, Menendez has just one declared GOP challenger: Richard Pezzullo, who lost a Republican primary bid for Senate in 2014.
Republican pharmaceutical executive Bob Hugin is expected to jump in the race. He has begun meeting with the state's GOP county chairmen and this week retired from his role as executive chairman of Celgene. He has ties to former Gov. Chris Christie and is wealthy enough to self-fund a statewide campaign.
Michael Starr Hopkins, a TV pundit and former lawyer for the Hillary Clinton and Barack Obama presidential campaigns, is challenging Menendez for the Democratic Party's nomination.
Update (4:52 p.m,): This story has been updated to include details from a Menendez campaign memo.