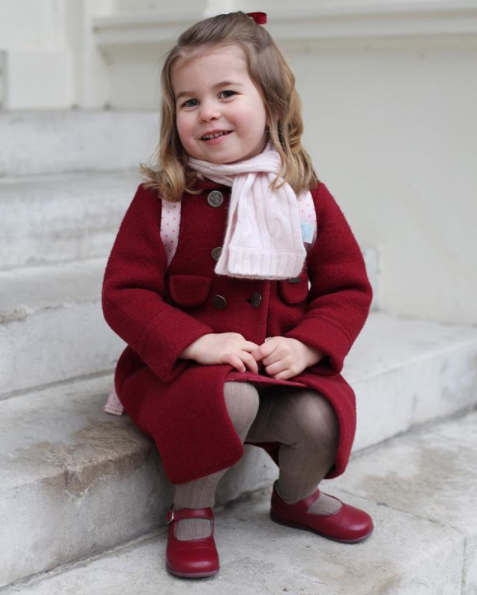 Princess Charlotte finally started nursery school in Kensington this month and premiered a giant backpack (that appeared to be similar to her brother's former knapsack) in celebration of the momentous occasion. The princess posed in burgundy with pink accessories, proving she's well on her way to becoming a fashion plate, just like her mother.
The Duke and Duchess of Cambridge were kind enough to share two photos of Princess Charlotte before her first day at Willcocks Nursery School on the Kensington Palace Instagram account. The two-year-old was snapped by her mother, who is quite the amateur photographer. Luckily, it looks like the Duchess was able to spend Princess Charlotte's first day of school with her, after having to miss Prince George's first day at Thomas's Battersea in London due to debilitating morning sickness. 
If you're interested in dressing like the little princess, consider purchasing a pink Cath Kidston backpack, either for a small child or yourself. Unfortunately, Charlotte's exact accessory is sold out, but there are plenty of similar styles available on the brand's website, adorned with various critters. The knapsack is dotted with horses, proving that Princess Charlotte is following in her grandmother's footsteps. Queen Elizabeth might be 91, but she was snapped on horseback to celebrate her 70th anniversary as recently as November.
If you're not in the market for a new backpack, consider investing in Princess Charlotte's $160 burgundy coat, which has somehow not sold out online just yet. Or, if you really want to go the extra regal mile, consider splurging on the matching bonnet for a Little Women twist. Perhaps donning a bonnet is a way for Charlotte to follow in Meghan Markle's footsteps—soon the princess might be donning a strangely shaped brown cap.