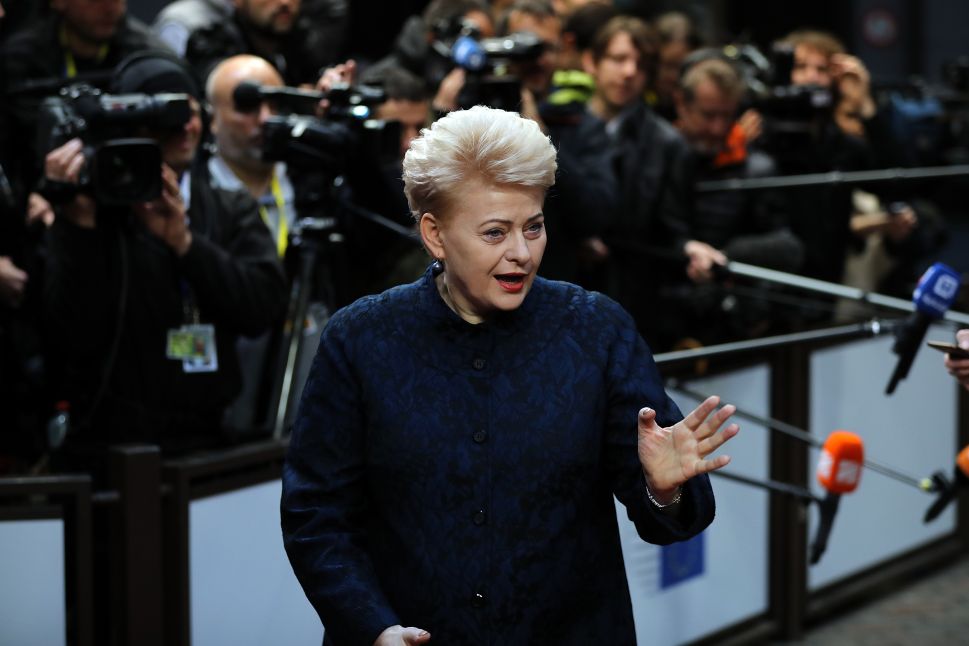 Lithuanian President Dalia Grybauskaitė has a reputation of being a hawk toward Moscow, and even among hawkish-to-Russia leaders of other Baltic states, including Poland.
On Panorama of the Week, a Lithuanian news program, Lithuanian Prime Minister Saulius Skvernelis described Lithuania as a "unique EU state without any, I emphasize, without absolutely any contact with the [Russian] state, although other countries, the same neighboring states, are very active in working [with Russia] on economic issues."
Since 2014, when the Ukrainian civil war broke out and Russia's "little green men" suddenly appeared in Crimea, the Lithuanian government has not held any meetings with high-ranking Russian representatives. Neighboring Latvia, Estonia and Poland maintain contact with Russia at the level of ministers and vice ministers, and big European countries communicate with Moscow at the highest level—last year German Chancellor Angela Merkel visited Russia and French President Emmanuel Macron received Vladimir Putin in Versailles.
But in her New Year's interview with 15min.lt, Grybauskaitė surprised her listeners by stating that her country is ready to change its position in regard to Russia.
While discussing neighboring countries, the Lithuanian president said, "It's better to communicate and trade than fight."
"Yes, we will probably have a difficult neighbor [Russia] for some years to come," Grybauskaitė admitted. "We believe if our eastern neighbor continues to have the same leader, the current situation [between our two countries] will stay the same. But I would not want to dismiss [political and economical thaw] and to say that there should be no cooperation or attempts [to cooperate]. We all are changing. The geopolitical situation changes."
The geopolitical situation is changing indeed.
With the arrival of a new administration in the White House, Lithuania does not have the same ally in Washington anymore, and Donald Trump's insistence that member nations fulfill their financial obligations to NATO has put additional strain on Lithuania's struggling economy. Last year, Lithuania increased its NATO spending to 1.79 percent of GDP ($872 million), and in 2018, it will reach the desired target of two percent of GDP ($960 million).
However, money is tight and shrinking.
In 2016, Lithuania's GDP was $42.74 billion, and at least one-fifth of the GNPs of the three Baltic states—Lithuania, Latvia and Estonia—consists of financial infusions from the EU aimed to reform these countries' stumbling economies.
With Brexit looming (Britain contributed about 15 percent of the joint EU funds) and the EU facing a migrant crisis, European handout money for countries like Lithuania is likely to end soon. When this happens, the Lithuanian economy will immediately dive deep in the red, and its citizens will lose 20 to 30 percent of their income. (The average monthly salary in Lithuania is 637 euros or $767, and 30 percent of the population makes minimum wage or just slightly higher.)
Experts predict that unemployment in Lithuania, which is currently 7.5 percent, is doomed to rise another 4.6 percent without EU money.
Lithuania's strained relations with Russia will significantly contribute to its economic downturn. Lithuanian exports to Russia have already dropped 40 percent, or $2.44 billion, from 2014.
Of this, only 9.1 percent is due to sanctions slapped on Russia, including 98 percent of Lithuania's dairy exports.
In addition, Lithuania has been losing its significance as a transit country.
Its seaports have, for the most part, lost Russia as a customer, since Russia has been heavily investing in its own sea logistics. And Lithuania will lose 1.3 billion euros, three percent of its GNP, when it loses Russian transit completely, which will happen very soon. Another four percent of Lithuanian GNP will be lost if Russia convinces friendly Belarus to switch transit of its products to Russian ports instead of Lithuanian ones.
And there is another issue the Lithuanian government has no idea how to solve—a shrinking population.
In his interview with the now-disgraced American journalist Charlie Rose in November 2015, Vladimir Putin made it clear that he carefully monitored Lithuania's demographics.
"Do you know what Lithuania's population during Soviet times was?" he asked the journalist. "3,400,000 people. Small country, small republic. Now, I looked into the latest numbers—1,400,000. Where are the people? More than half of the population left the country. Can you imagine if more than half of Americans left United States territory? It's a disaster."
Although an angry rebuke from the Lithuanian government immediately followed (they said the real number was twice as much), it was obvious that Putin touched a nerve. Indeed, since declaring independence in 1990, Lithuania has been losing its citizens with unprecedented speed.
According to official statistics, Delfi reports, in a quarter of a century Lithuania's population has shrunk by almost one million people—23 percent—from 3.7 million in 1990 to 2.85 million in 2017. According to Eurostat's predictions, in 20 years, there will be no more than two million (mostly elderly) Lithuanian citizens left in the country, since 90 percent of young Lithuanians dream of leaving their homeland for good.
Since 1989, the number of babies born in Lithuania has diminished by one-third.
"People of Lithuania do not believe in having any perspective for their country," Vygaudas Ušackas, head of the European Institute of the Kaunas University of Technology and former EU Ambassador to Russia, said.
These factors, some believe, explain the Lithuanian president's carefully worded positive signals to Putin's Kremlin.
"We openly and with dignity formulate—and we will formulate—our principled attitudes without degrading the Russian state and its people. We are not Russophobes. Russians in Lithuania are traditionally a strong and, in fact, well-integrated diaspora that has all civil, economic, cultural, religious and linguistic opportunities for self-expression. We expect the same respect for our state and our history from Russia," Lithuanian Prime Minister Saulius Skvernelis wrote on his Facebook page.
"Lithuania is the only EU member state that does not have any working contacts at a political level with Russia," he continued.
"Russia is a difficult neighbor, but we need communication channels for effective policies. They do not exist now, and we think they should be created," Skvernelis added. "There should be a bilateral dialogue. We should not be afraid to tell the truth and say it directly in a bold and open statement of [our] clear position."
Lithuanian President Dalia Grybauskaitė says the shift of her views regarding Russia is conditional: "If in fact [Russia's] values change, such as abandonment of the occupied territories, if this country starts behaving less aggressively, stops trying to impose her interests by force and bribe our politicians, and not only ours, but in Europe too, and does not interfere with elections, then we [Lithuania], without any doubt, are ready to cooperate with our neighbors. One does not chose one's neighbors."
Grybauskaitė does not lose anything by offering conditions to Putin—her second term in office will end in spring 2019, right when the flow of the EU's handout money will stop. But is she signaling to the Kremlin that, faced with a new pressing economic reality, the next president of Lithuania will be more prone to realpolitik and ready to improve the ties between the two countries, giving up on the European values she holds dear?
Mikhail Klikushin attended Novosibirsk State University and received a graduate degree in Russian history before emigrating to the United States.