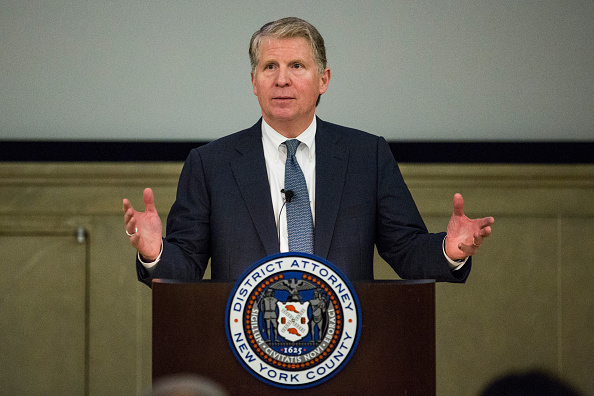 Manhattan District Attorney Cyrus Vance says he will no longer take campaign contributions from lawyers appearing before his office amid controversy over his handling of cases involving President Donald Trump's children and disgraced Hollywood executive Harvey Weinstein.
In October, Vance faced backlash for not bringing charges against Weinstein in 2015 over his alleged assault of Italian model Ambra Battilana Gutierrez. He also ended a probe into Trump's children—Ivanka and Donald Trump, Jr.—amid allegations they deceived potential buyers at Trump SoHo by inflating sales figures.
Attorneys representing Weinstein and the Trump children had donated money to Vance's reelection campaign.
Vance subsequently asked the Center for the Advancement of Public Integrity (CAPI) at Columbia Law School to conduct an independent review of and make recommendations pertaining to his practices around seeking and accepting campaign contributions.
The report, which was unveiled on Monday, recommends that contributions by lawyers appearing before the district attorney's office be limited to $320 per election cycle. CAPI also recommended that law partners of legal counsel appearing before the district attorney be restricted to $3,850 per partner per election cycle.
In a statement, Vance said his campaign "will meet and exceed these recommendations."
"Effective today, we have implemented the 'blinding' procedure recommended in CAPI's report, which is the same procedure followed by candidates for judicial office in New York State," he said. "Also effective today, we will no longer accept contributions—in any amount—from lawyers appearing before our office and will cap contributions from their law partners, consistent with CAPI's recommendation."
He described CAPI's review as "prompt and rigorous" and called for legislative changes to address the issue.
"As its report notes, legislative action is the surest way to achieve lasting, mandatory campaign finance reform," Vance continued. "I look forward to working with lawmakers and reform advocates to advance such legislation, which should include a full public matching funds program for district attorney races."
The report's recommendations include applying blind fundraising standards—meaning that district attorneys do not get to know their donors' identities—refusing or capping contributions from parties with actual or potential conflicts of interest, and maintaining a strict separation between the district attorney's campaign and the district attorney's office.
The report also recommended that district attorneys turn down campaign contributions from district attorney office staff, as well as their spouses, and employ a comprehensive vetting procedure to determine whether it is wise to take a legal campaign contribution. And CAPI proposed requiring donors to verify eligibility by having donors fill out forms that include a certification that the donation adheres to the candidate's fundraising policies as well as publishing campaign policies.
Although Vance asked for the report, the report's recommendations also apply to the 61 other district in New York. CAPI noted that the recommendations were formulated in a way that generally works for those in other offices..