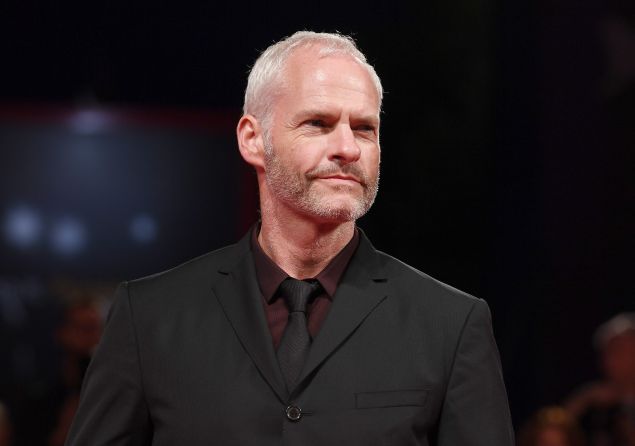 Martin McDonagh, the filmmaker and playwright (lately in that order), spent most of last Tuesday in Ebbing, Missouri. Of course, there is no Ebbing, Missouri—save for the one that exists in his eccentrically creative mind—and that's where he celebrated the seven Academy Award nominations which his flick, Three Billboards Outside Ebbing, Missouri, racked up that day. Two of them were his (for writing a Best Original Screenplay and for co-producing a Best Picture); three more were for performances that he directed (from Frances McDormand, Sam Rockwell and Woody Harrelson). Plus, the film editor and musical score each got a nod as well. And that was just Tuesday and the Oscars. To date, the film has amassed 74 wins and 152 nominations since it started making the film festival rounds last summer.
By dusk on Tuesday, the playwright in McDonagh was stirring. He showed up at Atlantic's Linda Gross Theater on West 20th and took an aisle seat at the back for the fifth public performance on these shores of his play, Hangmen. It opens February 5, but the entire run through March 7 is sold out. There is, literally, nowhere else to go but uptown—which it probably will, via the same Atlantic-to-Broadway express that took previous McDonagh works (The Beauty Queen of Leenane and The Lieutenant of Inishmore) to greater acclaim and wider audiences. For now, though, mum's the word.
Coy, yes, but McDonagh prefers the modest, creepy-crawly approach to Broadway. "Sometimes, when you go straight to Broadway, it can be a bit 'Well, here we are!'" he reasoned. "I'd rather slip in and let people discover it. That's kinda like what we did with Three Billboards Outside Ebbing, Missouri, actually. We didn't oversell it."
Hangmen is easy to oversell. Even at this early stage, it appears Broadway-ready, primarily because, through an Actors' Equity exchange, three of the dozen actors on stage did time in the London production, which was wildly cheered by critics and won the Olivier Award for Best Play of 2016. Since pickings are particularly slim now for the Best Play Tony, it looks to be the fittest to do battle for that prize with that incoming two-part juggernaut, Harry Potter and the Cursed Child, which picked up the Best Play Olivier, and an unprecedented eight others, the year after Hangmen.
His Olivier win didn't especially surprise McDonagh. Considering his competition, "I thought it was the best play of the year," he shamelessly confesses, "but we've never done well at the Tonys for Best Play. My actors have won, but I never got one."
He does think that Americans will be seeing a slightly different Hangmen than what the British saw. Matthew Dunster, who directed the play both places, told McDonagh after the second performance here that it was coming across much darker than it did in England, and the playwright agreed. "It's dark all right, but it was hilarious in London," McDonagh recalls. "It's kind of an old-fashioned, well-crafted, compact little play, with very strong characters but very funny. If the Irish plays went well over here, there's no reason why this wouldn't, too. I think that we'll be O.K."
London-born of Irish extraction, 47-year-old McDonagh draws on his English upbringing for the first time, filtering that through his own very pronounced macabre sensibility. Apparently, lurid Fleet Street accounts of crimes and punishments were a steady diet for him and helped shape this piece of theater. The gallows humor that lace his Irish plays gets a quite literal application in Hangmen.
"There were a couple of miscarriages of justice back in the 1960s that helped prompt the abolition of hanging. It felt like an interesting subject explore. I thought I could make a kind of twisty-turny, dark, almost Joe Orton-like play out of that."
Case-in-point: a 1962 rape-murder incident that was graphically covered in the tabloids. There were two key suspects, and many believe the wrong man (Hanratty in real life, Hennessy in the play) was hanged. Seven years later, Hanratty became a posthumous cause celebre for John Lennon and Yoko Ono, who reviewed the evidence in a documentary for Apple Films called Did Britain Murder Hanratty?
"About 15 years ago," McDonagh remembers, "they exhumed the body to check the DNA, and he didn't do it. He was completely innocent, and this other guy seemed to have been the guilty one. I just wanted to explore that a little bit, but the play is as much about these old hangmen as it is about anyone. It was a lot of research for me, but it was a lot of fun, too. 'Fun With Hanging' was my alternative title."
Nine-tenths of Hangmen could pass for your garden-variety Irish pub play. The opening tenth makes all the difference. It's set in a stark prison cell and execution room where the hangman, priest and guards come for the condemned man who's proclaiming his innocence, clinging to dear life, holding onto anything nailed down.
As soon as some sense of justice has been satisfied, the scene and scenery swirl into an elaborately appointed, but relentlessly gloomy bar in northern England. Anna Fleischele, who won the play's other Olivier, has radically reconfigured her work for the Atlantic theater. In England, the cell walls flew up into the wings and the bar moved forward; here the scene changes on a revolve. Quite a trick! Also, a special hole had to be dug under the stage for Hennessy to fly through the trap door.
The play begins in the "swinging '60s," then shifts to the day in 1965 when the U.K. halted hanging. What's to become of the out-of-work hangman? Here, he becomes a pub proprietor—a perfect fit for a swaggering figure of authority in a dickie-bow tie.
There are precedents for this, McDonagh points out. "Two of England's most famous hangmen ran public houses. Part of the play is about the dreadful celebrity of people who come to the pub to see or shake hands with the hangman."
Hennessy's executioner, billed as "the second most famous hangman in England," operates the pub in the play with his wife and 15-year-old daughter. When the latter abruptly vanishes, suspicions fall on a weird southern stranger who has suddenly shown up among the regular barflies, cannily or uncannily enough, on the second anniversary of Hennessy's hanging. Is some sort of delicious vengeance afoot here?
The first most famous hangman in England contributes an 11 o'clock cameo to the proceedings, giving the bar patrons a whiff of his hair to see if it smells of Brylcreem or, as his rival claims, Death. McDonagh calls this guy by his real name: Albert Pierrepoint (1905-1992). As Britain's most prolific hangman, he executed 400 people, half of those Nazi war criminals. His most notorious oops!: killing Timothy Evans for a murder John Christie committed. (The case was filmed with Richard Attenborough and John Hurt as 1971's 10 Rillington Place.) Pierrepoint even got his own film: 2005's Pierrepoint: The Last Hangman starring, inevitably, Timothy Spall.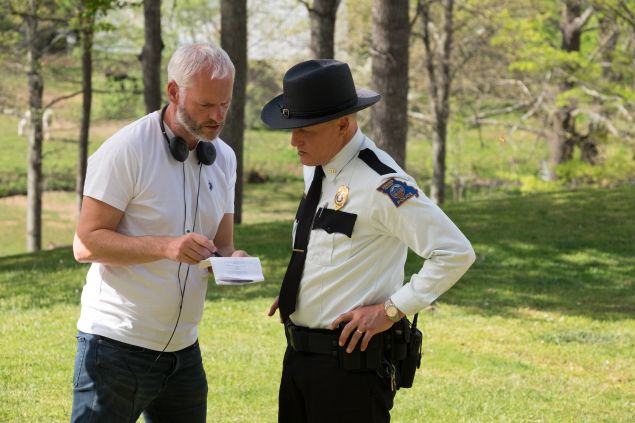 Cinema has upstaged McDonagh's playwriting career. He started small with a 27-minute live-action short, Six Shooter, which he helmed himself. It got a 2004 Oscar.
Encouraged, he wrote and directed his first feature, 2008's violent In Bruges, which, despite an imposing body count, the Golden Globes correctly identified as a comedy.
Three Billboards Outside Ebbing, Missouri extends his hyphenated status another notch—to co-producer, but, "to be honest, that's just about protecting the material."
He protects his plays by picking directors he trusts. When he settled on Dunster, he said, "There are two things you should know about me: I come to every rehearsal, and I don't change a word." He puts each play through at least ten drafts until he gets it precisely the way he wants it. For the stateside Hangmen, he gave an actor three new words—"In all seriousness"—because more time was needed for the noose.