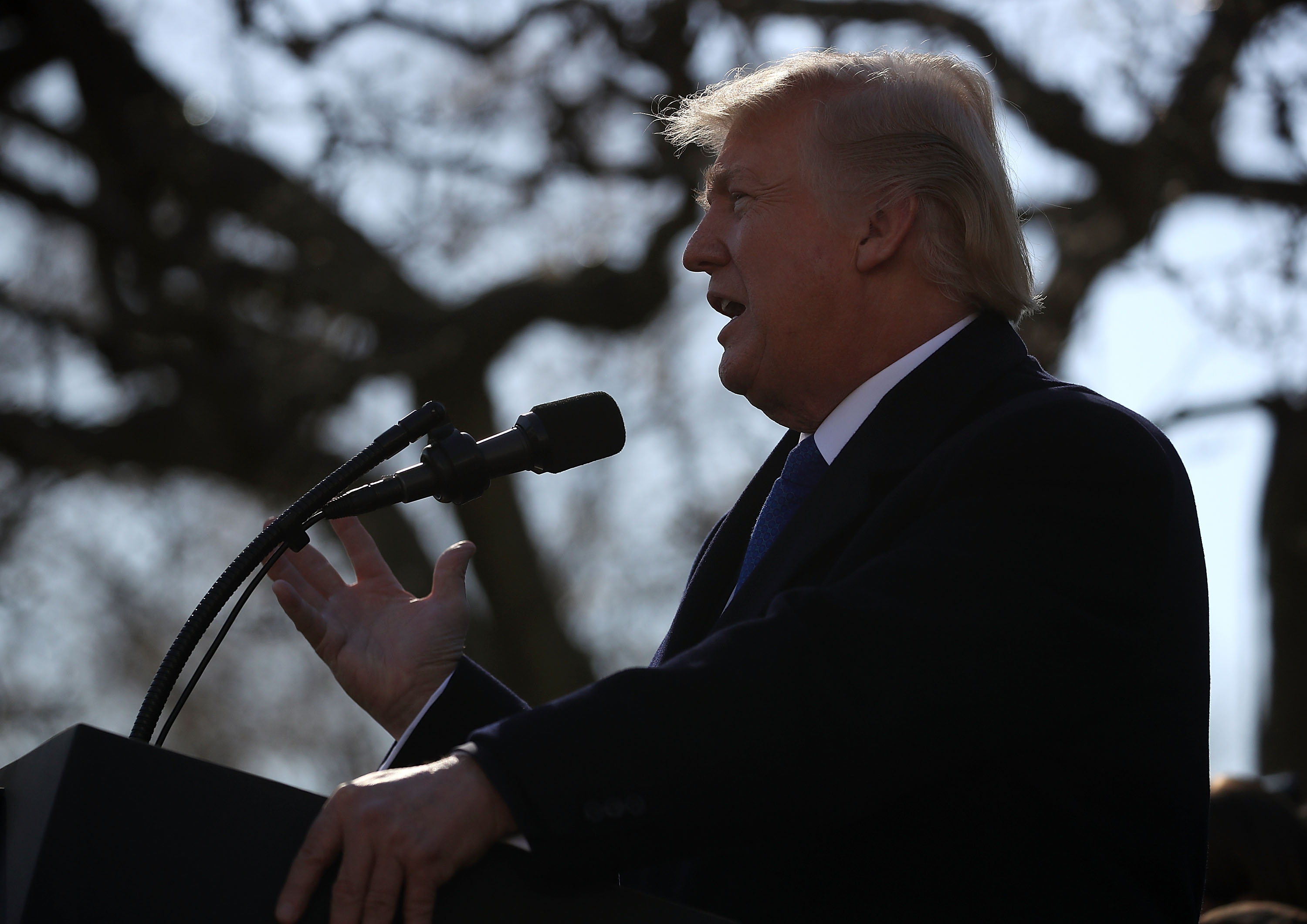 For the second consecutive Sunday, the current events shows on the major television networks virtually ignored the salacious story of the sex-film star who allegedly blackmailed the president of the United States for $130,000.
This despite new and more detailed revelations last week about the relationship between Donald Trump and Stormy Daniels in 2006, right after Trump's third wife gave birth to a son.
Among the details: the claim by Daniels that Trump made her spank him with a rolled up copy of a magazine that showed the face of Trump and his children on the cover.
Thank goodness for the New York Times, the Gray Lady of Eighth Avenue, which kept the story alive by dutifully covering Daniels's performance in a South Carolina strip club Saturday night and publishing a story online on Sunday.
"Better known as Stephanie Clifford to some offstage, the 38-year-old headliner was setting off on what is being called the 'Making America Horny Again Tour,'" the Times reported, "capitalizing on her spin through a Trump news cycle."
Thanks also to Reliable Sources on CNN and Media Buzz on Fox News Channel for covering the scandal most networks are ignoring.
"In any other administration, it could have taken that administration down," guest Olivia Nuzzi—the Washington correspondent for New York magazine—told CNN host Brian Stelter. "But in Donald Trump's, it's just a Wednesday… He's had so many scandals."
On FOX (FOXA), guest Shelby Holliday—a senior video reporter for the Wall Street Journal—told host Howard Kurtz, "It really shows you the extent to which Trump's inner circle goes to cover up bad decisions and bad behavior the president engaged in in the past… Trump's inner circle went to great lengths to hide this story and possibly others."
Holliday's newspaper broke the story. Trump's legal and White House people have issued pro forma denials but have not really challenged the report that one of Trump's law-talkin' guys arranged a payoff through a false identity to the actress right before the 2016 election to buy her silence.
The story has been overwhelmed in recent days by Trump's failure to broker a deal with Congress to keep the government open. Another story generally overlooked is the revelation from last week in congressional testimony that Trump, his family or other associates may have had dealings with mobsters, gangsters or shady bankers tied to money-laundering and Russia.
Ignored as it was by most official Sunday shows, Trump's sexual behavior slipped in through TV's side doors on shows like Real Time with Bill Maher on Friday on HBO and Saturday Night Live on NBC.
There were subtle differences Sunday in the way CNN and Fox presented the tale of Trump and the strumpet. The shows air at the same time.
On CNN, the segment ran early in the 11 a.m. hour and included a picture of Daniels and Trump together with big smiles on their faces. But on Fox, Kurtz's segment ran late and viewers saw only a tight shot of the face of Daniels with Trump not even in the picture.
On CNN, the printed headline on the bottom of the screen said: "WSJ: Trump Lawyer Paid Off Porn Star For Silence." But on Fox, the headline said only: "Magazine's Porn Star Interview: Are Media Shying Away from the Story?"
That was because Kurtz made a big issue over how InTouch magazine last week ran an interview with Daniels from 2011.
Kurtz asked Holliday: "In light of her new denial, was it responsible to put out the whole transcript and… all these graphic details, including sexual details, despite her most recent denial?"
Yes, Holliday explained to him. That's what an honorable sex-film star does after signing a non-disclosure deal five years later.
Kurtz also asked Emily Jashinsky of the Washington Examiner if the media was being cautious about the story.
She didn't think so.
Instead she said, such a story will "elicit a giant shrug from media consumers because it's not something that bucks the narrative about Donald Trump and one that he's actually, really, created around himself purposely… This is a man who was on the cover of Playboy."
Another guest on CNN was presidential historian Douglas Brinkley who put the most recent revelation into the context of several women who accused Trump of sexual harassment.
They did so after an audio tape revealed in 2016 how Trump bragged years before about how he likes to grab strange women by the crotch.
"Deeply misogynistic," Brinkley called Trump, the day after the second annual march of women against Trump. "Out of touch with the women's movement."
Brinkley also revealed that he'd read all those fit-to-print words about Daniels in the newspaper of record.
"She's going on a pornography tour now in front of huge audiences," Brinkley said.
Might there be more to learn about Trump's sexual behavior?
Maher, on HBO, got a hint of such things from Michael Wolff, the author of the book Fire and Fury about Trump's chaotic White House.
He asked Wolff whether there is anything in the book that people aren't talking about that they have overlooked.
WOLFF: "There is, but I can't tell you what it is."
MAHER: "Fuck you, Mike!"
(Studio Audience Laughter)
MAHER: "Teasing us like that."
WOLFF: "There is something in the book that I was absolutely sure of but it was so incendiary that—that—I just didn't have the—the—the—ultimate proof."
MAHER: "What's he done? Is it a woman thing?"
WOLFF: "Well, I, you know, I didn't have the blue dress. Um."
MAHER: "No. Is it about a woman?"
WOLFF: "It is."
MAHER: "Ah. It's somebody he's fucking now."
WOLFF: "It is. And it's—"
MAHER: "Ooooh!"
(Studio Audience: "Ooooh!")
MAHER: "Who is he fucking?"
WOLFF: "You just have to read between the lines."
MAHER: "What lines? Tell us the lines!"
(Studio Audience Laughter)
There was more mirth on SNL when Beck Bennett played the role of Dr. Ronny Jackson, Trump's dutiful physician in the White House.
Last week, Jackson pronounced Trump fit after his recent physical examination and praised just about every body part of the large, loud, vindictive, petty, sketchy, 71-year-old, orange-faced, yellow-haired demagogue.
A reporter in the SNL sketch asked the doctor about Trump and the porn star.
"I can't confirm whether the president and Miss Daniels had relations or not," the doctor said. "But, I can tell you, if they did, she's a lucky woman."
Joe Lapointe spent 20 years as a sports reporter for The New York Times and worked as a segment producer for Countdown With Keith Olbermann. Read his full bio here.