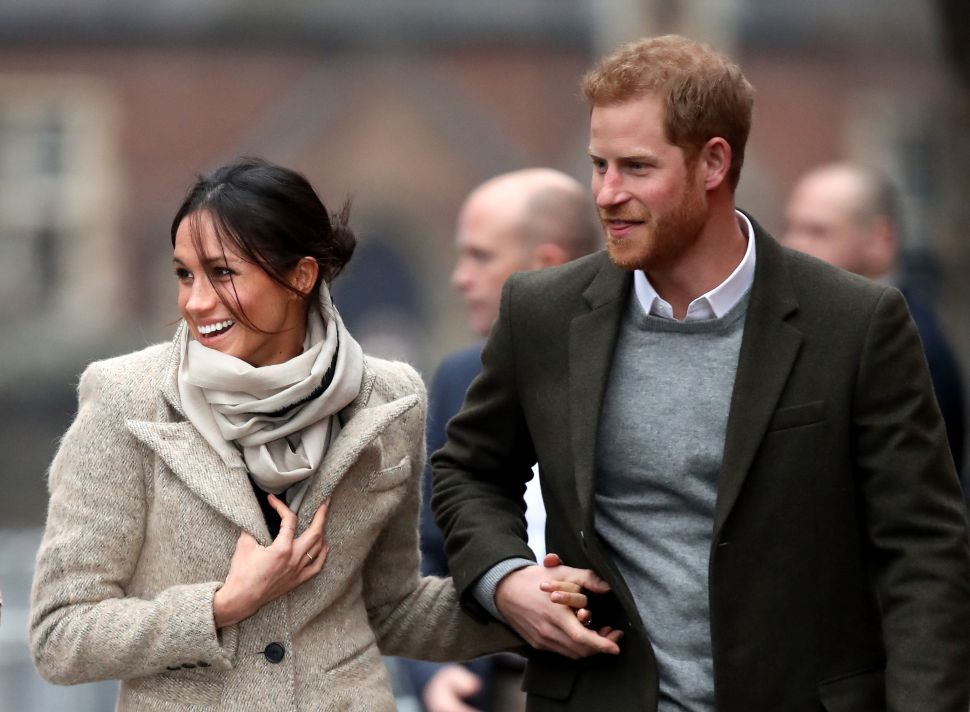 When Meghan Markle and Prince Harry first started dating, it was unclear how long their relationship would last. At the time, Prince Harry wasn't quite done partying. Sure, he wasn't donning a Nazi uniform anymore, but he was still hanging out with Ed Sheeran, spending time with Los Angeles publicists and all around carousing. But once Kensington Palace released a royal decree—that was the equivalent of Chris Crocker telling people to leave Britney alone in regards to his new girlfriend—it became obvious that his union with Markle was going to last.
Now that they're engaged, Markle just keeps making waves, whether it's for deleting her social media profiles or her history as a Hallmark Channel movie star. Most recently, the gossip revolved around her surprising choice of hairstyle.
The former actress opted for a messy bun for her second official royal engagement. According to People, Markle broke an unspoken royal rule by scraping her hair into a messy topknot, one that is typically only seen on red-eye flights and yoga classes. Apparently, Queen Elizabeth has relaxed over the years and is now perfectly comfortable with the laid-back hairstyle. Maybe we'll see Queen E with a ponytail soon, just to prove it.
Kate Middleton, on the other hand, is known for her perfect princess 'do, crafted from a $1,500 haircut. There's never a hair out of place and she certainly never wears it up, unless it's a carefully crafted updo for special occasions. Markle defied the expectation that all royals are born with blowouts by showing up with second-day hair messily thrown up in a ponytail holder.
So far on her journey to the castle, Markle has opted for casual clothing, including ripped jeans at the Invictus Games. For her last appearance in Brixton at a radio station with Prince Harry, her look was on the dressier side, save for her casual hairstyle. She wore Sarah Flint "Jay" pumps with a subtle tortoiseshell heel, and unsurprisingly, they're already almost completely sold out. Her coats and shoes have all proven popular; hopefully, this hairstyle will as well, since it's far easier to embrace.